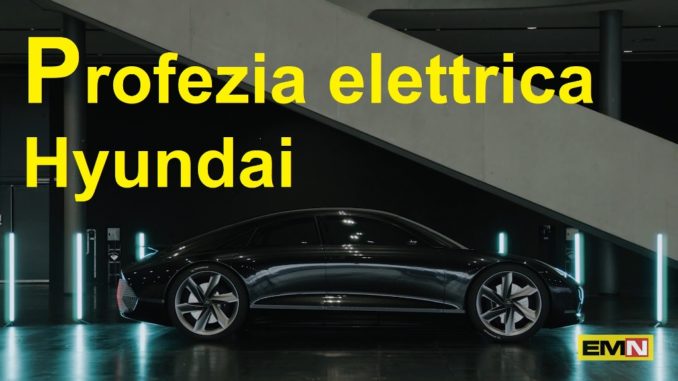 La puntata 9 di Electric Motor News del 2020 include servizi delle vetture elettriche MINI, Lexus, BMW, Hyundai e Smart e delle ibride Volvo e Opel.
Di seguito i servizi
Mobilità elettrica in pieno stile MINI
La mobilità urbana full electric può essere finalmente vissuta in pieno stile MINI grazie alla Nuova MINI Full Electric che combina la mobilità sostenibile con il divertimento di guida, il design espressivo e la qualità premium tipici di MINI. In quanto tale, il primo modello full electric del marchio britannico offre un feeling di guida MINI senza emissioni.
Siegfried Stohr e la guida della MINI elettrica
Siegfried Stohr, titolare della scuola Guidare Pilotare, illustra nel circuito di Misano Adriatico le caratteristiche della nuova MINI a trazione elettrica. L'ex pilota di Formula 1 illustra gli aspetti tecnici e della guida della MINI dotata di motore elettrico e batterie.
Nuova Lexus UX 300e
Nello sviluppo di UX 300e, Lexus ha utilizzato le conoscenze acquisite sviluppando i sistemi ibridi leader del settore e ha applicato al suo primo modello elettrico di serie lo stesso livello di qualità e comfort che contraddistingue la gamma Lexus. L'autonomia dichiarata è di 400 km, (ciclo NEDC), potenza di 150 kW e 300 Newton Metro di coppia.
Nuovo capitolo della storia BMW Efficient Dynamics
Nel 2007 BMW Group ha introdotto il suo pacchetto tecnologico Efficient Dynamics, con l'attenzione puntata alla riduzione del consumo e delle emissioni di CO2. BMW Efficient Dynamics è ora un elemento fondamentale nel DNA di tutti i modelli BMW e uno dei principali strumenti attraverso cui il BMW Group sarà in grado di soddisfare pienamente gli obiettivi di CO2 dell'Unione Europea.
Luc Donckerwolke explains features of Hyundai Prophecy
Hyundai Motor has revealed more details of its Prophecy Concept EV. In a new walk-around video, Hyundai Motor Group's Chief Design Officer Luc Donckerwolke explains some of the key features inside and outside the vehicle. Prophecy is inspired by the vintage cars of the 1920s and 30s, with a smooth, coupe-like design.
In Italian
Luc Donckerwolke spiega le caratteristiche di Hyundai Prophecy
Hyundai Motor ha rivelato ulteriori dettagli sul suo Prophecy Concept EV. In un nuovo video walk-around, Luc Donckerwolke, Chief Design Officer di Hyundai Motor Group, spiega alcune delle caratteristiche principali all'interno e all'esterno del veicolo. La profezia si ispira alle auto d'epoca degli anni '20 e '30, con un design liscio e da coupé.
Presentata a Las Vegas la BMW i3 Urban Suite
BMW ha presentato a Las Vegas la BMW i3 Urban Suite. Il nuovo concept basato sulla BMW i3 ha fatto il suo debutto al CES 2020, invitando i visitatori a pensare in modo differente il proprio mezzo di trasporto. 20 unità della BMW i3 standard sono state convertite in Urban Suites a Monaco di Baviera per poi venire trasportate a Las Vegas, di conseguenza questo concept è di fatto già realtà.
Servizio con la voce di Aurora Bovone
Le nuove Volvo con tecnologia mild-hybrid
Le versioni aggiornate della berlina Volvo S90 e delle station wagon Volvo V90/V90 Cross Country, offrono sull'intera gamma i propulsori mild hybrid . Fra le novità introdotte a livello di portafoglio prodotti sono incluse le diverse varianti del propulsore mild hybrid con tecnologia a 48 Volt, ora disponibili su tutti i modelli Volvo nell'ottica di un ulteriore ampliamento dell'offerta di modelli elettrificati a marchio Volvo.
Servizio con la voce di Lilia Marcucci.
Nuova generazione di Smart, elettrica dalle origini
La nuova generazione di Smart si presenta innovativa, digitale, urbana e completamente rinnovata sia nei modelli fortwo e forfour, ora solo a trazione elettrica, proponendo un modello completo di mobilità sostenibile. Le Smart sono elettriche fin dalle origini, perché già all'epoca dei primi studi di un veicolo destinato al traffico urbano, nel 1972, il concept era dotato di trazione a batteria. E anche Nicolas Hayek, mente visionaria e lungimirante, aveva considerato fin dall'inizio l'idea di una smart con questo tipo di trazione a zero emissioni e così, dal 2007, ogni generazione smart offre un'opzione completamente elettrica.
Servizio con la voce di Aurora Bovone.
Frank Jordan, parla dell'elettrificazione Opel 2020
Grandland X plug-in Hybrid e le altre vetture elettrificate di casa Opel vengono presentate da Frank Jordan, il Director Advanced Engineering Opel.