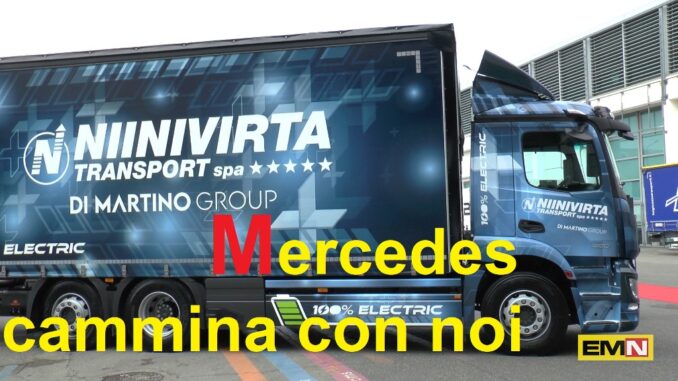 Nella puntata 5 di Electric Motor News, Nissan e l'elettrificazione, a Niinivirta il primo eActros in Italia, Tenways CGO600 Pro e Nissan Ariya e-4ORCE Pole to Pole.
Di seguito i servizi video…
Nissan promotes two pivotal electrified powertrains
Nissan promotes electrification through its two pivotal electrified powertrains. Electric vehicle or EV and e-POWER. Since launching the Nissan Leaf in 2010, they have continue to bring breakthrough electrified technologies to market. To make electrified vehicles more attractive to consumers,they have been developing battery technologies, including all solid state, more efficient electrified powertrains and unique motor drive control technologies.
In italiano – Nissan promuove due propulsori essenziali elettrificati
Nissan promuove l'elettrificazione attraverso i suoi due principali propulsori elettrificati. Veicolo elettrico o EV e e-POWER. Dal lancio della Nissan Leaf nel 2010, hanno continuato a portare sul mercato tecnologie elettrificate rivoluzionarie. Per rendere i veicoli elettrificati più attraenti per i consumatori, hanno sviluppato tecnologie per le batterie, compresi tutti i propulsori elettrificati a stato solido, più efficienti e tecnologie uniche di controllo della guida del motore.
Video in lingua inglese.
A Niinivirta il primo Mercedes Benz eActros in Italia
In occasione di LET Expo, Logistics Eco Transport Trade Show, che si è tenuta in Fiera a Verona; l'Amministratore Delegato di Mercedes Benz Trucks Italia, Maurizio Pompei, ha consegnato a Mario e Fabio Di Martino di Catania e a Mario Di Martino di Piacenza, responsabili di F.lli Di Martino Trasporti, al cui Gruppo appartiene Niinivirta Transport, il primo camion elettrico Mercedes Benz eActros commercializzato in Italia e la rispettiva targa che celebra il numero uno; giusto riconoscimento a Niinivirta SpA che ha avuto il coraggio di investire e aprire la strada in Italia al trasporto pesante a trazione elettrica.
Niinivirta, pionieri da dieci anni
Sono già passati dieci anni dalla presentazione del primo camion elettrico messo in servizio da Niinivirta Transport e si celebra con un nuovo primato, quello della presentazione e la consegna ufficiale nella Fiera LET Expo di Verona, del primo camion elettrico Mercedes Benz eActros 300 in Italia.
Nella prima parte dell'intervista, Kevin Morstabilini, il primo autista di camion elettrici in Italia, parla del nuovo veicolo, delle differenze con quello di dieci anni fa e della nuova figura nell'organizzazione del lavoro.
Intervista di Marcelo Padin da Verona.
I vantaggi delle idee lungimiranti
Sarà vero che essere pionieri non sempre paga? Come viene vista l'azienda Niinivirta Transport dai concorrenti ora che tutti parlano anche di camion elettrici? Kevin Morstabilini, il primo autista di camion elettrici in Italia spiega alcuni particolari, anche del rapporto profondo con Mercedes Benz al momento di ordinare e provare il nuovo camion elettrico.
Intervista di Marcelo Padin da Verona.
La nuova urban-e-bike Tenways CGO600 Pro
Grazie alle nuove caratteristiche tecniche e l'estetica migliorata, la nuova urban-e-bike Tenways CGO600 Pro ottimizza le prestazioni conservando il DNA vincente. CGO600 Pro è disponibile per il pre-ordine dal 22 febbraio 2023 con spedizioni a partire dall'inizio di marzo ed è stata creata grazie ai feedback dei fedeli fan che hanno inviato al costruttore molte informazioni per migliorare il prodotto finale, si avvale di un'estetica elegante e sportiva, ottimizzata rispetto al suo modello predecessore.
Pronta la Nissan Ariya e-4ORCE Pole to Pole
E' stata presentata a Reykjavik, in Islanda da Nissan e il team Pole to Pole la versione speciale di Nissan Ariya e-4ORCE, la prima vettura elettrica che viaggerà per 27.000 km dal Polo Nord al Polo Sud. Messa a punto da un team di tecnici Nissan con il supporto di Arctic Trucks – società specializzata nell'allestimento di veicoli per spedizioni polari – Nissan Ariya affronterà ghiacciai, valichi montuosi, dune nel deserto, sfidando temperature comprese tra i -30⁰C e i 30⁰C.
Di seguito, le anteprime fotografiche dei video…