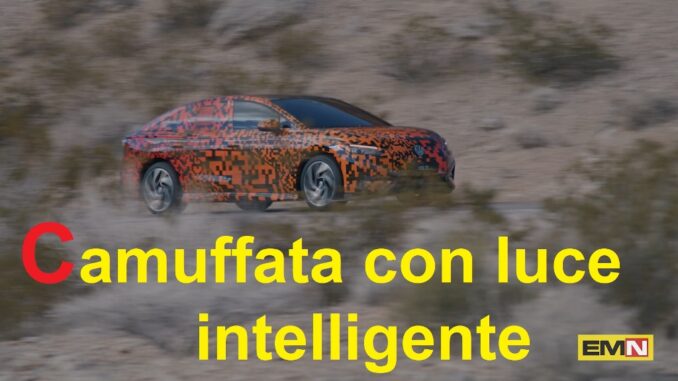 Nella quarta puntata di Electric Motor News, Audi activesphere concept, Volkswagen ID.7, concept car elettrica Citroën Oli e ABT Cupra XE di Extreme E.
Ecco tutti i servizi video…
Audi activesphere concept in anteprima a Cortina d'Ampezzo
Audi AG ha scelto Cortina d'Ampezzo per il debutto mondiale di activesphere concept, l'avanguardistica crossover coupé dei quattro anelli. La nuova concept car esprime l'incontro tra l'eleganza delle forme e la funzionalità offerta dall'inedita tecnologia per la realtà aumentata e dall'ecosistema digitale olistico. Ideata e disegnata presso l'Audi Design Studio di Malibu, Audi activesphere concept è ideata per ampliare le possibilità di vivere l'emozione outdoor, unendo fascino, funzionalità e performance 100% elettriche.
Volkswagen ID.7 in versione camuffata
Il prossimo modello della famiglia Volkswagen ID. sarà l'ID.7, presentato in versione camuffata con effetti di luce intelligenti attraverso l'elettroluminescenza al CES di Las Vegas. Questa funzione interattiva simboleggia il prossimo passo nella digitalizzazione del futuro modello di punta della famiglia ID. 100% elettrica.
Servizio con la voce di Marco Cereda.
Debutto a Milano della nuova concept car elettrica Citroën Oli
La nuova concept car elettrica Citroën Oli è arrivata in Italia in occasione della convention del Brand, dopo il debutto internazionale dello scorso 29 settembre a Parigi.
Nel servizio, la parola di Laurent Barrià, Citroën Marketing & Communication Director in lingua francese.
Pronti i piloti ABT Cupra XE di Extreme E per l'inizio di stagione
Klara Andersson spinge su ghiaccio e neve, mentre Nasser Al-Attiyah lo fa sulle dune del deserto, entrambi si preparano per l'inizio di stagione di ABT Cupra XE di Extreme E. Dopo la grande prestazione nelle ultime due gare della scorsa edizione, con un podio in Cile e la vittoria nell'ultimo round in Uruguay, i due piloti del team ABT Cupra XE si preparano alla sfida elettrica più estrema, in una nuova stagione dell'Extreme E.
The emotions of the ABT Cupra's drivers
Klara Andersson and Nasser Al-Attiyah speaks about their training in snow and desert respectively to front the new Extreme E season with ABT Cupra XE Team.
In italiano – Le emozioni dei piloti ABT Cupra
Klara Andersson e Nasser Al-Attiyah parlano del loro allenamento rispettivamente sulla neve e nel deserto per affrontare la nuova stagione di Extreme E con l'ABT Cupra XE Team.
Servizio in lingua inglese.
Ecco le anteprime fotografiche dei video…