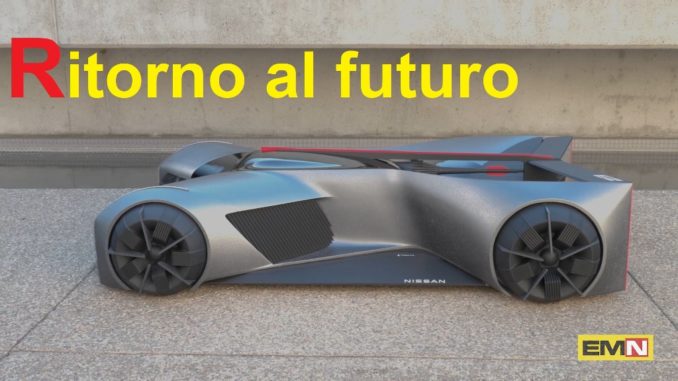 Nella puntata 38 di Electric Motor News, un futuristico design Nissan e della seconda generazione della Toyota Mirai a fuel cell.
Nella puntata anche le news di novembre di Opel e DS Automobiles, una gita al Lago di Como con Nuovo SUV Peugeot e-2008 e MINI e Paul Smith, due icone del design per un futuro sostenibile.
Di seguito i servizi della puntata…
Le news di Opel del mese di novembre 2020
Nuova Opel Corsa-e si è aggiudicata il "Volante d'Oro 2020", premio prestigioso assegnato dagli esperti e dai lettori delle riviste tedesche "Auto Bild" e "Bild am Sonntag", mentre Opel Mokka è disponibile con due allestimenti alto di gamma che ne esaltano design, funzionalità e dinamica, anche sulla versione elettrica.
Futuristico progetto Nissan "GT-R (X) 2050″
Il designer di automobili Jaebum "JB" Choi mostra uno studio di design in una futura era autonoma, uno stampo di un modello 1: 1 noto come Nissan "GT-R (X) 2050″.Choi stava anche iniziando uno stage presso Nissan Design America (NDA) a La Jolla, in California, in un momento in cui le restrizioni COVID-19 hanno cambiato il modo in cui tutti pensano al futuro. Ben presto la sua tesi di laurea prese il volo e nacque la sua visione per la "Nissan GT-R (X) 2050".
Yoshikazy Tanaka, Chief Engineer Toyota Mirai
Yoshikazy Tanaka, Chief Engineer Toyota Mirai, talks about Toyota's philosophy of following the hydrogen path applied to vehicles, noting in particular that hydrogen is independent of the season and climate in contrast to wind energy or solar energy. Service in japanese language with subtitles in English language.
In Italiano – Yoshikazy Tanaka, Chief Engineer Toyota Mirai
Yoshikazy Tanaka, Chief Engineer Toyota Mirai, parla della filosofia Toyota di seguire la via dell'idrogeno applicata ai veicoli, in modo speciale segnalando che l'idrogeno è indipendente dalla stagione e dal clima contrariamente all'energia eolica o all'energia solare. Servizio in lingua giapponese con sottotitoli in inglese.
Ryotaro Shimizu and several details of the Toyota Mirai
Deputy Chief Engineer Toyota Ryotaro Shimizu illustrates several details of the recently presented second-generation Toyota Mirai, focusing in particular on the technical aspects of the car equipped with fuel cells and powered by hydrogen. Service in English language.
In Italiano – Ryotaro Shimizu
Il vice capo ingegnere Toyota Ryotaro Shimizu illustra diversi dettagli della Toyota Mirai di seconda generazione recentemente presentata, soffermandosi in modo particolare negli aspetti tecnici della vettura dotata di celle a combustibile e alimentata dall'idrogeno. Servizio in lingua inglese.
Tsuyoshi Takahashi speaks about old and new Toyota Mirai
Project General Manager Tsuyoshi Takahashi shows a comparision between old and new Toyota Mirai models, specially concerning the fuel cell stack and hydrogen components. Video in English language.
In Italiano – Tsuyoshi Takahashi parla della vecchia e della nuova Toyota Mirai
Il direttore generale del progetto Tsuyoshi Takahashi mostra un confronto tra i modelli Toyota Mirai vecchio e nuovo, in particolare per quanto riguarda lo stack di celle a combustibile e i componenti dell'impianto a idrogeno. Video in lingua inglese.
Seconda generazione di Toyota Mirai
La berlina a fuel cell Toyota Mirai di seconda generazione è stata costruita sulla nuova piattaforma modulare GA-L di Toyota. Questa piattaforma permette una migliore integrazione del sistema, un abitacolo a cinque posti più spazioso e consente di aggiungere un terzo serbatoio supplementare di idrogeno, contribuendo ad aumentare del 30% l'autonomia di guida dell'auto fino a circa 650 km.
Servizio con la voce di Aurora Bovone.
Apprezzando il lago di Como con il Nuovo SUV Peugeot e-2008
La Casa del Leone propone un servizio del SUV Peugeot e-2008 in viaggio in mezzo al panorama mozzafiato del lago di Como, nel ramo di Lecco. Un contesto ideale per evidenziare le caratteristiche "green" del Nuovo SUV full elettrico di casa Peugeot, eletto Auto Europa 2021 da UIGA, l'Unione Italiana dei Giornalisti dell'Automotive.
Le news del mese di novembre di DS Automobiles
Dal via alla commercializzazione della DS 9 E-Tense al nuovo listino e allestimenti di DS 7 Crossback e DS 3 Crossback fino all'impegno in Formula E. Sono queste le novità di DS Automobiles del mese di novembre 2020.
MINI and Paul Smith. Two design icons for a sustainable future
MINI and British designer Paul Smith have announced their second collaboration since 1999. Two true institutions that share not only their British origins and long tradition, but also a commitment to sustainability, creating responsible products for a better future. The two brands have always been attentive to a conscious – but still effective – use of the availables resources. In this new phase of their successful collaboration, the two brands will establish a creative dialogue, working together to develop design solutions with an even greater focus on sustainability.
In italiano – MINI and Paul Smith. Due icone del design per un futuro sostenibile
MINI e lo stilista inglese Paul Smith hanno annunciato la loro seconda collaborazione dal 1999. Due vere istituzioni che non condividono solo le origini britanniche e la lunga tradizione, ma anche l'impegno sul fronte della sostenibilità, creando prodotti responsabili per un futuro migliore. I due marchi sono da sempre attenti ad un utilizzo consapevole – ma pur sempre d'effetto – delle risorse a disposizione. In questa nuova fase della loro collaborazione di successo, i due marchi instaureranno un dialogo creativo, lavorando insieme per sviluppare soluzioni di design con un'attenzione ancor maggiore alla sostenibilità.
Ecco le anteprime fotografiche dei servizi video…