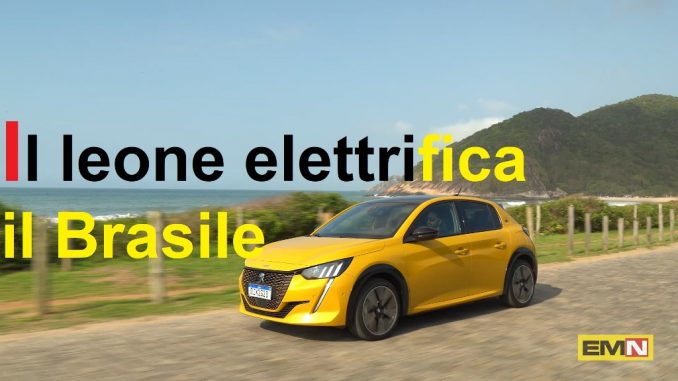 Nella puntata 34 di Electric Motor News, idrogeno verde, Citroën ë-Berlingo, Peugeot e-208 in Brasile, DS Automobiles, Opel Combo-e Life e Zero Motorcycles.
Ecco tutti i video della puntata.
Importante partnership per l'idrogeno verde
Plug Power Inc, fornitore leader di soluzioni chiavi in mano per l'idrogeno per l'economia globale dell'idrogeno verde, e Lhyfe, produttore e fornitore pioniere di idrogeno rinnovabile ed ecologico, hanno annunciato la partnership, iniziativa che mira a generare una capacità totale di idrogeno di 300 MW entro il 2025, e per avviare lo sviluppo di un sito produttivo da 1GW.
Arriva il Citroën ë-Berlingo
Il nuovo Citroën ë-Berlingo si ripropone in versione elettrica, con un'autonomia fino a 280 km* (ciclo WLTP). Nuovo Citroën ë-Berlingo è disponibile in 2 lunghezze e può accogliere fino a 7 persone. Mantiene il generoso spazio a bordo, i 3 sedili posteriori singoli, il tetto multifunzione Modutop e il lunotto posteriore apribile.
Nel servizio, Elena Fumagalli, Responsabile Comunicazione Citroen Italia, illustra i particolari.
Arriva in Brasile l'elettrica Peugeot e-208
E' iniziata la commercializzazione di Peugeot e-208 GT in Brasile, la vettura elettrica compatta del Leone che apre la strada delle elettriche sul mercato brasiliano. L'arrivo di questa versione top di gamma inaugura il lancio, in Brasile, di un ecosistema progettato intorno ai clienti che acquistano veicoli elettrici.
Le videonews del mese di ottobre di DS Automobiles
Spiccano nel video news di ottobre di DS Automobiles il posto guida di DS 4, la tecnologia di DS 7 Crossback E-Tense 4×4 e la DS Active Scan Suspension.
Il nuovo Opel Combo-e Life
Pratico e a zero emissioni, il nuovo Opel Combo-e Life è la risposta alle esigenze di spazio e versatilità unite ai vantaggi della guida elettrica. Offerto in due lunghezze, a 5 o 7 posti, con una o due porte laterali scorrevoli e con una capacità di carico che può arrivare a 2.693 litri, il veicolo è in grado di percorrere fino a 280 km con una carica della batteria agli ioni di litio da 50 kWh, ricaricabile all'80% in circa 30 minuti.
Zero Motorcycles with Cypher III +
The Cypher Store is a real platform for on-demand updates of the functionality of the Zero Motorcycles, made possible thanks to a further evolution of Zero Motorcycles' proprietary Cypher operating system. This system, capable of making the Zero models among the smartest vehicles on the market, today evolves to become Cypher III + (standard on the new SR / F, SR / S and SR 2022 models) and offer to the riders the ability to customize motorcycle performance like never before.
In italiano – Zero Motorcycles con Cypher III+
Il Cypher Store è una vera e propria piattaforma di aggiornamenti on-demand delle funzionalità delle moto Zero, resa possibile grazie a un'ulteriore evoluzione del sistema operativo proprietario Cypher di Zero Motorcycles. Questo sistema, capace di rendere i modelli Zero tra i veicoli più intelligenti presenti sul mercato, oggi si evolve per diventare Cypher III+ (di serie sui nuovi modelli SR/F, SR/S e SR 2022) e offrire ai motociclisti la possibilità di personalizzare le prestazioni della moto come mai prima d'ora.
Video in lingua inglese.
Di seguito le anteprime fotografiche dei video…