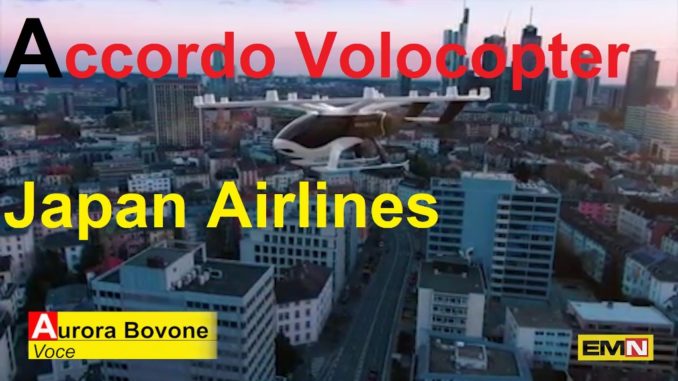 Nella 30esima puntata di Electric Motor News si parla di Opel, Volocopter, DS, Citroën, Peugeot, Matteo Lanciani in Tesla a Capo Nord, Ami e Lotus Evija.
Di seguito potete vedere i diversi servizi.
Settembre elettrico per Opel
Le news del mese di settembre di casa Opel sono quasi tutte del settore dei veicoli elettrici. Michael Lohscheller presenta online il nuovo Opel Mokka, anche in versione elettrica, Zafira-e Life ora in vendita in Italia mentre Opel Corsa-e è l'auto ufficiale di X-Factor 2020. Infine, per i veicoli commerciali, il furgone Movano Elettrico debutterà nel 2021.
Partnership Volocopter e Japan Airlines
Volocopter firma una partnership con Japan Airlines per sviluppare e lanciare servizi di air taxi in Giappone, esplorando le opportunità di business utilizzando eVTOL. Nel febbraio 2020, il Japan Airlines Innovation Fund ha investito in Volocopter, che mira a creare e portare sul mercato taxi aerei elettrici di nuova generazione e tecnologia dei droni cargo per carichi pesanti, come parte del loro round di finanziamento di serie C.
Servizio con la voce di Aurora Bovone.
DS Automobiles, le news di settembre
Nelle news di settembre di DS Automobiles, i 545 Km di DS 3 Crossback E-Tense, la versione DS 7 Crossback Louvre, DS 9 e dalla pista alla strada.
Continua l'offensiva elettrica Citroën
Nel mese di settembre, Citroën ha raforzato l'offensiva elettrica con Nuova Citroën ë-C4 100% Ëlectric e Citroën ëSpaceTourer, entrambe già ordinabili in Italia.
Svelato a settembre Peugeot Sport Engineered
Sono state diverse le novità di Peugeot nello scorso mese di settembre. Nel video viene presentata la Nuova Peugeot Sport Engineered hybrid plug-in. Neo Performance è il concetto che sta dietro il nuovo marchio Peugeot Sport Engineered che esalta ancor più le prestazioni di modelli come la nuova 508, cui ha messo mano il comparto sportivo del Marchio del Leone.
Matteo Lanciani, da Iseo a Capo Nord in Tesla
Dalla stazione di Provaglio d'Iseo, dove gestisce il bar e ristorante "Il Viandante", Matteo Lanciani è partito per Capo Nord a bordo della sua Tesla Model 3, percorrendo 9.600 chilometri…. con stop alle Isole Lofoten dove ha trovato Miriam Orlandi. Della serie… è normalissimo che due bresciani si trovino a nord della Norvegia… Prima parte dell'intervista.
Intervista di Marcelo Padin, riprese Drago Video.
Matteo Lanciani: "ho trovato auto da molti paesi"
Un viaggio così lungo lascia molte cose, tra quelle Matteo Lanciani accenna ai paesaggi da favola del Nord Europa, alla soddisfazione di aver fatto un viaggio così lungo con una vettura elettrica e la dimostrazione che si può fare questi viaggi tranquillamente perché nelle stazioni di ricarica ha trovato vetture dalla Spagna, dalla Francia, dall'Inghilterra e dalla Polonia… quindi la mobilità elettrica non è più un lontano sogno.
Intervista di Marcelo Padin, riprese Drago Video.
La Citroen C5 Aircross Hybrid Plug-in
Elena Fumagalli, Responsabile Ufficio Stampa e Pubbliche Relazioni di Citroen Italia, racconta i particolari della Citroen C5 Aircross Hybrid Plug-In, primo modelli ibrido ricaricabile dell'offensiva elettrica Citroen.
Comfort e sensazione di protezione della Citroen C5 Aircross
Nella seconda parte dell'intervista, Elena Fumagalli, Responsabile Ufficio Stampa e Pubbliche Relazioni di Citroen Italia, parla del comfort di marcia di questa vettura delle particolarità degli interni accoglienti e dell'offerta completa per il mercato italiano.
L'amica giusta per la città
E' stata presentata in Italia Ami 100% electric, un quadriciclo elettrico ideale per la città che abbiamo avuto l'occasione di assaggiarlo nel traffico di Milano. Alessio Scutari, Direttore Marketing di Citroen Italia, parla delle caratteristiche, della filosofia e del prezzo della nuova Ami che tra poco sarà disponibile nel mercato italiano.
Intervista di Marcelo Padin.
New film reveals Lotus Evija driving features
Further details of the electric hypercar Lotus Evija has been revealed during drive test of Gavan Kershaw, Lotus Director of Vehicle Attributes. The new film was shot on the 2.2-mile track at Hethel, with Gavan Kershaw at the wheel, who provides extensive new commentary on key elements of the Evija project. At almost five minutes long and using on-board cameras to reveal new views of the car, it's the most detailed insight yet into the dynamic excellence of Britain's first all-electric hypercar.
In Italiano – Un nuovo film svela le caratteristiche di guida di Lotus Evija
Ulteriori dettagli sull'ipercar elettrica Lotus Evija sono stati rivelati durante il test di guida di Gavan Kershaw, Direttore Qualità Veicolo Lotus. Il nuovo film è stato girato sulla pista di 2,2 miglia a Hethel, con Gavan Kershaw al volante, che fornisce un nuovo ampio commento sugli elementi chiave del progetto Evija. Con una durata di quasi cinque minuti e utilizzando le telecamere di bordo per rivelare nuove visuali dell'auto, è la visione più dettagliata mai vista dell'eccellenza dinamica della prima hypercar britannica completamente elettrica.