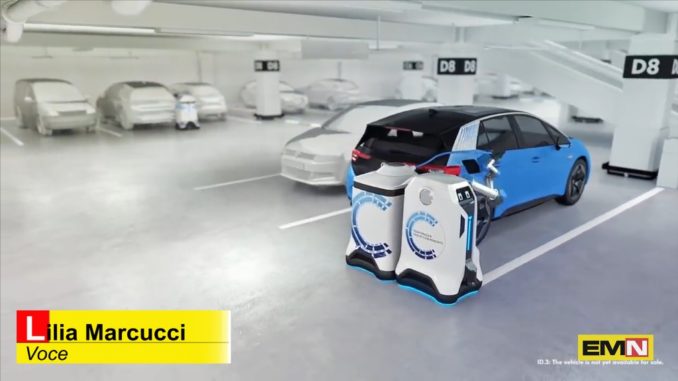 Tra i servizi della puntata 3 di Electric Motor News, Volkswagen, Opel, Nissan, DS, Peugeot, MINI e Volvo e parliamo di aerei con Uber e Hyundai.
Giovanni Grioni e le elettriche Volkswagen
In occasione della Fiera di Sant'Apollonia di Rivolta d'Adda, Giovanni Grioni ha parlato dal suo punto di vista di rivenditore autorizzato Volkswagen della reazione del pubblico di fronte alle auto elettriche, ma anche dei colleghi… e del prossimo futuro.
Intervista di Marcelo Padin.
Opel Grandland X Hybrid4
Andrea Leandri, Direttore Marketing Opel Italia illustra i particolari del SUV Opel Grandland X Hybrid4 Plug-in, un tassello fondamentale nella strategia di elettrificazione di Opel.
Nissan Leaf percorre circa 370 km a guida autonoma
Si è Conclusa con successo la sperimentazione del consorzio HumanDrive, guidato da Nissan Europe e sostenuto dal governo britannico. Il progetto di ricerca britannico dedicato alle più recenti tecnologie per i veicoli a guida autonoma ha portato a termine con successo un percorso di 230 miglia (circa 370 km) in modalità di guida completamente autogestita sulle strade del Regno Unito.
In English
Successfully concluded the HumanDrive consortium test, leaded by Nissan Europe and supported by British Government dedicated to the new technologies in the field of autonomous drive cars. The test reach a 230 miles (near 370 km) in automous drive mode in the United Kingdom roads.
Parla Bob Bateman, il Project Manager di Nissan
Bob Bateman, leader dello HumanDrive project nel Nissan Technical Center Europe parla riguardo il viaggio effettuato tra Cranfield e Londra con una Nissan Leaf sviluppata per l'uso della guida autonoma.
In English
Bob Bateman, Project lead HumanDrive project at Nissan Technical Center Europe talks about the travel between Cranfield and London with a Nissan Leaf developed to use the technology of autonomous drive.
Le dichiarazioni del team di sviluppo Nissan
I diversi componenti del team di sviluppo della guida autonoma Nissan illustrano le attività di ricerche effettuate prima e durante questo viaggio in modo autonomo in Gran Bretagna.
In English
Engineers of Nissan Autonomous Drive team explain the research made after and during the travel in autonomous drive mode made in England.
Robot mobile da ricarica di Volkswagen
Il robot mobile autonomo sviluppato da Volkswagen Group Components è in grado di arrivare da solo fino all'auto elettrica e caricare più facilmente la batteria.
Dopo essere avviato tramite l'app o la comunicazione V2X, il robot mobile va verso il veicolo che necessita di ricarica e comunica con esso. Dall'apertura dello sportellino della presa di ricarica al collegamento della spina al disaccoppiamento: l'intero processo di ricarica si verifica senza alcuna interazione umana.
Servizio con la voce di Lilia Marcucci.
La DS 3 Crossback E-Tense full-electric
E' scultorea e ha delle proporzioni inedite, ma anche innovazioni esclusive e raffinatezza unica, parliamo della DS 3 Crossback E-Tense full-electric. La versione 100% elettrica E-Tense della DS 3 Crossback si spinge ancora oltre, con la sua nuova piattaforma tecnologica che apre nuovi orizzonti, sia tecnici che stilistici.
Servizio con la voce di Lilia Marcucci
Air Taxi da Uber e Hyundai Motor
Uber e Hyundai Motor hanno annunciato una partnership di ridesharing aereo per sviluppare Uber Air Taxis. Hyundai è la prima azienda automobilistica ad aderire all'iniziativa Uberelevate, offrendo capacità di produzione su scala automobilistica e una storia di veicoli elettrici di serie.
L'era dell'elettrificazione Peugeot
Sono già 6 i modelli Peugeot acquistabili, dal full electric al plug-in hybrid, dopo l'avvio della vera rivoluzione tecnologica nell'elettrificazione della mobilità. La tecnologia plug-in hybrid impiegata dai modelli Peugeot, è stata collocata dal Ministero dei Trasporti nella fascia di maggior efficienza tecnologica e che, a differenza di mild hybrid e full hybrid, ha accesso agli ecobonus statali, proprio come i modelli 100% elettrici.
Servizio di Giulio Marc D'Alberton, Responsabile Comunicazione Peugeot Italia.
Lancio della Nuova MINI Cooper SE full electric
Il lancio internazionale della Nuova MINI Cooper SE si è tenuto a Miami, in Florida, e l'intera flotta di auto in prova è stata rifornita esclusivamente con elettricità proveniente da fonti rinnovabili. La Nuova MINI Cooper SE è alimentata da un motore elettrico da 135 kW che compie lo scatto da 0 a 60 km/h in 3,9 secondi e da zero a 100 km/h in 7,3 secondi.
Servizio con la voce di Marco Cereda.
Propulsori ibridi su tutta la gamma Volvo S90 e V90
Le versioni aggiornate della berlina Volvo S90 e delle station wagon Volvo V90/V90 Cross Country, offrono sull'intera gamma i propulsori mild hybrid. Fra le novità introdotte a livello di portafoglio prodotti sono incluse le diverse varianti del propulsore mild hybrid con tecnologia a 48 Volt, ora disponibili su tutti i modelli Volvo nell'ottica di un ulteriore ampliamento dell'offerta di modelli elettrificati a marchio Volvo.