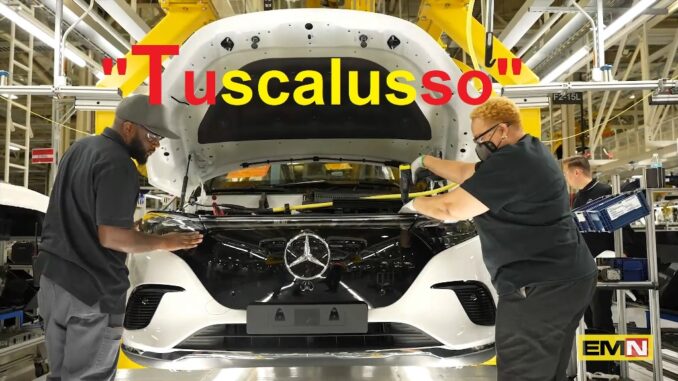 Nella puntata 27 di Electric Motor News, servizi di Cupra, Seat e le batterie, Mercedes EQS a Tuscaloosa, MINI Aceman e Rolls Royce Spectre.
Di seguito i servizi video…
Sette secondi per innamorarsi di Cupra
Cupra UrbanRebel, Cupra Tavascan e Cupra Terramar sono i prossimi modelli elettrici del brand e il Direttore Design Jorge Diez spiega gli elementi chiavi del linguaggio stilistico. Gli esterni dei modelli hanno un forte carattere, nuovi tratti iconici e con il filo conduttore della sostenibilità e la tecnologia, che definiscono i nuovi interni.
Seat risponde a 5 domande chiave sulle batterie
La batteria è uno dei principali componenti dei veicoli ibridi ed elettrici, per cui è naturale che agli utenti possano sorgere delle domande su come funzionano. Francesc Sabaté, Responsabile del Test Center Energy (TCE), pioneristico laboratorio di ricerca e sviluppo di Seat S.A., risponde a 5 domande chiave sulle batterie.
Lanciato a Tuscaloosa il nuovo SUV Mercedes Benz EQS
Il nuovo SUV EQS è il primo Mercedes Benz EQ completamente elettrico costruito negli Stati Uniti ed è stato lanciato con successo nello stabilimento di Tuscaloosa. Il SUV EQS sarà prodotto esclusivamente negli Stati Uniti con un sistema di batterie altamente efficiente che sarà fornito dalla fabbrica di batterie Mercedes Benz recentemente aperta nella contea di Bibb, in Alabama.
The internal design of the MINI Aceman
Tomas Wu, Interior Designer of MINI Aceman and colour and material designers Morgane Bavagnoli, Elena Schwörer and Evelyn Hartmann speaks about the internal parts of the MINI Aceman Concept…
In italiano – Il design interno della MINI Aceman
Tomas Wu, Interior Designer di MINI Aceman e i designer di colori e materiali Morgane Bavagnoli, Elena Schwörer ed Evelyn Hartmann parlano delle parti interne della MINI Aceman Concept…
Rolls Royce Spectre in Costa Azzurra
La nuova Rolls Royce Spectre ha effettuato la prima fase di test lo scorso mese nelle condizioni estreme di Arjeplog, in Svezia, e ora segue con la seconda fase in Costa Azzurra. Rolls-Royce continua così un programma di test di 2,5 milioni di km per il primo prodotto elettrico, Spectre, una fase di test di 625.000 km nella regione della Costa Azzurra, nel sud della Francia, nello stabilimento dell'Autodromo di Miramas e sulle strade della Costa Azzurra.
Ecco le anteprime fotografiche dei video…