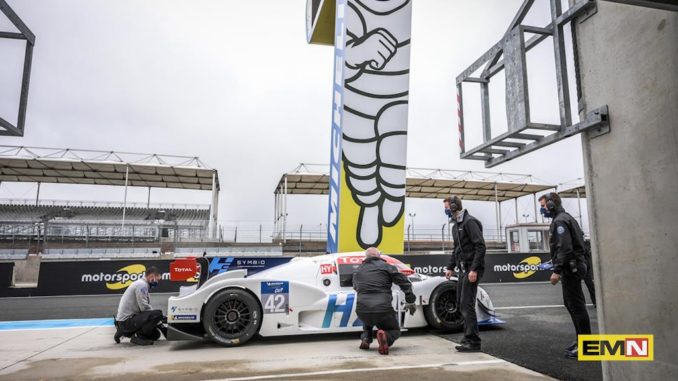 In Electric Motor News puntata 23; camion Volvo, Peugeot 508 PSE, Opel Corsa-e, scooter Wow, Nissan EV36Zero, Opel, DS, Polini, Green GT, Citroën e Hyvia.
Ecco tutti i servizi…
Unveiled the new models of Volvo Electric Trucks
Unveiled the new range of electric trucks from Volvo, the FM, the FMX, and FH models with which the company will front the transition in the transportation field.
In italiano – Svelati i nuovi modelli di Volvo Electric Trucks
Svelata la nuova gamma di camion elettrici Volvo, i modelli FM, FMX e FH con cui l'azienda affronterà la transizione nel settore dei trasporti.
The words of truck driver of the Volvo Electric Truck
Henrik Sundberg, truck driver of the new electric Truck Volvo, speaks about his journey, about the new world that he discovered driving for the first time an electric truck and confirming that he feels good, without noise, with a new way to drive the Volvo Truck.
In italiano – Le parole del camionista del Volvo Electric Truck
Henrik Sundberg, camionista del nuovo Truck elettrico Volvo, parla dei sui giri, del nuovo mondo che ha scoperto guidando per la prima volta un camion elettrico e confermando di sentirsi bene, senza rumore, con un nuovo modo di guidare il Camion Volvo.
Video in lingua inglese.
"The sound of silence" dei camion elettrici Volvo
Il costruttore svedese Volvo ha studiato dei suoni particolari per identificare la presenza dei propri camion elettrici, così troviamo il suono della marchia indietro, del motore al minimo regime e della partenza tra gli altri. Il servizio è senza audio… infatti… è il sound of silence…
Il futuro dell'elettrificazione secondo Volvo Trucks
Con l'obiettivo di mostrare direttamente la gamma di camion elettrici, Volvo Trucks ha organizzato gli Electric Commercial Days. Si tratta di sette eventi in presenza e in sicurezza, rivolti alla rete, agli allestitori e alla stampa. Con due modelli già disponibili sul mercato e tre che entreranno in produzione a partire dalla seconda metà del 2022, Volvo Trucks è pronta a guidare anche il futuro dell'elettrificazione. In aggiunta ai Volvo FL e FE, adatti ai carichi medi e destinati principalmente ad attività di distribuzione e raccolta dei rifiuti, la gamma di veicoli elettrici si arricchirà infatti dei nuovi FH, FM e FMX, anch'essi ordinabili da subito, preparandosi a diventare la prima e la più completa del settore.
Servizio con la voce di Marco Cereda.
Verso il Mugello con la Peugeot 508 PSE
Peugeot ha aperto un nuovo capitolo nel mondo delle auto da gran turismo prodotte in serie, con la Nuova 508 Sport Engineered, un'auto che sfrutta ed esalta la propulsione ibrida plug-in. Quella presentata da poco è la Peugeot di serie più potente mai costruita, una gran turismo con propulsione ibrida ricaricabile che esprime un nuovo punto di vista sulla potenza: 360 CV e 520 Nm di coppia massima complessivi che sono il frutto della combinazione di energia termica ed elettrica.
Il sistema di infotainment e la connettività di Opel Corsa-e
Una delle particolarità della vettura elettrica Opel Corsa-e è che sia il guidatore che i passeggeri possono viaggiare sempre connessi. Questo grazie ai sistemi di infotainment Multimedia Navi con schermo da 7 pollici e il top di gamma Multimedia Navi Pro con schermo touch a colori da 10", che integrano il nuovo servizio telematico Opel Connect con cui è possibile gestire funzioni utili come la navigazione live con informazioni sul traffico in tempo reale o il collegamento diretto con il soccorso stradale.
Pronti al debutto sul mercato gli scooter elettrici WOW
I modelli di scooter elettrici 774 e 775 della startup lombarda WOW sono pronti per debuttare sul mercato italiano, a cui seguirà la presentazione in Francia, Spagna, Germania, Olanda e Belgio a partire da fine anno. WOW è uno scooter concepito come "nativo elettrico", con linee semplici dalla forma compatta. Gruppi ottici distintivi con tecnologia full LED, inediti alloggiamenti per le batterie, un display digitale e un elegante logo ben visibile, esaltano un look "cattura sguardi" perfetto per il contesto metropolitano.
Servizio con la voce di Aurora Bovone.
Nissan ha svelato il Nissan EV36Zero
Nell'impianto di Sunderland, Nissan ha svelato il Nissan EV36Zero, un Electric Vehicle Hub che costituisce il primo ecosistema di produzione di veicoli elettrici al mondo. Il piano prevede un investimento complessivo da un miliardo di sterline. Il progetto è stato lanciato da Nissan e dai suoi partner, Envision AESC, produttore di batterie leader a livello mondiale, e il Consiglio Comunale di Sunderland.
Novità di prodotto e di corse in casa Opel nel mese di giugno
A giugno spiccano due nuovi prodotti Opel elettrificati, quali Nuova Astra e Manta GSe; mentre al Milano Monza Motor Show la casa tedesca ha esposto in Piazza del Duomo a Milano il Nuovo Opel Mokka-e a trazione elettrica e infine il debutto della Opel Corsa-e Rally al Ottimo al Rally du Touquet con il pilota collaudatore Marijan Griebel e il debutto dell'ADAC Opel e-Rally Cup.
Il mese di giugno di DS Automobiles
Dalla DS 9 E-Tense alla presentazione della nuova DS 4, passando per la presenza al MIMO (Milano Monza Motor Show) fino alla Formula E. Questi sono i punti salienti di giugno del brand DS Automobiles.
Alleanza tra Polini Motori e Michela Moioli
Alleanza tutta bergamasca tra Polini Motori e Michela Moioli, l'atleta medaglia d'oro olimpica ai giochi olimpici del 2018 a Pyeongchang. La tre volte campionessa Coppa del Mondo di snowboard cross e medaglia oro ai giochi olimpici del 2018 a Pyeongchang, ha infatti scelto la prestazionalità dei motori Polini E-P3+ per i suoi allenamenti in vista delle prossime sfide invernali.
GreenGT MissionH24, le corse a idrogeno di Michelin
Michelin ha presentato l'auto da corsa a idrogeno GreenGT MissionH24 – LMPH2G – che esiste in preparazione per l'arrivo di una categoria elettrica-idrogeno alla 24 Ore di Le Mans nel 2024. Il GreenGT MissionH24 è alimentato da una cella a combustibile a idrogeno a quattro stack create dalla controllata Symbio.
Il mese di giugno 2021 di Citroën
Le news dei veicoli elettrificati Citroën di giugno su tre diversi fronti: Citroën ë-Jumpy Hydrogen prefigura il veicolo commerciale leggero elettrico del futuro; Nuova Citroën ë-C4 -100% ëlectric in presenza al MIMO (Milano Monza Motor Show) e Ami -100% ëlectric ora anche per i clienti B2B e aziende.
Hydrogen solutions from Hyvia
The Hyvia ecosystem includes green hydrogen production, storage, and distribution with hydrogen refuelling stations by the end of 2021. 'HY' for hydrogen, 'VIA' for road: Hyvia paves a new way forward for the carbon-free mobility ecosystem throught green hydrogen from electrolysis of water, enables mobility with zero CO2 emissions*, increased range, and a short refuelling time.
In italiano – Soluzioni di idrogeno di Hyvia
L'ecosistema Hyvia include la produzione, lo stoccaggio e la distribuzione di idrogeno verde con stazioni di rifornimento di idrogeno entro la fine del 2021. "HY" per idrogeno, "VIA" per strada: Hyvia apre una nuova strada per l'ecosistema della mobilità senza emissioni di carbonio attraverso l'idrogeno verde dall'elettrolisi dell'acqua, consente la mobilità con zero emissioni di CO2 *, maggiore autonomia e un breve tempo di rifornimento.
Il pilota Andrea Nucita guida la Peugeot e-208 per le strade di Milano
Cosa fa un pilota di rally come Andrea Nucita alla guida di una macchina in mezzo alla città, è per giunta una macchina elettrica come la Peugeot e-208? La risposta in questo video pubblicato dalla Casa del Leone… e da quello che dice si capisce che si trova nelle stesse situazioni di tanti automobilisti…
Di seguito le anteprime fotografiche…