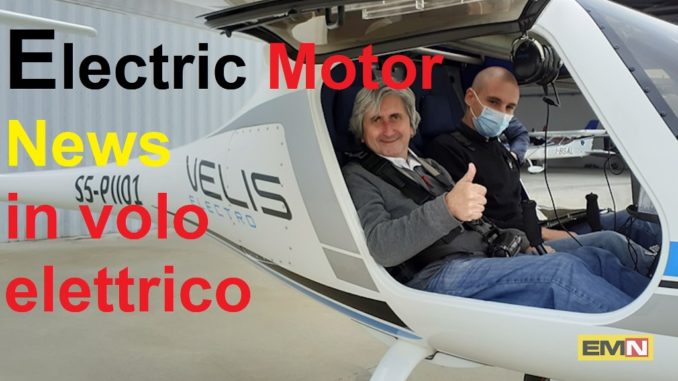 Electric Motor News è stata la prima testata giornalistica al mondo a volare in un aereo elettrico omologato per la vendita, il Pipistrel Velis Electro.
Nella puntata offriamo dei servizi riguardo non solo il volo, ma anche delle interviste ai responsabili sia del progetto che dell'Aero Club Milano che ci ha ospitato nell'occasione.
Inoltre parliamo di Ami – 100% ëlectric, Renault E-Tech, la strategia di mobilità di Groupe PSA, Volkswagen ID.4, BMW e l'impegno di Parigi per il clima e infine dei servizi riguardo la nuova Audi e-tron GT.
Di seguito potete vedere i serivizi…
Pipistrel Velis Electro, il primo aereo elettrico omologato al mondo
L'azienda slovena Pipistrel ha costruito e omologato il primo aereo elettrico al mondo. Presentato in Italia all'Aero Club Milano, abbiamo intervistato Paolo Romagnoli, l'ingegnere che ha seguito il progetto e che racconta come la normativa è stata la problematica maggiore da superare.
Prima parte dell'intervista di Marcelo Padin.
Particolari del progetto e della ricarica
Nella seconda parte dell'intervista, L'Ing. Paolo Romagnoli racconta le diverse fasi del progetto fino al risultato finale, le possibilità del trasporto via terra dell'aereo e come si ricarica.
Seconda parte dell'intervista di Marcelo Padin.
Batterie, elettronica e motore dell'aereo Pipistrel Velis Electro
Nell'ultima parte dell'intervista, l'Ing. Paolo Romagnoli parla di aspetti tecnici, del motore, le batterie e l'elettronica di controllo utilizzati per equipaggiare il Pipistrel Velis Electro…
Ultima parte dell'intervista di Marcelo Padin.
La parola del Consigliere dell'Aero Club Milano
Sergio Barlocchetti, Consigliere dell'Aero Club Milano e Flight Test Engineer, è stato intervistato da noi poco prima di partire nel primo volo dimostrativo della giornata e parla delle aspettative, delle diverse differenze che ha osservato quando si è seduto sull'aereo e dell'utilità per l'impiego nella scuola di volo; target più importante di Pipistrel. E come curiosità possiamo dire che l'aereo aveva i doppi comandi, proprio per l'uso nei corsi di volo.
Intervista di Marcelo Padin.
Emozione unica, il volo in elettrico di Electric Motor News
E' stato un volo di circa 10 minuti ma con un'emozione che è ancora viva, con due decolli e due atterraggi per vedere l'agilità dell'aereo. Nel video abbiamo fatto una sintesi del volo, tranquillo e senza turbolenze sotto un cielo nuvoloso di inizio ottobre. Doveroso il ringraziamento di Electric Motor News a Pipistrel, al pilota Marco Rizzato che ci ha spiegato alcuni particolari in volo e all'Aero Club Milano che ci ha ospitato.
Servizio di Marcelo Padin.
Ami – 100% ëlectric, l'elettrica per tutti
La risposta concreta di Citroën alle sfide della mobilità in città e dell'impatto ambientale è l'anticonformista e rivoluzionaria Ami – 100% ëlectric. Oggetto anticonformista da 2 posti, 100% elettrico, Ami – 100% ëlectric è confortevole e protettiva, compatta e agile, oltre ad essere personalizzabile. Un carattere unico che sovverte i codici tradizionali. Ami è accessibile a tutti: si guida senza patente, propone offerte "à la carte" vantaggiose e adatte alle esigenze di ognuno.
Renault E-Tech, le ibride della casa della losanga
Renault è stato il primo costruttore europeo ad aver lanciato un'auto elettrica di produzione ed ora aggiunge alla gamma una serie di vetture ibride sotto la denominazione E-Tech. Francesco Fontana Giusti, Direttore Comunicazione e Immagine di Renault Italia, illustra la nuova gamma Renault ibrida.
La strategia di mobilità di Groupe PSA
Nel Talk "The new urban mobility: sustainable, safe and accessible", il CEO di Groupe PSA Italia Gaetano Thorel presenta la strategia di mobilità di Groupe PSA. Il moderatore del Talk, Federico Parolotto – Senior Partner Mobility in Chain, ha messo a confronto Gaetano Thorel – CEO di Groupe PSA Italia SpA con Valentino Sevino – Direttore dell'Area Pianificazione Mobilità di AMAT (Agenzia Mobilità Ambiente e Territorio di Milano) sulle nuove sfide della mobilità che richiedono un approccio sinergico tra "Pubblico" e "Privato".
ID.4, secondo modello elettrico della famiglia ID Volkswagen
ID.4 è il secondo modello progettato sulla piattaforma modulare elettrica (MEB) del Gruppo Volkswagen e al tempo stesso il primo SUV 100% elettrico del Marchio. Il design è pulito, lineare e muscoloso. Coniuga il carattere robusto di un SUV con un'aerodinamica avanzata con coefficiente CX pari a solo 0,28. Oltre alla forma fluida di base della carrozzeria, contribuiscono a questo risultato d'eccellenza molte soluzioni di dettaglio. Per esempio i gruppi ottici posteriori, insieme allo spoiler sul tetto, provvedono a un distacco netto del flusso aerodinamico.
Servizio con la voce di Marco Cereda.
BMW Group e l'impegno per gli accordi di Parigi sul clima
Con un piano decennale per la sostenibilità, il BMW Group sottolinea il suo impegno per gli accordi di Parigi sul clima, concentrandosi specialmente sull'espansione della mobilità elettrica. Oggi i marchi BMW e MINI con sistemi di propulsione completamente elettrici e ibridi plug-in, rappresentano già circa il 13,3 per cento delle immatricolazioni in tutta Europa.
The electric Gran Turismo Audi e-tron GT
The Audi e-tron GT is the first Audi electric car built in Germany at the Audi Böllinger Höfe, near Neckarsulm. The factory, dedicated to small series productions, has been expanded, upgraded and converted for new activities and in the video you can see the different moments of manufacturing.
In Italiano – Arriva la Gran Turismo elettrica Audi e-tron GT
Audi e-tron GT è la prima auto elettrica dei quattro anelli costruita in Germania, più precisamente presso l'Audi Böllinger Höfe, nelle vicinanze di Neckarsulm. La factory, dedicata alle produzioni in piccola serie, è stata ampliata, potenziata e convertita per le nuove attività e nel video si possono vedere i diversi momenti della costruzione.
The study of sound of Audi e-tron GT
To build a car as a work of art in motion to be accompanied by a unique acoustic experience, Audi has composed for the Audi e-tron GT a sound that is the result of musical inspiration and refined technical skills.
In Italiano – Lo studio del suono di Audi e-tron GT
Affinché una vettura concepita come un'opera d'arte in movimento sia accompagnata da un'esperienza acustica unica, la Casa dei quattro anelli ha composto per Audi e-tron GT un sound frutto di estro musicale e raffinate competenze tecniche.
Only the sound of Audi e-tron GT
In the video, no words. Just the sound of the new Audi e-tron GT and different technical views about sound waves in different moments of the circulation.
In italiano – Il suono della Audi e-tron GT
Il video è senza parole. Solo il suono della nuova Audi e-tron GT e diverse visioni tecniche delle onde sonore nei diversi momenti della circolazione.
Di seguito, le anteprime fotografiche dei servizi…