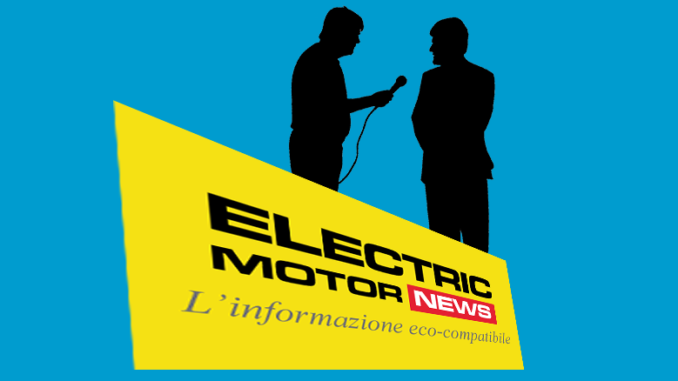 Ecco le interviste della puntata n° 15 dell'anno 2017 di Electric Motor News
Conferenza sulla Formula E alla Bocconi di Milano
Bocconi Students Motorclub e Green Light for Business hanno organizzato all'Università Bocconi di Milano la Formula E Conference, incontro dedicato interamente alla Formula E. I relatori sono stati Manuel Ortiz Tallo (Head of Events Formula E), Marcelo Padin (Direttore Editoriale Electric Motor News), Gaia Crusizio (Group Brand Strategy and Activation Manager Enel), Simone Rambaldi (Consulente Tecnico Electric Motor News) Matteo di Castelnuovo (Direttore del Master in Green Management) e Gabriele Grea (Presidente di Redmit e Ricercatore CERTeT)
Nissan ed Enel Energia per il vehicle to grid
Arrivano in Italia le prime infrastrutture di ricarica per le auto elettriche "vehicle to grid" (V2G). Grazie a un accordo siglato tra Enel Energia, Nissan Italia e l'Istituto Italiano di Tecnologia, è partito un progetto pilota di car sharing elettrico aziendale con colonnine di ricarica V2G presso la sede dell'IIT di Genova.
Nissan Leaf all'Istituto Italiano di Tecnologia
Per il car sharing Nissan ha messo a disposizione dell'IIT due veicoli 100% elettrici, modello LEAF, oltre a una piattaforma di gestione su App denominata Glide, mentre Enel Energia ha installato due stazioni di ricarica V2G presso la sede di Genova dell'Istituto.
Nuovo Pick-Up Eletttrico Workhorse
Workhorse può avere la proposta finale per le flotte commerciali con la sua pick-up W-15, la prima pick-up elettrica ad autonomia estesa che sarà costruita ad hoc con le flotte in mente. La W-15 secondo i dati ufficiali ha un'autonomia elettrica di 128 km, che ovviamente aumenta utilizzando il range extender.
Servizio con la voce di Marco Cereda.
Pubblicità pulita di Toyota Yaris Hybrid
Lo spirito green della nuova Toyota Yaris Hybrid si "respira" anche nelle campagne pubblicitarie. E' partita infatti la nuova maxi affissione a Roma in Piazza San Giovanni Laterano, che utilizza l'innovativa tecnologia antiinquinamento The Breath.
Voce di Alice Bovone.
Dall'Israele arriva la ricarica in 5 minuti
L'ultima promessa soluzione nel campo della ricarica rapida arriva da Israele, dove la startup StoreDot ha ideato una nuova tecnologia in grado di ricaricare le batterie delle auto in appena cinque minuti.
Servizio con la voce di Lilia Marcucci.
Suzuki si prepara per andare alla Luna
Dopo aver affrontato i terreni più impervi del pianeta Terra, la tecnologia 4×4 ALLGRIP di Suzuki è pronta a conquistare lo spazio. Il know-how maturato in quasi mezzo secolo di progettazione di auto compatte a trazione integrale, ora è impiegato nella realizzazione del veicolo che dovrà muoversi e raccogliere immagini sulla Luna per il Team HAKUTO, unica squadra giapponese a partecipare al Google Lunar XPRIZE.
Un sogno che diventa realtà.
Fine della puntata n° 15 del 2017.