Il membro del consiglio di amministrazione Volkswagen Passenger Cars, Jürgen Stackmann, spiega in questo modo perché la sfida in Cina è emblematica per la famiglia Volkswagen ID.R.
The Challenge at Tianmen Mountain è anche un sito di test per lo sviluppo della produzione e consente a ID.R di sottolineare la competenza tecnica di Volkswagen.
Il 2 settembre, l'ID.R dovrà affrontare un tipo molto speciale di sfida sulla montagna di Tianmen in Cina: il cacciatore di record Romain Dumas (F) stabilirà un punto di riferimento al volante dell'ID.R contro il quale la competizione sarà in grado di tentare la fortuna.
Finora, nessuno ha osato dominare il percorso estremamente tortuoso della mitica montagna su un'auto da corsa. Con l'ID.R, l'ambasciatore delle corse del futuro della famiglia di prodotti ID, Volkswagen dimostra la propria competenza nel campo dei veicoli a propulsione elettrica, utilizzando il motorsport come campo di prova e palcoscenico.
In appena un anno, Volkswagen ha stabilito nuovi record con l'ID.R completamente elettrica a Pikes Peak (USA), il Nürburgring Nordschleife (D) e il Goodwood Festival of Speed ​​(GB). In questa intervista, Jürgen Stackmann, membro del consiglio di amministrazione Volkswagen Passenger Cars, con la responsabilità di "Vendite, marketing e assistenza post-vendita", spiega perché la sfida in Cina è emblematica del cambiamento di mobilità in Volkswagen.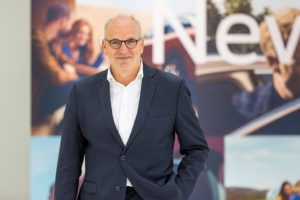 Signor Stackmann, l'intero team Volkswagen sta aspettando molto l'apparizione di ID.R sul mitico Tianmen Mountain. Cosa lo rende così affascinante?
È una sfida molto speciale. A differenza dei precedenti record, il nostro team non conosce pienamente il tracciato e non ha potuto testare nel simulatore e nemmeno sul posto. Non vedo l'ora del tentativo record, poiché la montagna ha un significato speciale e mitico in Asia. Per Volkswagen, il mercato cinese è molto importante perché vogliamo guidare attivamente la strategia dell'elettromobilità lì a tutto gas.
Qual è il suo obiettivo con il tentativo record di Tianmen Mountain?
Con ID.R vogliamo dimostrare ancora una volta che l'elettromobilità non è solo divertente, ma anche estremamente efficiente e capace di prestazioni elevate. L'elettromobilità è emotiva e affascinante: questo è il chiaro messaggio che ID.R sta inviando. Speriamo che Tianmen, con il nostro punto di riferimento, diventerà un luogo in cui i veicoli elettrici competeranno regolarmente per raggiungere nuove vette. La situazione è simile ai veicoli di produzione della famiglia ID.: siamo convinti che il Modular Electric Drive Kit (MEB) non abbia eguali. Non costituisce solo la base di tutti i futuri veicoli ID, ma è disponibile anche per altri produttori di veicoli.
Quale ruolo svolge l'ID.R nello sviluppo dell'ID. veicoli di produzione?
ID.R è il nostro pilota elettrico che risveglia le emozioni e affascina le persone sotto l'incantesimo dell'elettromobilità. Dissolve inoltre molti pregiudizi comuni contro la mobilità elettrica. Per inciso, qualche mese fa, abbiamo pubblicato i "12 miti dell'elettromobilità" sui nostri canali, il che elimina questi pregiudizi comuni. ID.R è il nostro ambasciatore per i futuri modelli di produzione della famiglia ID, come l'ID.3 1), che saranno presentati ufficialmente all'IAA 2019. Ma certamente, l'ID.R ha anche una grande importanza per il trasferimento tecnologico alla produzione. Ad esempio, da quando il progetto è iniziato circa due anni fa, abbiamo imparato una quantità incredibile di mobilità elettrica, software, gestione della batteria e tecnologia di ricarica e siamo stati anche in grado di utilizzare queste conoscenze per lo sviluppo della produzione.
Come valuta gli sviluppi dell'elettromobilità?
Non è solo un momento interessante ed emozionante per me come direttore delle vendite e del marketing, ma anche per l'intero settore automobilistico. È molto divertente sviluppare idee e strategie con un brillante team all'avanguardia della mobilità elettrica per convincere i nostri clienti – e coloro che si spera lo diventeranno – che i veicoli elettrici siano la risposta alle sfide del nostro tempo. Offrono grande piacere di guida e offrono vantaggi e caratteristiche che avremmo potuto solo sognare qualche anno fa: offrono più spazio con dimensioni esterne comparabili, sono silenziosi, molto efficienti, economici ed economici da mantenere, e offrono ai nostri designer opportunità completamente nuove.
Un'auto elettrica con una lunga autonomia e molto spazio può davvero essere divertente da guidare?
Senza dubbio. Devi solo provare la sensazione di accelerazione in un'auto elettrica. Naturalmente, non possiamo trasferire questo like-for-like dall'ID.R all'ID di produzione, in quanto genera 500 kW e quindi molto più di quanto la maggior parte dei clienti desideri. Ma sappiamo già che grazie all'azionamento elettrico, molta meno potenza consente una maggiore accelerazione. Ma è qualcosa che devi provare te stesso, altrimenti non ci crederai.
1) Il veicolo non è ancora in vendita.
Fonte: Volkswagen