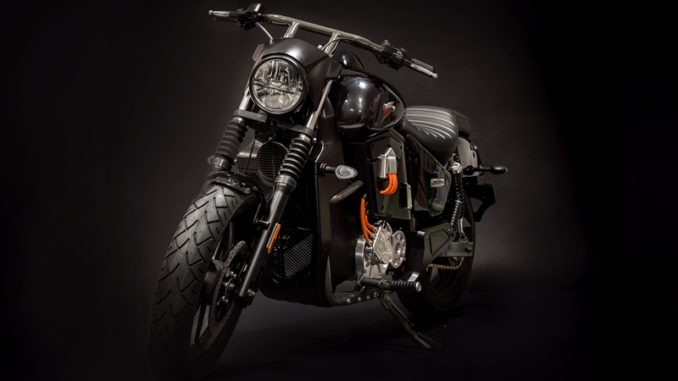 27 kWh e 168 miglia di autonomia per la nuova cruiser elettrica italiana
Fonte: Tacita
Columbus, Ohio. USA. 15 settembre 2017. Tacita è lieta di annunciare il lancio della T-Cruise, in una prima mondiale all'AIMExpo 2017 che si terrà a Columbus, Ohio, dal 21 al 24 settembre.
Dotata della tecnologia di ultima generazione di Tacita, la nuova T-Cruise viene fornita con la batteria da 27 kwh in grado di percorrere 168 miglia ed è destinata a diventare una pietra miliare nella mobilità elettrica. Infine è disponibile un cruiser elettrico paragonabile ad una motocicletta a benzina.
La T-Cruise è il primo Cruiser progettato da Tacita, studiato appositamente per le esigenze degli appassionati di motociclismo che amano guidare un Cruiser e godere dell'emozione dell'accelerazione e dell'emozione del cambio.
Pierpaolo Rigo, co-fondatore di Tacita:
"Siamo davvero felici di lanciare la nuova linea della T-Cruise sul mercato americano. Tacita T-Cruise è una moto elettrica finalmente paragonabile ad una motocicletta a benzina. Grazie alla batteria da 27 kWh, è possibile percorrere 168 miglia, l'autonomia media di un motociclista. Grazie al caricabatteria rapido (fino al 40% e fino all'80%), la carica di una batteria diventa un piacere e può essere fatta ovunque. La T-Cruise cambierà il modo in cui gli americani si sentono sulle motociclette elettriche. Con la T-Cruise è possibile guidare il cambiamento e andare verde con il piacere di prestazioni e autonomia".
Scheda tecnica (in inglese)
RANGE – The range you are used to, now in electric. Uncompromised.
27 kwh battery
Range: 168 miles – 270 km (estimated UE 134/2014)
Fast charge: 80% in 40 minutes
Home charging: 100% in 7 hours with 240V outlet 16 A .
Powertrain – Powerful. Very.
Engine: Electric asyncronous three-phase induction motor
Double Mapping: Eco and Sport
Cooling System: Liquid-type, with circuits for motor and controller
Max power: 30 kW
Max rpm: 8000
Max torque: 70 Nm
The torque curve of Tacita® T-Cruise provides a unique riding experience only found in electric motorcycles. Enjoy instant 70 NM of torque without overheating the system thanks to its Liquid Cooling feature, unique in the industry.
Reverse Backwards? We have you covered.
T-Cruise is equipped with reverse, backing up couldn't be easier.
Charging
Charge anywhere
T-Cruise is equipped with built on board charger and fast charger, that allows you to use level 1, 2 and 3 electric car chargers across America just by plugging in.
*For information on where to find chargers in the U.S. visit www.chargehub.com
Suspension
• Adjustable Rear Shocks.
The Tacita T-Cruise comes with Twin shock absorbers with preload setting and 65 mm travel.
Optional: rear shocks with adjustable pressurized Nitrogen gas (40 mm Ergal reservoir) engineered to improve control and comfort in all riding conditions.
• Hydraulic telescopic 41 mm Front Forks.
Tyres
Front: Metzeler Marathon 120/80-17
Rear: Metzeler Marathon 140/80-15
Soft compound for high grip allowing to exploit great torque output from the electric engine with total control, with the benefit of tread pattern design that offsets the central groove's alignment, providing very high mileage for never-ending fun riding.
Transmission Gearbox
Gearshifting done Smart.
In order to have the best gear ratio for every situation and at the same time reduce the overheating of the engine and the consumption of electricity, Tacita® has created a unique transmission gearbox that thanks to the lower ratios, allows the torque to increase, causing the inrush currents to decrease. The carefully developed longer gears will make the most out of the engine's maximum peak, removing every compromise and keeping efficiency at maximum levels.
Starting in 1st gear is not mandatory on a Tacita® T-Cruise, starting on a higher gear is possible if the situation requires (for example reducing uphill skidding in the event of a steep climb). Speed gears are very useful downhill as well, allowing the bike to slow down while minimizing the use of brakes and preventing overheating. Gearshifting on a Tacita® T-Cruise is done smart. bike.
Transmission: 5-speed gearbox with hydraulic clutch.
Final transmission: Belt Drive or Chain.
Clutch
Ready when you need it.
In a Tacita® T-Cruise the use of the clutch at the start and at the stop is optional. The clutch is used to reduce the torque when necessary, as well as to change gears. When the electrical system is on and the accelerator is released, the electric motor does not rotate (unlike the internal combustion engine) so the bike is static, which is why it is not necessary to pull the clutch when you stop. The clutch will be ready when you need it.
Brakes
Choose your brakes.
The T-Cruise is equipped with combined brake system (CBS) for safety and a superior braking experience. With the push of a button you can activate the regenerative engine braking that allows recharging the battery when decelerating.
Front brake: 280 mm with Brembo master cylinder
Rear brake: 240 mm disc
Ergonomics
Fit for everyone's tastes.
Fitted with 3-positioned adjustable footpegs, the Tacita® T-Cruise offers the best in class riding position in the Cruiser segment. Stretched legs, straight up, you choose.
Pricing
Priced for Everyone. Choose yours.
T-Cruise is offered with 3 different battery packs, depending on your range needs, you may choose the entry level with 7,5 kWh for $10,999, 15 kWh for $14,999 and 27 kWh for $24,999 MSRP.
Safety
Safety first, all the way.
120 Volt.
We chose to run at 120 Volt. Why?
On the electric motorcycle, batteries deliver current that goes to the controller and is converted into alternating current. According to the technical standard IEC 60479-1, the voltage that is considered to be dangerous is more than 120 V. In order not exceed this safety limitation, Tacita® engineers decided that the total voltage of batteries needed to be less than 120 V (Regulation ECE No.100). Tacita® thinks safety first, all the way.
Seat
Handmade in Italy, with eco leather for external nautical use and double foam with memory, provides a unique seating experience while preserving the environment.
Storage
Optional rear bags in Italian eco-leather with 28 available colors, standard black
Battery
Type: LiPo lytium polymer battery
Battery Life: over 2000 cycles for an estimated 335,000 miles (540,000 kms) on Long Range model.
Battery Warranty: 5 years
27 kWh battery
Range: 168 miles – 270 km estimated as per UE 134/2014 standard + Reserve Power
100% Charging Time Level 1 (110 volts): 14 hours with 16 A outlet *
100% Charging Time Level 2 (220 volts): 7 hours with 16 A outlet *
80% Charging Time Level 3 (400 volts) Fast Charger: up to 40 min. 31 additional miles every 10 min
*Onboard standard 3 kW charger, recommended at night
optional fast charge
15 kWh battery
Range: 93 miles – 149 km estimated as per UE 134/2014 standard + reserve power
100% Charging Time Level 1 (110 volts): 8 hours with 16 Amp outlet, recommended at night
100% Charging Time Level 2 (220 volts): 4 hours with 16 Amp outlet, recommended at night
80% Charging Time Level 3 (400 volts) Fast Charger: up to 40 min., 18 additional miles every 10 min
*Onboard standard 3 kW charger, recommended at night
Optional fast charge
7,5 kWh battery
Range: 50 miles – 81 km estimated as per UE 134/2014 standard + Reserve Power
100% Charging Time Level 1 (110 volts): 4 hours 16 A outlet
100% Charging Time Level 2 (220 volts): 1 hour 50 min with 16 A outlet
80% Charging Time Level 3 (400 volts) Fast Charger: 40 min, 9 additional miles every 10 min
*On board standard 3 kW charger, recommended at night
Optional fast charge
nggallery id=10405