Cadillac Escalade Hybrid: il primo SUV full-size di lusso con tecnologia ibrida
Zurigo – Cadillac Escalade Hybrid 2011 mantiene lo stesso livello di ricercatezza e performance che hanno fatto della Cadillac Escalade un simbolo. Questo SUV è dotato di una tecnologia all'avanguardia in grado di offrire un modello alternativo a maggiore risparmio energetico rispetto alle versioni di punta del segmento Sport Utility Vehicle full-size. L'Escalade Hybrid ottiene un miglioramento superiore al 20 % nel consumo combinato di carburante e nelle emissioni combinate di CO2 sul modello non ibrido. Nella sua pubblicazione "Best of the Best" Robb Report, che si occupa di prodotti di consumo di lusso, ha assegnato il titolo di Best Sport Utility Vehicle proprio alla Cadillac Escalade Hybrid.
Tecnologia ibrida innovativa
La Cadillac Escalade Hybrid utilizza il sistema ibrido bimodale composto da una trasmissione elettrica variabile (EVT) e da un sistema di accumulo energia (ESS) da 300 Volt al nichel-metallo idruro. Questi sistemi lavorano in sintonia con il motore a benzina standard, il V8 Gen IV da 6.0 litri, con Active Fuel Management (AFM) e tecnologia di chiusura ritardata delle valvole di aspirazione per un risparmio di carburante ancora più efficiente.
La chiave di funzionamento del sistema ibrido bimodale avanzato dell'Escalade Hybrid brevettato da GM è nel sistema stesso, che genera l'energia elettrica utilizzata per far muovere il veicolo.
– Quando si preme il pedale del freno o quando il veicolo viaggia per inerzia, i due motori elettrici del sistema ibrido producono energia elettrica, accumulata nella batteria ESS.
– L'energia viene accumulata anche durante la decelerazione del veicolo per mezzo di un ciclo di frenata rigenerativa.
– Questa energia è successivamente utilizzata per muovere il veicolo.
Progettato anche nell'ottica del risparmio di carburante, l'Escalade Hybrid presenta anche una tecnologia di gestione attiva del carburante (Active Fuel Management) che permette al motore Vortec 6.0L V8 di funzionare con soli 4 cilindri in certe condizioni di guida. Con una potenza di 337 cv (248 kW) e una coppia massima di 495 Nm, la Cadillac Escalade Hybrid è alimentabile con benzina senza piombo nello standard americano "regular", ma il motore, a tecnologia intelligente, si spegne automaticamente per passare all'energia elettrica quando il veicolo raggiunge 0 km/h, a esempio su di un percorso urbano o ad alta densità di traffico.
Tecnologia ibrida d'eccellenza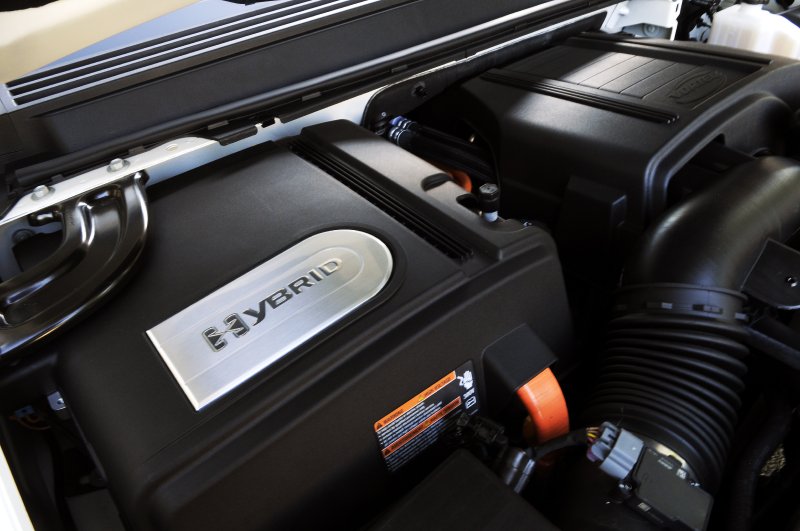 Come l'Escalade non ibrido, l'Escalade Hybrid è sinonimo di eccellenza in termini di design, strumentazione e performance. Non sorprende infatti che oltre a garantire una maggiore efficienza nel consumo di carburante e a ridurre le emissioni di scarico, il sistema ibrido bimodale avanzato dell'Escalade Hybrid contribuisce a creare un'esperienza di guida eccellente in tutte le condizioni. Le caratteristiche del gruppo propulsore ibrido e dei sistemi di supporto includono:
– Sistema di scarico e silenziatore studiati appositamente per il sistema Active Fuel Management del motore 6.0L V8. Tale sistema assicura un buon isolamento interno e minimizza la rumorosità dello scarico sia nel funzionamento a 4 cilindri sia in quello a 8.
– Compressore dell'aria condizionata azionato da un motore elettrico a 300 volt. Riduce le vibrazioni, in quanto permette al sistema di condizionamento, con sistema di controllo clima standard Escalade a tre zone distinte, di refrigerare l'abitacolo perfino quando il motore a benzina è spento a favore dell'alimentazione elettrica.
– Sistema di raffreddamento ad accumulo di energia, Energy Storage System, studiato per la massima silenziosità alle basse velocità del veicolo per ridurre la rumorosità all'interno dell'abitacolo.
La resistenza del sistema di accumulo di energia ESS è un altro punto di forza dell'Escalade Hybrid. L'affidabilità e la durata nel tempo del sistema di accumulo energia dell'Escalade Hybrid viene mantenuta grazie a cicli di carica e scarica ottimizzati e a un sistema specifico di raffreddamento che estrae l'aria dall'abitacolo. Il kit batterie è garantito per 8 anni o 160.934 km.
L'Escalade Hybrid si contraddistingue per la ricercatezza artigianale degli interni, curata nei minimi dettagli, e la sofisticata tecnologia che include un centro informazione del guidatore, Driver Information Center, con visualizzazione continua dello stato del veicolo. Inoltre è previsto un sistema di navigazione e audio con schermo da 8 pollici (20,3 cm) touch-screen, con selettore video-audio MP3/CD/DVD e amplificazione Bose® 5.1 Surround Sound con 10 altoparlanti.
Trazione integrale (AWD), sospensioni e tecnologia di sicurezza intelligenti
L'Escalade Hybrid si avvale di una tecnologia all'avanguardia per garantire una maneggevolezza eccellente e il massimo livello di sicurezza per guidatore e passeggeri. La vettura dispone di:
– Un sistema di trazione integrale permanente (AWD), che ripartisce la coppia tra ruote anteriori e posteriori secondo un rapporto specifico e fisso per una perfetta modulazione di potenza e coppia e per una stabilità del veicolo potenziata
– Una tecnologia delle sospensioni a controllo magnetico dell'assetto, Magnetic Ride Control, che, piuttosto che valvole meccaniche convenzionali, utilizza ammortizzatori riempiti con fluido magnetoreologico che letteralmente "leggono" la strada ogni millisecondo, fornendo resistenza di ammortizzamento praticamente istantanea durante curve difficili, accelerazione e frenata
– Un sistema di controllo elettronico della stabilità computerizzato a 4 canali, StabiliTrak, con Rollover Mitigation
Gamma completa Escalade attualmente disponibile
La gamma Cadillac Escalade per l'Europa è composta da: Escalade, Escalade Platinum Edition ed Escalade Hybrid, il primo SUV full-size ibrido al mondo.
Per maggiori dettagli si rimanda alla documentazione specifica di Escalade ed Escalade Platinum Edition (si veda comunicato stampa dedicato).