• e-Premiere: auto elettrica rivoluzionaria al Paris Motor Show
• e-divertente da guidare: accelerazione e capacità di ripresa come una vettura sportiva
• e-connettività: sempre in linea con IntelliLink infotainment e Opel OnStar
Fonte: Opel
Rüsselsheim. Germania. 24 agosto 2016. Opel rivoluzionerà l'elettromobilità presso l'imminente "Mondial de l'Automobile" di Parigi.
Dal 1 al 16 Ottobre, Opel Ampera-e – una macchina elettrica che elettrizza in ogni modo – fa la sua prima mondiale al padiglione 5-2, stand 501. L'auto con il logo del lampo che unisce la tecnologia delle batterie d'avanguardia e il funzionamento ad emissioni zero localizzato con un'esperienza divertente di guida, data dalla coppia massima di 360 Nm, offre impressionanti valori di accelerazione e capacità di ripresa.
"La Opel Ampera-e rende la mobilità elettrica pienamente fattibile per l'uso quotidiano e pronta per il futuro", afferma il CEO di Opel, Karl-Thomas Neumann. "Ampera-e dimostra in modo convincente quanto bene la sostenibilità e piacere di guida possono convivere in un'auto. E con il suo potente motore elettrico, offre puro divertimento di guida".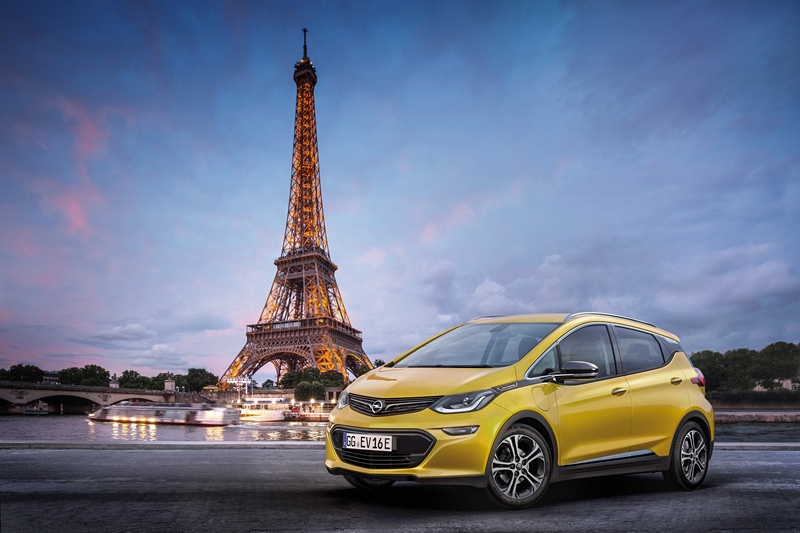 La coppia massima di 360 Nm è responsabile per il temperamento elettrizzante della nuova Opel. La potenza del motore elettrico è di 150 kW / 204 CV (PS). La partenza da fermo al semaforo e l'inserimento in autostrada sono le discipline preferite dell'Opel Ampera-e. Le sprint da auto compatta fino a 50 km/h in soli 3,2 secondi, l'accelerazione da 80 a 120 km/h per il sorpasso che si compie in soli 4,5 secondi (dati provvisori). L'Ampera-e si esibisce in tal modo allo stesso livello dei modelli OPC, le punte di lancia sportive di Opel.
Il divertimento di guida con la Opel Ampera-e significa anche velocità di crociera fino a 150 km/h. Allo stesso tempo, l'Ampera-e offre anche un'autonomia significativamente più lunga rispetto alla maggior parte delle auto elettriche. Le proporzioni compatte e uniche della Ampera-e sono alimentate dalle batterie piatte già dalla fase di progetto, alloggiate sotto il pavimento del veicolo. L'efficiente pacco batteria consente inoltre di avere un abitacolo spazioso che fornisce comodi posti a sedere per cinque passeggeri e lo spazio del tronco paragonabile a quella di una vettura del segmento delle compatte.
Miglior intrattenimento: scaricare i tuoi film preferiti e la musica
Il piacere di guida per i passeggeri su lunghe distanze è vario. Oltre all'ottima sensazione di abitabilità, arriva il meglio della connettività digitale, in tipico stile Opel. L'Ampera-e ha l'ultima generazione di IntelliLink infotainment, così come Opel OnStar a bordo. In base alla disponibilità, la connettività ed i premiati servizi di assistenza offrono contemporaneamente fino a sette dispositivi di accesso mobile alla sua potente hotspot Wi-Fi. I sistemi Intellilink compatibili di Apple CarPlay e Android Auto portano il mondo degli smartphone nel Ampera-e, in modo che i passeggeri abbiano accesso completo alla loro musica preferita o possano scaricare a volontà i loro film preferiti – solo alcuni esempi delle molte funzioni del poliedrico divertimento.
In English
"e" for Electrifying: Opel Ampera-e World Premiere in Paris
e-Premiere: revolutionary electric car at Paris motor show
e-fun to drive: acceleration and overtaking ability like a sportscar
e-connectivity: always online with IntelliLink infotainment and Opel OnStar
Source: Opel
Rüsselsheim. Germany. August 24th 2016. Opel will revolutionize electromobility at the up-coming "Mondial de l'Automobile" in Paris. From October 1-16 the Opel Ampera-e – an electric car that electrifies in every way – makes its world premiere (hall 5-2, booth 501). The car with the lightning flash logo combines pioneering battery technology and localized emissions-free operation with a fun-to-drive experience, as the maximum torque of 360 Nm provides impressive acceleration figures and overtaking ability.
"The Opel Ampera-e makes electromobility fully feasible for everyday use and ready for the future" says Opel CEO, Dr. Karl-Thomas Neumann. "The Ampera-e demonstrates impressively how well sustainability and driving pleasure can form a unity. And with its strong-as-an-ox electric motor, it delivers pure fun-to-drive."
The maximum torque of 360 Nm is responsible for the electrifying temperament of the new Opel. The power output of the electric motor is 150 kW/204 hp (PS). Standing starts at traffic lights and entering the motorway belong to the Opel Ampera-e's favorite disciplines. The compact car sprints to 50 km/h in only 3.2 seconds, acceleration from 80 to 120 km/h for overtaking is accomplished in just 4.5 seconds (provisional figures). The Ampera-e thus performs at the same level as OPC models, the sporty spearheads of Opel.
Fun-to-drive with the Opel Ampera-e also means swift cruising at up to 150 km/h. At the same time, the Ampera-e also offers a significantly longer range than most other electric cars. The unique, compact proportions of the Ampera-e are driven by the battery pack being mounted flat, under the vehicle floor. The efficient packaging of the battery also enables a roomy interior providing comfortable seating for five passengers and trunk space comparable with that of a car in the compact class.
Best entertainment: download your favorite films and music
Driving pleasure for the passengers over long distances is provided. In addition to the excellent feeling of roominess, there comes the best in digital connectivity, in typical Opel fashion. The Ampera-e has the newest generation of IntelliLink infotainment as well as Opel OnStar onboard. Subject to availability, the award-winning connectivity and service assistant simultaneously offers up to seven mobile devices access to its powerful Wi-Fi hotspot. The Apple CarPlay and Android Auto compatible IntelliLink systems bring the world of smartphones into the Ampera-e, so that passengers have full access to their favorite music or can download at will their preferred films – just a few examples of the many functions of the multifaceted entertainment.
no images were found

.