oltre 1.200 imprese su 113.00 mq della Fiera di Rimini con Ecomondo, Key Energy, Key Wind,  H2R–MFS e Condominio Eco
Fonte: H2R
Rimini, Italia. 12 novembre 2016. E' l'economia circolare il driver dello sviluppo di un pianeta che vuol ridefinire la sua impronta ecologica e l'Italia svolge un ruolo di primo piano a livello europeo, come confermato dalle quattro giornate alla Fiera di Rimini. Questa la positiva fotografia dei saloni organizzati da Italian Exhibition Group SpA (la nuova società nata dall'integrazione tra Rimini Fiera e Fiera di Vicenza), condivisa dai protagonisti di questo grande appuntamento europeo – 20°Ecomondo, 10°Key Energy, Key Wind, 15°H2R Mobility for Sustainability e Condominio Eco – dedicato al sistema della green economy, inaugurato martedì scorso dal Ministro dell'Ambiente Gian Luca Galletti. 103.574 visitatori (+ 2% sul 2015) di cui oltre 11.000 operatori stranieri e 550 buyers.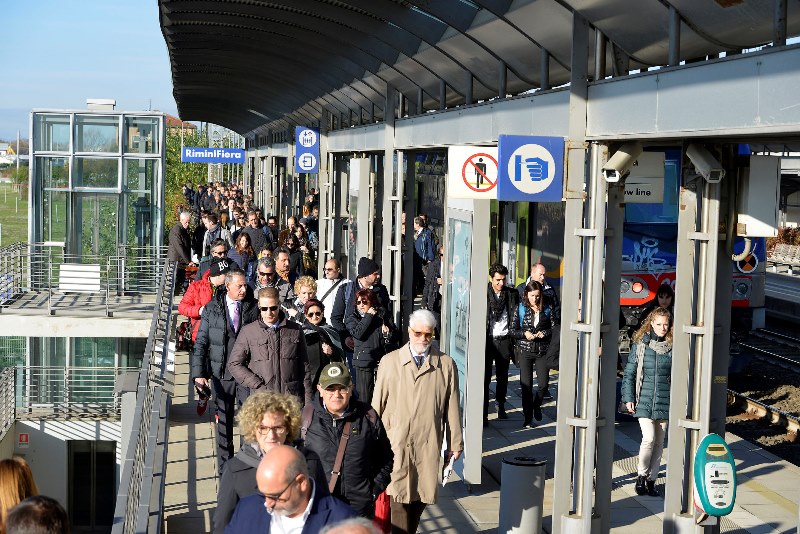 La quarta edizione di H2R@Ecomondo, si riconferma prodotto chiave per lo sviluppo sostenibile della mobilità. Grande soddisfazione espressa dal Prof. Fabio Orecchini, Presidente del Comitato scientifico e ideatore di H2R:
"La quindicesima edizione di H2R (di cui 11 capotoline) continua a crescere e ad attirare attenzione grazie alla piattaforma Ecomondo. Ringrazio gli espositori storici e i nuovi intervenuti per la fiducia dimostrata in un progetto che molto chiamarmente dimostra la centralità dell'auto nel processo di avvicinamento alla Sostenibilità."
In mostra le tecnologie che guardano al futuro per auto a metano e bio-metano, auto ibride e ibride plug- in, auto elettriche, auto a idrogeno fuel cell, tutte insieme al centro della grande fiera di Ecomondo, da 20 anni trampolino di rilancio dell'eco-innovation e occasione di confronto sulla mobilità sostenibile.
Grazie ai Partner di H2R 2016 BOSCH (con le tecnologie per decongestionare il traffico), Kia (per la prima volta a H2R con due proposte ibride: la berlina Optima Plug-in Hybrid e la crossover compatta Niro Hybrid ), Nissan (con LEAF 30 kWh 100% elettrica), Toyota (con Prius Full Hybrid, l'anteprima italiana di Prius Plug-in ibrida plug-in – elettrico-benzina+elettrico ricaricabile – e Mirai a idrogeno con celle a combustibile e tecnologia ibrida), Volkswagen (con e-Golf a trazione 100% elettrica, Golf TGI BlueMotion a metano e Golf GTE ibrido Plug-in),Cnr, CARe (Center for Automotive Research and evolution) ed Enea decine di migliaia di persone hanno potuto approfondire la conoscenza di tecnologie e mezzi a basso impatto ambientale esposti per poi testarli su strada in un percorso studiato per evidenziarne ogni potenzialità, a cura degli istruttori professionisti della scuola di pilotaggio DRIVEVENT. Record senza precedenti di accrediti alle prove auto. Superati i 500 test drive a bordo delle 6 auto a disposizione nelle quattro giornate di manifestazione: Kia Optima Plug-in e Niro; Toyota Prius Full Hybrid e Mirai; Volkswagen Golf TGI BlueMotion e Golf GTE.
I media partner dell'edizione 2016 di H2R-Mobility for sustainability: Ansa Motori La Rivista della Natura, Lifegate, OmniAuto.it e l'Automobile hanno contribuito in maniera significativa all'arricchimento dei contenuti dell'interessante calendario di incontri  e convegni di questa quindicesima edizione.
520 i giornalisti accreditati in sala stampa, 163 milioni di contatti media grazie alla grande attenzione delle testate generaliste e di settore; eco amplificata dai social col raddoppio delle impressions complessive – 10.476.538; oltre 2500 i tweet; +548% like su Facebook durante l'evento.
"H2R – Mobility for sustainability 2016", come tutte le 14 edizioni precedenti, è promosso dal CNR – Consiglio Nazionale delle Ricerche – Istituto di tecnologie avanzate per l´energia, dall'ENEA – Agenzia Nazionale per le Nuove tecnologie, l'Energia e lo sviluppo economico sostenibile, dal CARe – Center for Automotive Research and Evolution.
H2R partecipa a Impatto Zero®. Le emissioni di CO2 prodotte dall'evento sono compensate mediante crediti di carbonio generati da interventi di creazione e tutela di foreste in crescita.
Nel 2017 le fiere della green economy saranno a Rimini Fiera da martedì 7 a venerdì 10 novembre.
no images were found

.