Microlino 2.0 è stata nominata Car of the Year 2021 da The Chicago Athenaeum: Museum of Architecture and Design e The European Centre for Architecture Art Design and Urban Studies.
Il veicolo svizzero Microlino 2.0 ha ottenuto recentemente anche il Good Design Award 2021.
Disegnata interamente a Torino nella sede di Icona Design Group per Micro Mobility Systems AG, la vettura è risultata prima nella sua categoria.
Microlino è dotata di un'unica struttura autoportante che migliora la sicurezza e il comportamento alla guida rispetto al telaio tubolare di altri veicoli della sua categoria. La vettura è composta da un corpo in alluminio leggero con una porta in acciaio rinforzato e sospensioni indipendenti su tutte e quattro le ruote.
La sorprendente Retro Bubble Car completamente elettrica – afferma il critico di architettura Christian Narkiewicz-Laine – non è soltanto sostenibile, ma è anche incredibilmente bella ed estremamente piacevole, riporta brio e divertimento nell'immaginario della mobilità urbana.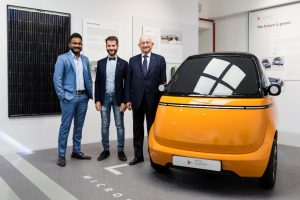 Dotata di un motore 25 HP, la due posti è proposta in tre allestimenti: Urban con batteria da 6 kWh, Dolce con batteria da 10,5 kWh e Competizione con batteria da 14 kWh. Queste versioni consentiranno di percorrere rispettivamente 90, 170 e 230 km, permettendo alla bubble car di superare l'autonomia di alcuni modelli elettrici molto più grandi attualmente in commercio.
Microlino 2.0 ha due posti a sedere affiancati, con una porta frontale per i passeggeri ed un portellone posteriore per accedere al vano carico della capacità di circa 230 Litri. Come sulla nuova Ford Mustang Mach-E, Icona Design Group ha eliminato completamente la maniglia della porta frontale per semplificare ancora di più il design. Per aprire la porta sarà dunque necessario sbloccare l'auto con la chiave e premere un piccolo pulsante sotto il fanale. Questo farà aprire la porta quel tanto che basta per afferrarla e aprirla completamente senza problemi.
Le auto saranno costruite in Italia e verranno messe in vendita dapprima in Svizzera e poi negli altri stati UE con un prezzo di partenza di circa € 12.000.
Fonte: Micro Mobility Systems AG