Fonte: Renault UK
Londra, Gran Bretagna. 1° Novembre 2016. Renault UK annuncia i prezzi e le specifiche tecniche della Renault Zoe Model Year 2017 recentemente presentata al Salone di Parigi, versione che include il nuovo pacco batterie Z.E.40 che offre un'autonomia di 250 miglia (oltre 400 km). La nuova vettura è in vendita in Inghilterra da oggi è sarà nei concessionari a partire da Gennaio 2017.
Di seguito il comunicato stampa ufficiale completo in lingua inglese.
In English
Renault Zoe arrives in the UK with 250 mile range
ZOE now offers best range of any mainstream electric vehicle
New Z.E.40 battery provides 250 miles (NEDC) of driving on a single charge
New top-of-the-range Signature Nav trim level
Model Year 2017 ZOE receives upgrades to interior and exterior specification
Z.E.40 battery added to ZOE line-up alongside existing 22kW battery
ZOE was Europe's best-selling electric car in 2015
Renault ZOE Z.E.40 ordering opens today, with deliveries from January
ZOE range priced from £13,995 on-the-road (after Plug-in Car Grant)
Source: Renault UK
London, UK. 1st November 2016. Renault UK is announcing pricing and specification for the 2017 model year Renault ZOE that was recently unveiled at the Paris Motor Show, complete with the new Z.E.40 battery that has a 250 mile (NEDC) range – the longest range of any mainstream electric vehicle.  A new top-of-the-range Signature Nav trim level has been added to the ZOE line-up for the 2017 model year which goes on sale today and will arrive in UK showrooms from January 2017.
With a 250 mile (NEDC) range, ZOE offers the best range of any mainstream electric vehicle. In real-world driving, Renault estimates the ZOE fitted with the new Z.E.40 battery has a real-world range of between 186 miles in temperate conditions and 124 miles in extreme cold conditions.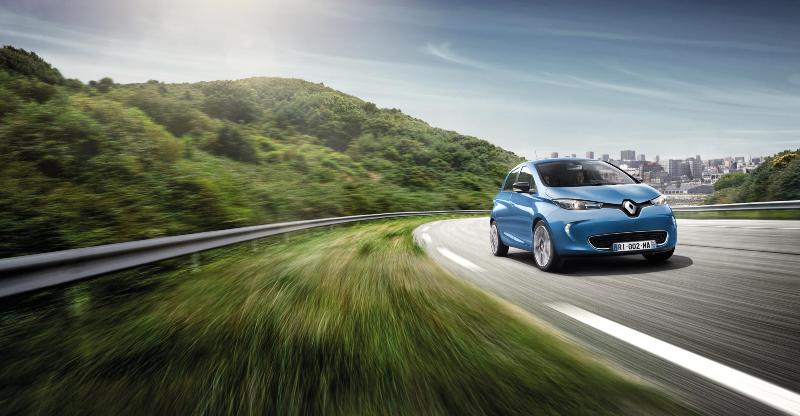 ZOE is now offered with a choice of two batteries – the new Z.E.40 battery and the existing 22kW battery.  The entry level Expression version comes with the 22kW battery whilst DynamiqueNav and above are offered with the new Z.E.40 battery enabling owners to choose a ZOE that suits their individual requirements.  The Z.E.40 battery is available with an optional Quick Charge facility that reduces charging times even further.  All ZOEs sold to private customers are supplied with a fully-installed 7kW fast-charging box that enables convenient charging at home.
The updated ZOE is being expanded to a five-version line-up based on three trim levels familiar to owners of other Renault vehicles – Expression, DynamiqueNav and the new top-of-the-range Signature Nav.  ZOE remains available to purchase with a monthly battery lease agreement or outright with no battery lease agreement.
The Expression trim level provides buyers with a comprehensive specification with a 7-inch touchscreen housing Renault's easy-to-use R-Link2 infotainment system with TomTom® satellite navigation; climate control,  electric windows and electric heated mirrors, cruise control, speed limiter, keycard, Bluetooth connectivity and ample storage throughout the cabin.
Renault's Range OptimiZer technology ensures ZOE is highly efficient with its heat pump, a bi-modal braking system and Michelin ENERGY E-V tyres.  ZOE's Chameleon Charger™ ensures that ZOE adapts and always charges from a source at the highest rate possible, thus lowering charge times.
Renault's Z.E. Connect app allows drivers to remotely monitor battery levels and charging statusvia their smartphone or computer. The ZOE Expression is available with the R90 22kW battery enabling a range of 149 miles (NEDC) and a charging time of 3 to 4 hours (0 to 80 per cent full).
ZOE keeps occupants safe with a five-star Euro NCAP rating and standard safety features such as ESC with traction and understeer control, Hill Start Assist andfront and side driver and passenger airbags.
The ZOE DynamiqueNavadds to the Expression specification withahands freekeycard, automatic lights and wipers, rear parking sensors, rear electric windows and electrically operated, heated and folding door mirrors, 16-inch 'Black Shadow' alloy wheels and a leather steering wheel and gear lever.  In addition to the Z.E. Connect app, the DynamiqueNav benefits from a one-year subscription to the Z.E. Interactive app.  Via a smartphone or computer this allows you to remotely charge your ZOE and schedule charges, as well as cabin temperature pre-conditioning, in order to maximise convenience and take advantage of available off-peak electricity rates.
All-new Signature Nav trim level
The new ZOE Signature Navtrim level sits at the top of the range and featuressupple leather upholstery, heated front seats, a seven speaker BOSE® audio system, rear parking camera, 16-inch 'Grey Shadow' alloy wheels and driver's seat lumbar adjustment.
External changes for 2017
ZOE will be available in three new colours for 2017 – Mars Red, Titanium Grey and Ytrium Grey (available on Signature Nav only) complementing the Zircon Blue metallic added in 2016.  The Renault logo and badging switches from blue to chrome to accommodate this new colour selection.  The 16-inch alloy wheel design on DynamiqueNav and above has been changed.
Battery: Lease or buy outright
Regardless of trim level, the ZOE is available to purchase in two ways. Buyers can lease the battery on a monthly basis.  Battery lease payments are banded and reflect estimated annual mileage ensuring ZOE drivers only pay for what they need.  They start from as little as £49 per month.  New for 2017 is the 'Unlimited' option, that has no mileage cap, and is priced at £110 per month.
Alternatively, ZOE can be bought outright, including the battery, and therefore have no monthly battery lease payments.  Full purchase versions that include the battery are denoted by their trim level names: iExpression, iDynamiqueNav and iSignature Nav.
Monthly Battery Lease Options
| | | | | | | |
| --- | --- | --- | --- | --- | --- | --- |
| Annual Mileage | Up to 4,500 miles | Up to 6,000 miles | Up to 7,500 miles | Up to 9,000 miles | Up to 10,500 miles | Unlimited |
| 22kW | £49 | £59 | £69 | £79 | £89 | n/a |
| Z.E.40 | £59 | £69 | £79 | £89 | £99 | £110 |
Free wall-box
Every ZOE purchased by a retail customer includes a Z.E.-ready 7kW fast-charging wall-box with free home installation – owners will be able to charge a ZOE from flat to 100 per cent full inas little as three to four hours, depending on version.
Z.E. Trip and Z.E. Pass – two new apps for Renault Z.E. owners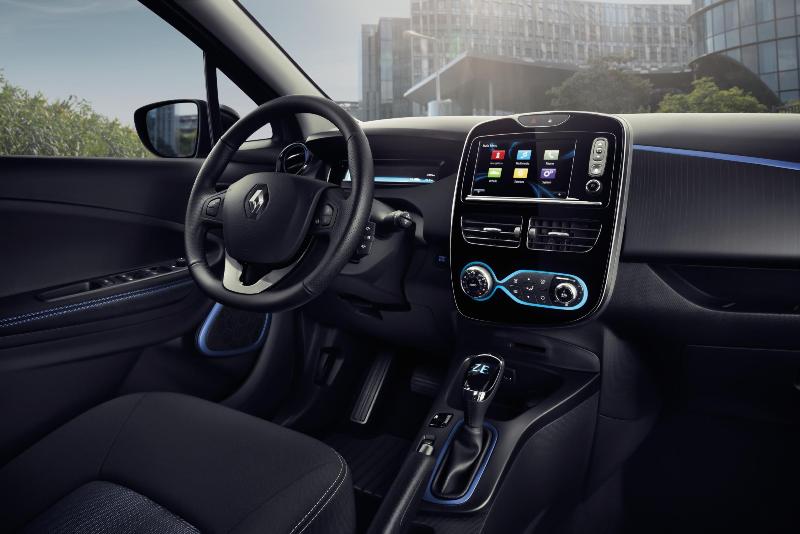 Z.E. Trip makes long-distance driving a breeze in the ZOE by allowing drivers to locate all public charging points in many European countries. The app can be accessed directly via the Renault R-LINK navigation system using the steering wheel-mounted controls or via the internet to prepare trips in advance. Z.E. Trip indicates the real-time availability of each charging point, as well as its type and whether it is compatible with the car. The driver can select a charging point based on its charging capacity so the speeds suit their requirements. Z.E. Trip will be rolled out in the UK during 2017.
The Z.E. Pass app makes charging easier at most public charging points in Europe even though they are owned by various operators. The driver can pay using the specific smartphone app or with one RFID badge. They can also locate available charging points and compare prices at different points nearby using their smartphone or tablet without having to be a registered member of each network.Developed in association with Bosch, the Z.E. Pass service will be rolled out in the UK during 2017.
Performance Information
ZOE version
Power

(hp @ rpm)

Torque

(Nm)

0-62mph (sec)
Top speed (mph)
Expression Nav R90 22kW
92 @ 3,000
220,from 250 rpm
13.5
84
Dynamique Nav R90 Z.E.40
92 @ 3,000
220, from 250 rpm
13.5
84
Dynamique Nav Q90 Z.E.40
88 @ 3,000
220, from 250 rpm
13.5
84
Signature Nav R90 Z.E.40
92 @ 3,000
220, from 250 rpm
13.5
84
Signature Nav Q90 Z.E.40
88 @ 3,000
220, from 250 rpm
13.5
84
Technical Information
ZOE version
Battery

, 43kW chargepoint

Charge Time

(0-100%, 7kW at home)

Range

(miles)

(Winter)

Range

(miles)

(Summer)

Range

(miles)

(NEDC)

Expression Nav R90 22kW
22kWh
1h00
4h00
71
106
149
Dynamique Nav R90 Z.E.40
41kWh
1h40
7h25
124
186
250
Dynamique Nav Q90 Z.E.40
41kWh
1h 05
8h25
112
174
230
Signature Nav R90 Z.E.40
41kWh
1h 40
7h25
124
186
250
Signature Nav Q90 Z.E.40
41kWh
1h 05
8h25
112
174
230
Ownership Information & Pricing
ZOE version
BIK

(band %)

Range

(NEDC miles)

VED (band)
Ins. group
Price

(after PiCG)*

Expression Nav R90 22kW
7%
149
A
TBC
£13,995
Dynamique Nav R90 Z.E.40
7%
250
A
TBC
£17,845
Dynamique Nav Q90 Z.E.40
7%
230
A
TBC
£18,595
Signature Nav R90 Z.E.40
7%
250
A
TBC
£19,895
Signature Nav Q90 Z.E.40
7%
230
A
TBC
£20,645
*= plus monthly battery lease

Ownership Information & Pricing – Full Purchase

ZOE version
BIK

(band %)

Range

(NEDC miles)

VED (band)
Ins. group
Price

(after PiCG)

iExpressionNav R90 22kW
7%
149
A
TBC
£18,995
iDynamiqueNav R90 Z.E.40
7%
250
A
TBC
£23,445
iDynamiqueNav Q90 Z.E.40
7%
230
A
TBC
£24,195
iSignatureNav R90 Z.E.40
7%
250
A
TBC
£25,495
iSignatureNav Q90 Z.E.40
7%
230
A
TBC
£26,245
ZOE Options
| | | | | |
| --- | --- | --- | --- | --- |
| Option | Expression Nav | DynamiqueNav | Signature Nav | Price |
| 17-inch'Tech Run' alloy wheels | ○ | ○ | ○ | £310 |
| Metallic Paint | ○ | ○ | ○ | £495 |
| Renault i.d. Paint (Metallic) | ○ | ○ | ○ | £595 |
| Renault i.d. Paint (Non-Metallic) | ○ | ○ | ○ | £225 |
| Blue interior touch pack (not available with Mars Red or Titanium Grey colour schemes) | N/A | ○ | N/A | £175 |
| 4x35W speakers with 3D sound and FM/DAB tuner | ○ | STANDARD | N/A | £350 |
| Z.E. Connect (remote monitoring of battery charge and estimated range – 1 year extension to the 3 years given as standard) | ○ | ○ | ○ | £75 |
| Z.E. Interactive (remote battery charging & remote activation of air-con / heater – 3 year extension to the year given as standard) | ○ | ○ | ○ | £150 |
| Western European mapping | ○ | ○ | ○ | £110 |
| R-Link LIVE Services 3 year subscription | ○ | ○ | ○ | £125 |
| Heated front seats (3 settings) | N/A | ○ | STANDARD | £250 |
| Rear view camera | N/A | ○ | STANDARD | £250 |
| Quick Charge (80% full in 1h05) | N/A | ○ | ○ | £750 |
The ZOE's new Z.E. 40 battery boasts 41kWh of useful energy, equivalent to almost double the storage capacity of the ZOE's standard battery (22kWh of useful energy).
Developed in close partnership with LG Chem, the battery uses high-energy density lithium-ion technology.Renault and LG engineers have succeeded in increasing storage capacity without making the battery any bigger or a lot heavier. It was optimised by working on the chemistry of the cells in order to increase their energy density, rather than stacking additional battery modules, a commonly used technique.This major new technology has been developed while ensuring the battery's reliability and safety.
The battery's large storage capacity ensures longer range for the ZOE thanks to the meticulous work that went into integrating the battery in the vehicle. The electronic management system of the battery optimises the ZOE's energy use on the move, while the new air circulation system maintains the temperature of the ZOE's battery at a constant level, making the car economical to run in very hot or very cold weather.
To complement the new battery, the ZOE motor has undergone a naming restructure, moving from being related to range (in kilometres) to power output (in horsepower) to match internal combustion engine vehicles, as follows:
| | | | |
| --- | --- | --- | --- |
| ZOE motor (2012-2016) | ZOE motor (2016- ) | Max. charge speed | Power |
| R240 | R90 | 22kW (Rapid) | 90hp |
| Q210 | Q90 | 43kW (Quick) | 90hp |
Renault's electric vehicle expertise
Renault designed and makes the ZOE with the expertise it has acquired as a pioneer in the world of electric-vehicle mobility and as Europe's number one electric-vehicle brand, as well as its technical and sporting partnership roles in the FIA Formula E Championship – Renault e.Dams are two-times winners of the electric motor racing championship.
Like the 22kWh battery, the new Z.E. 40 battery is assembled at Renault's Flins plant, near Paris. The same factory is responsible for the production of the Renault ZOE, alongside the Renault Clio. The ZOE was designed and engineered at the Renault Technocentre in Guyancourt, near Paris.
The R90 motor is made at Renault's Cléon factory in Normandy, a flagship facility in the field of engine and transmission production for Groupe Renault. Launched in the spring of 2015, and originally known as the R240, this motor was entirely developed by Renault and led to the filing of 95 patents.
Servicing and Warranty
ZOE is available with a choice of Renault Service Plans.  The 3 year/30,000 mile (whichever comes first) Service Plan is available at the recommended retail price of £429 and the 4 year/40,000 mile Service Plan available at £639. Servicing is required once a year or every 18,000 miles.
All versions provide the peace of mind of Renault's 4+ Z.E. warranty and assistance package. The car is protected by Renault for four years or 100,000 miles (first two years have no mileage limit). For Z.E. vehicles with a Battery Hire Contract, the RenaultAssistance cover is linked to the period of the Battery Hire. In the event of a breakdown even if you run out of charge, Renault provides emergency roadside repairs or repatriation 24/7 every day of the year, plus three years' European cover. There is also a three-year paint warranty and 12 years' cover against corrosion.
The ZOE has been awarded the title of What Car?'s'Best Electric Car under £20,000' for the last three consecutive years and was recently named 'Best Supermini' in the Auto Express Driver Power 2016 survey, coming second overall out of 183 vehicles.  ZOE was named a Which? 'Best Buy' in August 2016.
About Groupe Renault
Groupe Renault has been making cars since 1898. Today it is an international multi-brand group, selling more than 2.8 million vehicles in 125 countries in 2015, with 36 manufacturing sites, 12,000 sales outlets and employing more than 120,000 people. To meet the major technological challenges of the future and continue its strategy of profitable growth, the Group is harnessing its international growth and the complementary fit of its three brands, Renault, Dacia and Renault Samsung Motors, together with electric vehicles and the unique Alliance with Nissan. With a new team in Formula 1 and a strong commitment to Formula E, Renault sees motorsport as a vector of innovation and brand awareness.
In the UK, Groupe Renault UK has nearly 160 dealers selling the range of Renault cars, LCVs and Dacia. Groupe Renault UK sales significantly outpaced the UK vehicle market during 2015, with sales totalling 127,343 vehicles – up 17.4 per cent on 2014.
no images were found

.