LAPD (Los Angeles Police Department) Ottiene Tesla Model S, BMW i3 Electric Cars come auto della polizia
di Stephen Edelstein
Fonte: GreenCarReports
Los Angeles, California. USA. 14 Settembre 2015. Solo pochi modelli vengono in genere utilizzati come auto della polizia, di solito grandi berline e SUV dalle tre case automobilistiche di Detroit.
Ma il Dipartimento di Polizia di Los Angeles è sempre creativo con alcune nuove aggiunte alla sua flotta.
La polizia di Los Angeles sta inserendo due auto elettriche in servizio, almeno per il momento.
Il dipartimento avrà una BMW i3 come prestito dalla casa automobilistica per il prossimo anno, e prevede di utilizzarla a scopi di ricerca e di pubbliche relazioni.
Una Tesla Model S P85D con livrea bianca e nera della polizia di Los Angeles ci sarà anche come un veicolo in prestito, secondo il rapporto di The Verge.
Entrambe le vetture hanno avuto l'allestimento completo delle auto di polizia, ovvero le barre luminose sul tetto.
Nonostante non saranno membri permanenti della flotta LAPD, sono buoni PR per sottolineare i piani del governo della città di Los Angeles di avere presto un grande contingente di auto elettriche.
La cerimonia d'inaugurazione della consegna dell'i3 e della Model S della polizia ha coinciso con un annuncio delle agenzie della città, che prenderanno in leasing 160 automobili elettriche, e 128 ibride plug-in.
I dipartimento di Polizia, Vigili del Fuoco, Servizi di acqua ed elettricità di Los Angeles prenderanno insieme le auto elettriche in leasing ed i dipartimenti dell'acqua e dell'energia elettrica e servizi generali noleggieranno le ibride plug-in.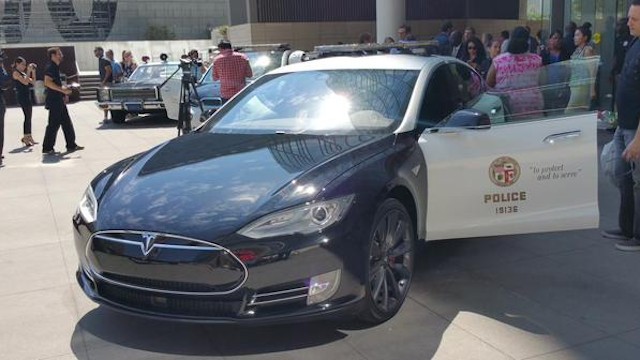 La polizia di Los Angeles ha recentemente acquistato 23 scooter elettrici, e tre motocicli elettrici. Avranno 100 delle auto elettriche assegnate.
I funzionari della città si aspettano di passare a alle auto plug-in per ridurre i costi operativi di circa il 41 per cento per veicolo.
Essi affermano inoltre che questo piano di leasing darà a Los Angeles la più grande flotta comunale di auto elettriche negli Stati Uniti
La sua più grande concorrente per il primato potrebbe essere Indianapolis, che lo scorso anno ha annunciato l'intenzione di sostituire 425 veicoli della polizia non da inseguimento con le auto elettriche in leasing e plug-in ibride.
Los Angeles vuole anche acquistare le auto elettriche in modo da rappresentare l'80 per cento della flotta comunale entro il 2025.
Questo è un componente del "Piano Città Sostenibile", di Los Angeles, che mira a ridurre drasticamente l'impatto ambientale della città nel corso dei prossimi decenni.
Altri obiettivi comprendono la riduzione delle emissioni di gas serra dell'80 per cento entro il 2050, ed eliminare la produzione di elettricità del Department of Water and Power della città entro il 2025.
no images were found

.