Aerodinamico, compatto, leggero, lubrificato
Fonte: Polini Motori
16 Settembre 2016. Preparatevi a una nuova esperienza di pedalata assistita, prestazioni al top, semplicità di assemblaggio e installazione per i costruttori su ogni tipo di bici.
Il mondo del biking non sarà più lo stesso!
Polini E-P3, interamente progettato e sviluppato dai tecnici Polini, vanta un design unico, dimensioni compatte e un peso inferiore rispetto ai motori a oggi disponibili sul mercato.
Polini E-P3. Nato rivoluzionario.
Guarda il video
httpv://www.youtube.com/watch?v=VHxT2x5vF2Y
Motore
Leggerezza e potenza. Cosa desiderare di meglio?
In soli 2850 grammi, corona esclusa, Polini E-P3 eroga una potenza al motore di ben 250 watt (500 watt di picco) e una coppia massima al pedale di 70 Nm.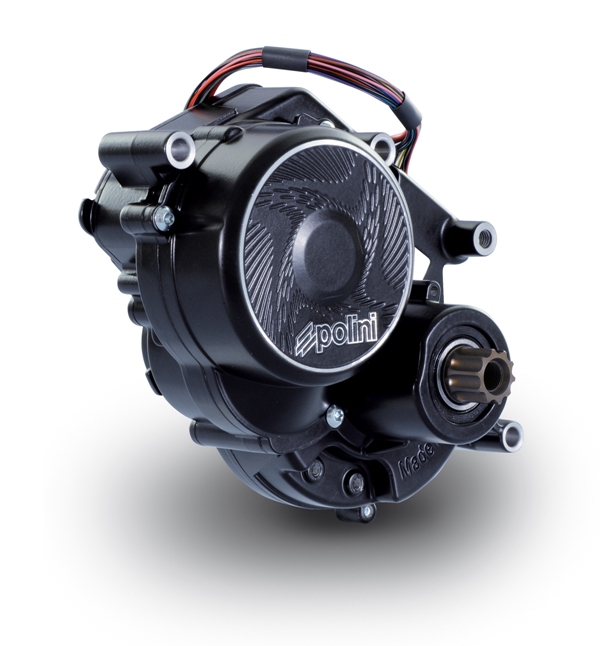 Potenza e coppia sono inoltre ottimizzabili con software specifici per regolare spunti e consumi della batteria.
Supporto motore
Per agevolare al massimo l'assemblaggio da parte dei costruttori è stato realizzato anche un pratico supporto motore-telaio, disponibile in quattro versioni universale, road, MTB front e MTB full.
Perno pedali
Polini ha ideato per il motore E-P3 tre differenti perni pedale di lunghezza specifica per gli pneumatici montati sui differenti modelli e-bike:
136mm. ruote standard
142mm. ruote 3.5"
157mm. ruote 5"
Slitta paracorona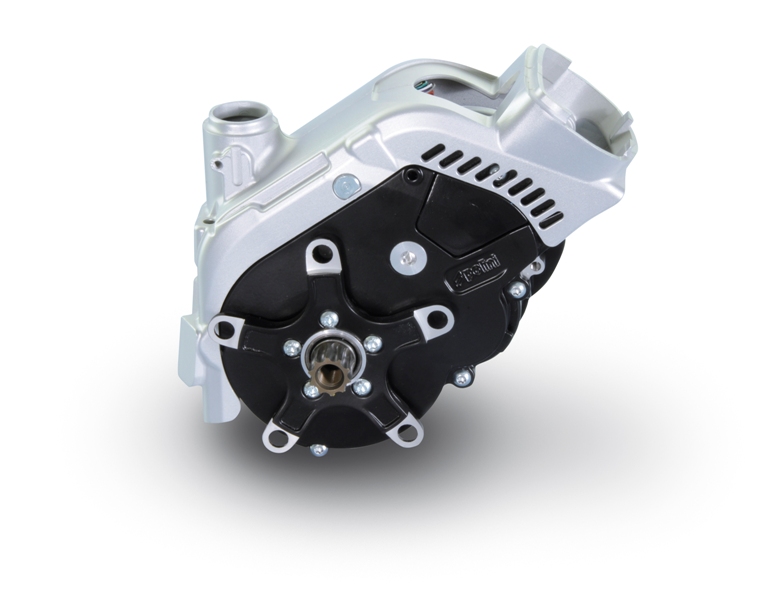 Potete garantire un'ulteriore protezione montando una slitta paracorona da fissare centralmente sul carter.
Lubrificazione
Un foro predisposto sul carter permette la periodica lubrificazione degli ingranaggi, garantendo prestazioni stabili, rumorosità contenuta e maggiore durata.
Cavalletto
E' prevista la possibilità di fissare direttamente al motore un comodo cavalletto a stampella.
3 sensori
Polini E-P3 dispone di sensore di coppia, sensore di velocità e sensore di frequenza di pedalata. I tre sensori sono gestiti da un sofisticato processore che in funzione dello stile di pedalata del ciclista offre un controllo dinamico a qualsiasi velocità si proceda.
Spider
Sono disponibili tre differenti supporti corona per mantenere la linea corretta della catena a seconda del modello di bici.
Ingombri
Le dimensioni di Polini E-P3 hanno dello straordinario. L'ingombro laterale tra i più ridotti della categoria consente il montaggio di una doppia corona con deragliatore sia per bici da corsa che per MTB, permettendo una corretta posizione in sella paragonabile ad una bicicletta senza motore. Grazie a un motore così compatto e facile da posizionare è possibile avere un carro ruota di appena 420mm su una bici da strada.
Batteria e supporto integrato nel telaio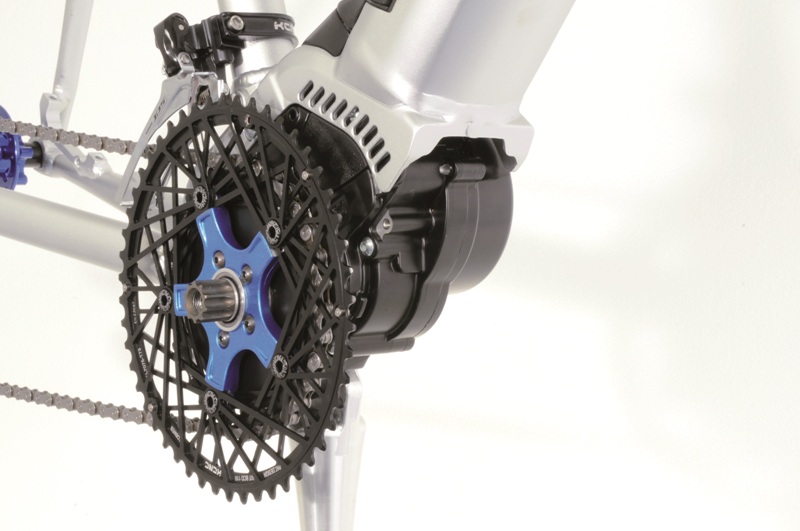 L'innovativo design della batteria – disponibile da 400 o 500 Wh –  ne permette l'integrazione nel telaio, garantendo un effetto estetico accattivante.
Il supporto batteria, studiato per ridurre l'impatto visivo, è in alluminio trafilato e si integra perfettamente con il supporto motore.
Borraccia
Le dimensioni compatte si traducono in un guadagno di spazio utile destinabile all'installazione dell'indispensabile porta borraccia.
Caricabatteria
I caricabatterie sono compatti, leggeri ed estremamente rapidi nei tempi di ricarica.
Passaggio cavi
Tra le innovative soluzioni estetiche introdotte, Polini E-P3 offre la possibilità di ospitare all'interno del supporto batteria e del motore tutti i cavi dei comandi (freno posteriore, cambio ed eventuale deragliatore), limitandone la vista.
Luci
L'impianto d'illuminazione può essere collegato direttamente al motore e l'accensione comandata comodamente dal display.
Camminata assistita
Nel caso si debba spingere a mano la propria E-bike, E-P3 consente di procedere a 6 Km/h con la semplice pressione di un tasto.
In English
Polini E-P3 motor for e-Bike
Aerodynamic, compact, light, lubricate
Source: Polini Motori
16th September 2016. Ready for a new pedal-assist experience, with top performance, easy to fit and install by the manufacturers on every bicycle model.
The biking world will not be the same anymore!
Polini E-P3, completely designed and developed by Polini's engineers, stands out for its unique design, compact dimensions and lighter weigh compared to the engines nowadays available on the market.
Engine
Light but powerful.
Lightness and power. What do you most wish for yourself?
In only 2850 grams, crown excluded, Polini E-P3 delivers an engine power of 250 watts (500 watts peak) and a peak torque at the pedal of 70Nm.
Power and torque can be optimized by using specific software to adjust pickup and battery consumption.
Engine mounting
To make the manufacturers' assembly easier, a practical engine/frame mounting has been studied and it is available in four versions: universal, road, MTB front and MTB full-suspension.
Pedals axle
Polini has designed three different pedal axles for the E-P3 engine, specific in length for the tyres fitted on the different e-bicycles models:
-136mm standard wheels
-142mm 3,5" wheels
-157mm 5" wheels
Motor protection slide
A further protection is granted by assembling a motor-protection slide to be fixed centrally on the case.
Lubrication
A hole on the case allows the periodic lubrication of the gears, granting stable performance, limited noise and longer life
Stand
It is possible to fix a kickstand.
3 sensors
Polini E-P3 motor is equipped with torque sensor, speed sensor and pedal frequency sensor. The three sensors are managed by a sophisticated processor that according to the cyclist's pedal style offers a dynamic control at every speed.
Spider
Three different crown holders are available to maintain the right chain line according to the bicycle model.
Overall dimensions
The dimensions of the new Polini E-P3 are incredible.
The lateral dimensions, between the smallest in this category, lets the assembly of a double crown with a derailleur, both on the road bikes and MTB bikes, allowing a perfect position when riding like a bicycle without engine.
Thanks to a compact engine and easy to house like this one it is possible to have a chain stay length of only 420mm on road bike.
Battery and integrated battery holder in the frame
Thanks to its innovative design, the battery – available of 400 or 500 Wh –can be integrated in the frame, giving a captivating aesthetic effect.
The battery holder, studied to reduce the optical impact, is made of drawn aluminum, and it is perfectly integrated with the engine mounting.
Water bottle
The engine compact size makes it save some space to let the installation of the essential water bottle holder.
Battery Charger
The battery chargers are compact, light and extremely fast when charging.
Cable passage
Between the innovative technical solution, Polini E-P3 offers the possibility to house inside the battery and the engine holder all the command cables (rear brake, change and derailleur, if included), limiting its visibility.
Lights
The lightening systems can me connected directly to the engine and to the ignition which is controlled by the display.
Walk- assist mode
In the case you should push your e-Bike, E-P3 engine lets you proceed at 6km/h just by pressing a button.
no images were found

.