Successo mondiale grazie alle innovazioni
– Denner: "La nostra strategia d'innovazione sta dando risultati: la nostra competitività e la nostra posizione di mercato sono ulteriormente migliorate"
– Vendite per 48,9 miliardi di euro con un incremento, superiore alle previsioni, del 6,2%
– Margine di profitto del 6,1%, con un incremento di quasi un punto percentuale
– Il settore di business Mobility Solutions cresce a ritmo doppio rispetto al mercato
-Le acquisizioni di ZFLS e BSH completano strategicamente il portafoglio
Fonte: Robert Bosch S.p.A.
Milano, Italia. 30 gennaio 2015. Secondo i dati preliminari, nel 2014 il Gruppo Bosch ha incrementato il proprio fatturato del 6,2%, raggiungendo i 48,9 miliardi di euro e, considerando gli effetti dei tassi di cambio, l'incremento è risultato del 7,2%. Nel 2014 il fornitore di tecnologia e servizi ha visto un miglioramento anche dei propri utili.
Secondo i dati preliminari, infatti, gli utili del Gruppo Bosch al lordo di interessi e tasse (EBIT) hanno raggiunto quasi tre miliardi di euro, con un margine EBIT pari a circa il 6,1%, che corrisponde a circa un punto percentuale in più rispetto al valore del 2013.
"Malgrado la difficile situazione economica, siamo riusciti a raggiungere i nostri obiettivi per il 2014" ha affermato Volkmar Denner – Presidente del Consiglio di Amministrazione di Robert Bosch GmbH.

"La nostra strategia d'innovazione sta dando i suoi risultati e i successi registrati lo scorso anno lo dimostrano. Nel 2014 abbiamo, infatti, migliorato la nostra posizione di mercato e la nostra competitività in molti settori".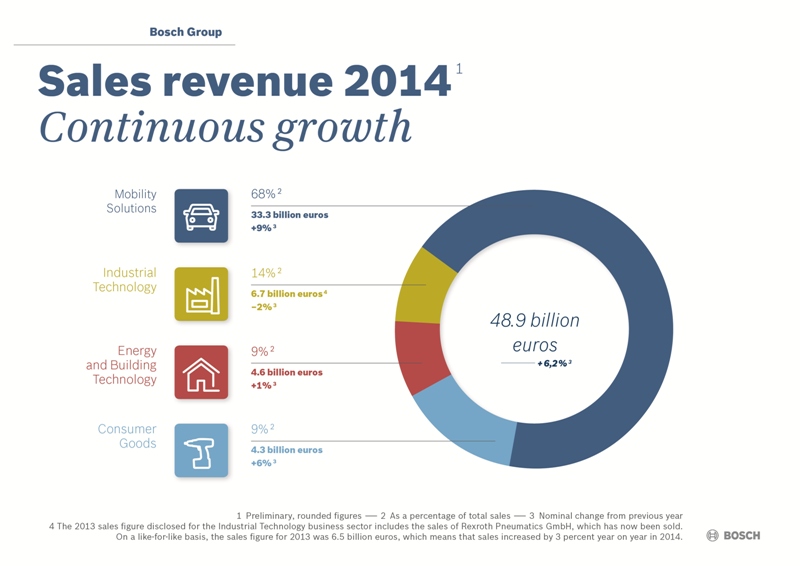 Inoltre, l'acquisizione di BSH Hausgeräte GmbH e di ZF Lenksysteme GmbH consentiranno a Bosch di rafforzare la propria posizione nei due settori in crescita delle "smart home" e della guida automatizzata.
Nella regione Asia Pacifico il Gruppo Bosch ha registrato un aumento delle vendite del 17% e, considerando gli effetti dei tassi di cambio, tale incremento è risultato di circa il 20%. In America Settentrionale sono state registrate vendite dell'8,6% superiori rispetto all'anno precedente. Considerando gli effetti dei tassi di cambio, l'aumento del fatturato risulta a doppia cifra.
In America Meridionale, considerando gli effetti dei tassi di cambio, le vendite sono risultate leggermente inferiori rispetto all'anno precedente e, in termini nominali, il fatturato è stato del 10% inferiore rispetto al 2013. In Europa, nonostante le difficoltà economiche in cui versa la regione, le vendite del fornitore di tecnologia e servizi sono cresciute del 2%.
Al 31 dicembre 2014 i dipendenti del Gruppo Bosch nel mondo ammontavano a 290.000 persone, ovvero circa 9.100 unità in più rispetto all'anno precedente.
Andamento delle vendite per settore di business nel 2014
Secondo i dati preliminari, il settore di business Mobility Solutions – in precedenza Tecnologia Automotive -, con il suo portafoglio completo che comprende componenti, sistemi e servizi, ha fatto registrare un ritmo di crescita due volte superiore rispetto al mercato. Le vendite del settore Energy and Building Technology nel 2014 si sono attestate all'incirca sui livelli dell'anno precedente, mentre in quello Consumer Goods ha potuto registrare risultati notevoli grazie agli elettroutensili per professionisti e agli strumenti di misura. Il settore di business Industrial Technology ha un segnato un giro d'affari totale inferiore al 2013, ma, tenendo in considerazione gli effetti di consolidamento, la cifra relativa all'ultimo anno risulta leggermente superiore.
Cogliere le opportunità di business e trovare risposte tecnologiche
Nei prossimi anni il Gruppo Bosch è intenzionato a cogliere tutte le opportunità di business che si presenteranno attraverso sviluppi nei settori connettività, automazione, elettrificazione ed efficienza energetica, oltre che nei mercati emergenti.
"Vogliamo giocare un ruolo attivo nell'indirizzare i cambiamenti profondi e di ampia portata nel nostro mercato e nel nostro ambiente tecnologico e vogliamo prepararci per un mondo connesso" ha affermato Denner.
Ciò è particolarmente vero per il settore di business Mobility Solutions. Denner ha poi aggiunto:
"Ci vediamo come fornitore di soluzioni per la mobilità del futuro che sarà automatizzata, connessa ed elettrificata. Ciò include componenti, sistemi e soluzioni software, oltre ai servizi. In combinazione con la nostra competenza nell'integrazione di progetti complessi, ciò significa che godiamo di una posizione migliore rispetto a quasi tutte le altre aziende nello sviluppo di soluzioni innovative per la mobilità da offrire ai nostri clienti".
Il Gruppo Bosch è fornitore leader e globale di tecnologie e servizi. Nel 2013, grazie ai circa 281.000 collaboratori impiegati nelle aree di business  Mobility Solutions, Industrial Technology, Consumer Goods e Energy and Building Technology, il Gruppo Bosch ha registrato un fatturato di 46,1 miliardi di euro.
(NB: A seguito di cambiamenti legislativi i dati del 2013 sono solo parzialmente confrontabili con i dati relativi al 2012).
Il Gruppo è costituto dall'azienda Robert Bosch GmbH e da più di 360 tra consociate e filiali in oltre 50 Paesi, 150 se si includono i partner commerciali. Le attività internazionali di sviluppo, di produzione e di vendita sono alla base della continua crescita. Nel 2013 Bosch ha investito 4,5 miliardi di euro in Ricerca e Sviluppo, registrando circa 5.000 brevetti in tutto il mondo. Questo vuol dire una media di 20 brevetti al giorno. Seguendo lo slogan "Tecnologia per la vita" Bosch, grazie ai suoi prodotti e servizi, migliora la qualità della vita offrendo soluzioni innovative in tutto il mondo.
L'azienda è stata fondata a Stoccarda nel 1886 da Robert Bosch (1861-1942) come "Officina di meccanica di precisione ed elettrotecnica". La struttura societaria della Robert Bosch GmbH assicura l'indipendenza imprenditoriale del Gruppo Bosch, permettendo all'azienda di perseguire strategie a lungo termine e di far fronte a nuovi investimenti che possano garantire il suo futuro. La Fondazione di pubblica utilità Robert Bosch Stiftung GmbH detiene il 92% delle partecipazioni della Robert Bosch GmbH. La maggioranza dei diritti di voto appartiene alla società fiduciaria Robert Bosch Industrietreuhand KG che gestisce le funzioni imprenditoriali dell'azienda. I diritti di voto e le partecipazioni restanti spettano alla famiglia Bosch e alla Robert Bosch GmbH.
no images were found