Renault consegnerà 240 Kangoo Maxi Z.E. a Posten, il servizio postale norvegese
Questo è uno dei più grandi acquisti di veicoli elettrico finora al mondo
Minore emissioni inquinanti per il servizio postale norvegese
Fonte: Renault
Oslo, Norvegia. 27 Novembre 2015. Posten, il servizio postale norvegese ha ordinato 240 Renault Kangoo Maxi Z.E.
Con un'autonomia di 170 km nel ciclo NDEC (80 a 125 km in condizioni di guida normali), Kangoo Maxi Z.E. è molto adatta per le attività quotidiane delle amministrazioni e imprese. Le rosse Kangoo Maxi Z.E. di Posten saranno utilizzate nelle zone di alta densità di popolazione.
Posten, che ha già una flotta di 900 veicoli elettrici (auto, moto, quadricicli, rimorchi),ed ora compie un ulteriore passo in avanti nella responsabilità ambientale con l'acquisto di Kangoo Maxi Z.E. Si rivolge ad un riduzione del 40% le emissioni di CO2 entro il 2020, una misura molto consistente se si considera che questa società rappresenta da sola non meno dell'1% delle emissioni complessive di CO2 in Norvegia.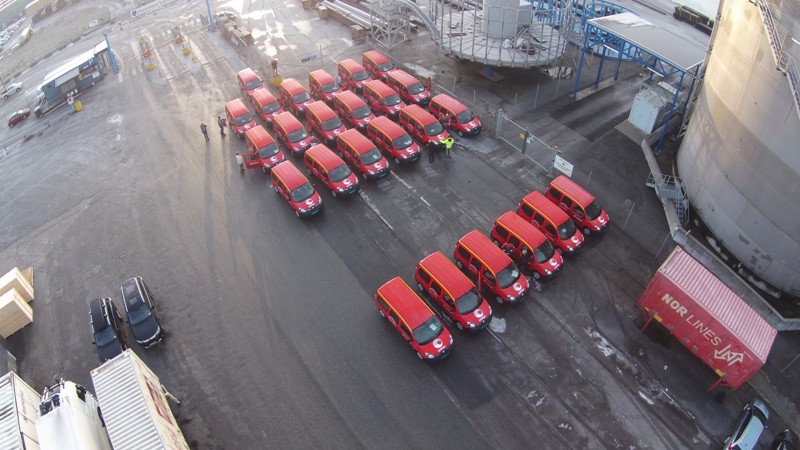 Negli ultimi anni, le vendite di veicoli elettrici in Norvegia sono state stimolate da una forte politica di incentivazione del governo. Alla fine del 2015, le vendite di veicoli elettrici si attestavano al 20% di tutte le vendite di veicoli nuovi nel Paese. Possiamo aspettarci di vedere 200.000 veicoli elettrici in tutto il Paese entro il 2020, che è il 10% di tutte le vetture sulle strade norvegesi.
In Norvegia, le auto elettriche sono esonerate dal pagamento dell'IVA e della tassa di circolazione. Essi non pagano tasse di parcheggio, pedaggi stradali e nemmeno i biglietti nei traghetti. E hanno il diritto di utilizzare le corsie degli autobus.
La gamma veicoli elettrici Renault in Norvegia comprende ZOE, Kangoo Z.E., Kangoo Maxi Z.E., Kangoo Maxi Z.E. cinque posti e Twizy.
Il veicolo elettrico, una vera soluzione per contrastare il riscaldamento globale
Renault è il pioniere di tutti i veicoli elettrici a prezzi accessibili ed è l'unica casa automobilistica ad offrire una gamma completa. Renault vede il veicolo elettrico come una contromisura eminentemente vitale contro il riscaldamento globale.
Perché non brucia combustibile fossile, il veicolo elettrico non emette CO2 (1). ZOE emette 0 g/km di CO2 mentre un endotermico o un veicolo ibrido di dimensione equivalenti emette almeno 84 g/km.
Secondo la Commissione internazionale per l'energia, con 7 milioni di veicoli elettrici su strada entro il 2020 ci permetterebbe di risparmiare 400.000 barili di petrolio al giorno. In modo particolare, senza i veicoli elettrici Renault venduti finora, ci sarebbero ulteriori 115.000 tonnellate di CO2 emesse nell'atmosfera e ulteriori 230,450 barili di petrolio sarebbero stati bruciati (media anno 2).
L'Alleanza Renault-Nissan è partner ufficiale della COP21, vertice delle Nazioni Unite sui cambiamenti climatici, fornendo una flotta di 200 veicoli elettrici dell'Alleanza, tra cui 100 Renault Zoe, per traghettare i delegati tra Parigi e Le Bourget dal 30 novembre all'11 dicembre 2015.
(1) Zero emissioni in atmosfera di CO2 o di sostanze inquinanti sotto ciclo di certificazione NEDC (ad eccezione dall'abrasione di parti soggette ad usura).
(2) Dati calcolati sulla base dei dati forniti dal Comité Professionnel du Pétrole, confronto con veicoli di categoria equivalente.
In English
Postal rounds with Kangoo Maxi Z.E. in Norway
Smaller carbon footprint for the Norwegian Postal Service
Renault will deliver 240 Kangoo Maxi Z.E.s to Posten, the Norwegian postal service.
This is one of the world's biggest electric vehicle purchases so far.
Source: Renault
Oslo, Norway. November 27, 2015. Posten, the Norwegian postal service ordered 240 Renault Kangoo Maxi Z.E.s.
With a range of 170 km NDEC (80 to 125 km under usual driving conditions), Kangoo Maxi Z.E. is well-suited to the everyday tasks of administrations and companies. Posten's red Kangoo Maxi Z.E.s will mostly be used in areas of high population density.
Posten, which already has a fleet of 900 electric vehicles (cars, bikes, quadricycles, trailers), is taking a further step forward in environmental responsibility with the purchase of Kangoo Maxi Z.E. It is targeting a 40% reduction in its CO2 emissions by 2020, a very substantial measure when we consider that this company alone accounts for no less than 1% of CO2 emissions in Norway as a whole.
Over the last few years, electric vehicle sales in Norway have been stimulated by a committed government incentive policy. At the end of 2015, electric vehicle sales account for 20% of all new vehicle sales in the country. We can expect to see 200,000 electric vehicles across the country by 2020, which is 10% of all the cars on the Norwegian roads.
In Norway, electric cars are exonerated from VAT and road tax. They pay no parking fees, road tolls or ferry charges. And they are entitled to use bus lanes.
The Renault electric vehicle line-up in Norway comprises ZOE, Kangoo Z.E., Kangoo Maxi Z.E., five-seater Kangoo Maxi Z.E., and Twizy.
The electric vehicle, a real solution to counter global warming
Renault is the pioneer of affordable all-electric vehicles, and the only carmaker to offer a full range. Renault sees the electric vehicle as an eminently viable countermeasure against global warming.
Because it burns no fossil fuel, the electric vehicle emits no CO21. ZOE emits 0 g/km of CO2 whereas an internal-combustion or hybrid vehicle of equivalent size emits at least 84 g/km.
According to the International Energy Commission, with 7 million electric vehicles on the road by 2020 we would save 400,000 barrels of oil per day. Very specifically, without the electric vehicles that Renault has sold so far, an additional 115,000 tonnes of CO2 would have been emitted into the atmosphere, and an additional 230,450 barrels of oil burned (average per year2).
The Renault-Nissan Alliance is an official partner of the COP21 United Nations climate-change summit, providing a fleet of 200 Alliance electric vehicles, including 100 Renault ZOEs, to ferry delegates between Paris and Le Bourget from 30 November to 11 December 2015.
1/ Zero atmospheric emissions of CO2 or pollutants under NEDC certification cycle (excepting from abrasion of wear parts).
2/ Data calculated from figures provided by Comité Professionnel du Pétrole, comparison with vehicle of equivalent category.
no images were found