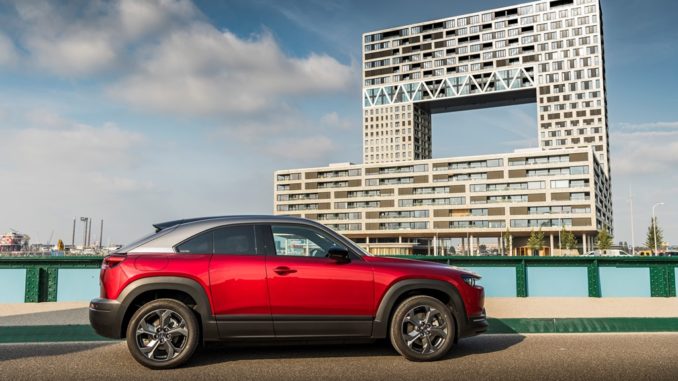 Nel contesto dei premi Car of the Year Japan Awards 2020-2021, Mazda MX-30 ha vinto il premio Design Car of the Year che conferma il successo dell'elettrica Mazda.
Lo stile della MX-30, la prima vettura elettrica Mazda, si ispira al concetto di "Human Modern" ed è stata una sfida per i designer dell'Azienda giapponese, nell'intento di sviluppare una nuova espressione del design Kodo.
La linea esterna della vettura è di assoluta semplicità, per sottolineare la bellezza della vettura come corpo solido. Lo stile della MX-30 crea un aspetto amichevole, mentre il design dell'abitacolo e le porte freestyle esprimono leggerezza.
L'interno è concepito per fornire agli occupanti la sensazione di essere "uniti dallo spazio", con una consolle fluttuante e materiali esclusivi progettati per ridurre al minimo l'impatto ambientale.
La Mazda MX-30 è stata introdotta nell'anno del centenario di Mazda, e per celebrare questo importante anniversario, negli interni della vettura è stato impiegato un materiale che ha un grande significato per la tradizione dell'Azienda – lo sughero – che esprime raffinatezza, morbidezza e comfort.
Ikuo Maeda, Managing Executive Officer responsabile del design e dello stile del Marchio, ha dichiarato:
È davvero un onore ricevere questo premio per la MX-30, un segno di grande considerazione per il suo design. Sono veramente grato a tutti coloro che hanno dato il loro supporto nel realizzare questo modello. Nel 2010 abbiamo lanciato lo stile Kodo, con l'obiettivo di infondere vitalità nelle auto. A dieci anni dalla sua nascita, con l'obiettivo di rendere ancora più maturo il design Kodo, siamo riusciti a concretizzarne una nuova direzione attraverso la #mx30. Guardando al futuro, continueremo ad essere orgogliosi della nostra identità giapponese e proseguiremo nell'impegno di migliorare ulteriormente il design di Mazda.
Mazda punta a diventare un marchio che crei un legame speciale con i suoi clienti arricchendone la vita attraverso il divertimento di guida, pura essenza delle auto.
Fonte: Mazda Motor Italia