Jaguar Land Rover Classic realizza un'innovativa E-type equipaggiata con un propulsore interamente elettrico
Definita da Enzo Ferrari "la più bella auto del mondo", la Jaguar E-type combina per la prima volta la sua bellezza con zero emissioni
La E-type Zero è basata sulla Roadster Series 1.5 del 1968 e dispone di un potente motore elettrico che le consente di accelerare fino a 100 km/h in soli 5,5 secondi
La vettura è stata realizzata da Jaguar Land Rover Classic nel nuovo centro "Classic Works" nella contea di Warwickshire, nel Regno Unito
La E-type Zero debutta ufficialmente al Jaguar Land Rover Tech Fest presso il Central Saint Martins College of Art and Design di Londra. Il 7 settembre è la giornata dedicata a tutti i media, mentre l'apertura al pubblico sarà dall'8 al 10 settembre
Al Tech Fest la E-type Zero sarà posizionata vicino alla Jaguar I-PACE, che sarà in vendita nel corso del 2018
Fonte: Jaguar Land Rover Italia
Roma, Italia. 7 settembre 2017 – Al Jaguar Land Rover Tech Fest, che aprirà al pubblico l'8 settembre a Londra, Jaguar Land Rover Classic presenterà una E-type con motore elettrico. La vettura, denominata E-type Zero, è stata prima restaurata e poi trasformata presso il Jaguar Land Rover Classic Works di Coventry, non lontano dal luogo di nascita della E-type.
Tim Hannig, Jaguar Land Rover Classic Director, ha detto:
"La E-type Zero unisce la rinomata dinamicità della E-type con le avanzate prestazioni fornite dall'elettrificazione. Questa esclusiva combinazione crea una meravigliosa esperienza di guida.

"Il nostro obiettivo con l'E-type Zero è di cambiare il modo di possedere un'auto storica nel prossimo futuro. Siamo ansiosi di vedere la reazione dei nostri clienti quando sonderemo il terreno per portare questa concept sul mercato."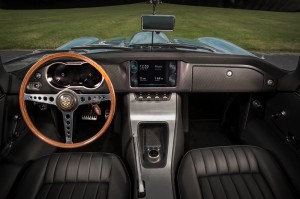 Questa versione elettrica ha lo stesso aspetto e il medesimo stile di guida della E-type, con prestazioni ancora più esaltanti: accelera da 0 a 100 km/h in soli 5,5 secondi, quasi un secondo in meno rispetto alla E-type Series 1.
Tim Hannig ha affermato:
"Per combinare in modo appropriato il nuovo motore elettrico della E-type Zero con le specifiche originali della vettura, abbiamo limitato l'erogazione della potenza. Crediamo che questo possa garantire una fantastica esperienza di guida."
La E-type Zero in esposizione al Tech Fest è una Series 1.5 Roadster restaurata. Tutti i suoi componenti sono originali, tranne l'innovativo propulsore, la strumentazione e il tunnel centrale, che comunque riprendono lo stile tipico della E-type. Una maggiore efficienza energetica deriva dall'uso di fari a LED, anch'essi ispirati allo stile della E-type Series 1.
Motore elettrico appositamente sviluppato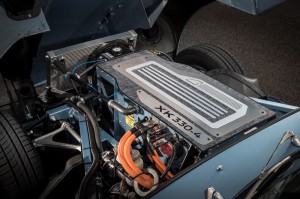 La E-type Zero è equipaggiata con un propulsore elettrico da 220 kW progettato specificatamente per questa vettura. Il suo pacco batterie agli ioni di litio ha le stesse dimensioni e lo stesso peso del motore sei cilindri XK che equipaggiava la E-type originale. Inoltre, i tecnici responsabili del progetto garantiscono che sarà posizionato precisamente nella medesima posizione del propulsore XK. Il motore elettrico e il riduttore sono alloggiati subito a ridosso della batteria, nella stessa posizione del cambio della E-type. Un nuovo albero di trasmissione invia la potenza ad un differenziale e alla trasmissione finale. Complessivamente, il suo peso è di 46 kg in meno rispetto alla versione originale.
L'utilizzo di una motorizzazione elettrica con peso e dimensioni simili al motore a benzina precedente non ha comportato alcuna modifica alla struttura, alle sospensioni e ai freni della vettura, semplificando notevolmente la trasformazione e l'omologazione. La distribuzione dei pesi è rimasta invariata, quindi l'auto si guida, frena e si comporta come l'E-type originale.
Tim Hannig ha detto: "Abbiamo integrato il nuovo propulsore elettrico nell'attuale struttura della E-type, il che significa che in qualsiasi momento è possibile rimontare un motore di tipo convenzionale. Riteniamo che questo sia essenziale per mantenere inalterato l'autentico DNA Jaguar."
Il motore sei cilindri XK è stato realizzato dal 1949 al 1992 e ha equipaggiato quasi tutte le Jaguar più iconiche, come la E-type, la XK120, la Mk2 e la XJ6. Anche il motore elettrico potrebbe essere utilizzato in ognuno di questi modelli.
Tim Hannig ha affermato: "Potremmo utilizzare questa tecnologia per trasformare qualsiasi Jaguar equipaggiata con motore XK."
"La più bella auto mai realizzata"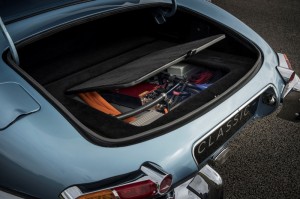 Lanciata nel 1961, la E-type è da sempre considerata come una delle più belle vetture di tutti i tempi. Enzo Ferrari la definì "l'auto più bella mai realizzata".
L'esclusiva unità elettrica della E-type Zero è stata sviluppata da specialisti nell'elettrificazione in collaborazione con gli ingegneri Jaguar Land Rover e i tecnici di Jaguar Land Rover Classic. Questo propulsore utilizza alcune tecnologie e alcuni componenti derivati dalla I-PACE, il primo veicolo interamente elettrico di Jaguar Land Rover.
La E-type Zero ha un'autonomia di 270 km, a cui contribuiscono il peso ridotto e l'ottima aerodinamica. L'auto utilizza una batteria da 40 kWh che può essere ricaricata a domicilio nell'arco temporale di una notte (solitamente tra le sei e le sette ore, a seconda della fonte di alimentazione).
Il Jaguar Land Rover Tech Fest, in cui verrà presentata la Jaguar E-type elettrica, si svolgerà presso il Central Saint Martins College of Art and Design di Londra. La giornata dedicata alla stampa è prevista per il 7 settembre mentre l'apertura al pubblico sarà dall'8 al 10 settembre.
NOTE
Jaguar Land Rover Classic è la divisione ufficiale dedicata alla fornitura di automobili, servizi, componenti ed esperienze emozionali per i proprietari e per gli appassionati di vetture storiche Jaguar e Land Rover di tutto il mondo. Il nostro team, composto da 130 ingegneri, laureati e apprendisti che lavorano presso l'impianto Jaguar Land Rover Classic Works di Coventry, è specializzato in eccezionali Reborn, i restauri completi di auto di entrambi i marchi, e nella costruzione di esclusivi modelli "New Original", come la Jaguar Lightweight E-type e la XKSS.