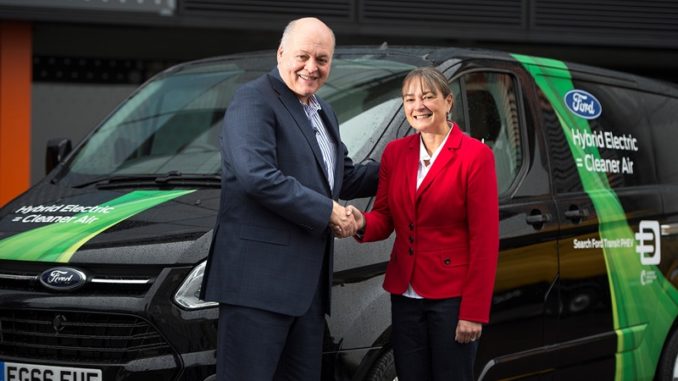 Il Presidente e CEO di Ford inaugura lo Smart Mobility Innovation Office di Londra
Il Presidente e CEO di Ford Motor Company, Jim Hackett, è volato a Londra per inaugurare lo Smart Mobility Innovation Office, lo spazio dedicato a continuare, attivamente, il percorso di ricerca e sviluppo di soluzioni innovative per la mobilità delle grandi realtà urbane europee
Situato all'interno del Here East Campus, lo Smart Mobility Innovation Office segna l'inizio di un nuovo approccio imprenditoriale, posizionando l'Ovale Blu tra i leader europei nell'applicazione della cultura del disruption e innovation nelle sue diverse declinazioni commerciali, digital nonchè accademiche
Fonte: Ford Italia
Londra, Gran Bretagna. 18 ottobre 2017 – Il Presidente e CEO di Ford, Jim Hackett, ha inaugurato, oggi, lo Smart Mobility Innovation Office di Londra, che si pone l'obiettivo di puntare allo sviluppo, nel breve termine, di tecnologie di Smart Mobility, adatte a vincere la sfida della
mobilità del futuro, concentrandosi sulle peculiarità delle diverse città europee.
Lo Smart Mobility Innovation Office, guidato da Sarah-Jayne Williams, recentemente nominata Director of Smart Mobility di Ford of Europe, vedrà all'opera un team di tecnici altamente qualificati, in grado di relazionarsi agevolmente con le grandi realtà aziendali operanti nelle aree del digital, con i migliori atenei universitari e con i partner che già collaborano con l'Ovale Blu. Ford continuerà a lavorare sui progetti dedicati alla città di Londra, per migliorarne la qualità dell'aria, gestirne la viabilità e migliorare la mobilità dei suoi cittadini. La scelta di posizionare la struttura a Londra consentirà all'Ovale Blu di avvicinarsi ai centri dove sono effettuate sperimentazioni all'avanguardia, incluso il progetto Cleaner Air for London, relativo ai Ford Transit Hybrid Plug-in, che inizierà sempre entro quest'anno.
"Londra non è solo una delle maggiori metropoli d'Europa, ma è anche una delle più all'avanguardia nella sua apertura a nuove idee e nuovi partner, nello sviluppo di veicoli sempre più smart per un mondo più smart", ha commentato Jim Hackett. "Here East campus è la location perfetta per il centro europeo di Ford dedicato allo smart mobility, grazie alla presenza dell'incredibile team di talenti di Plexal e alla vicinanza di diverse start-up".
Il campus è anche sede dell'Università di Loughborough, già partner di lunga data di Ford e uno dei centri di ricerca più avanzati del Regno Unito, così come dell'Advanced Propulsion Center (APC), con cui Ford ha collaborato per il progetto di ricerca relativo ai propulsori e, quest'anno, per lo sviluppo del Transit Hybrid Plug-in.
Lo Smart Mobility Innovation Office di Londra si aggiunge ai centri già esistenti di Ford Smart Mobility a Dearborn e Palo Alto e va ad integrare la rete mondiale di centri di ricerca e innovazione Ford, tra cui il RIC ad Aachen, in Germania.
no images were found