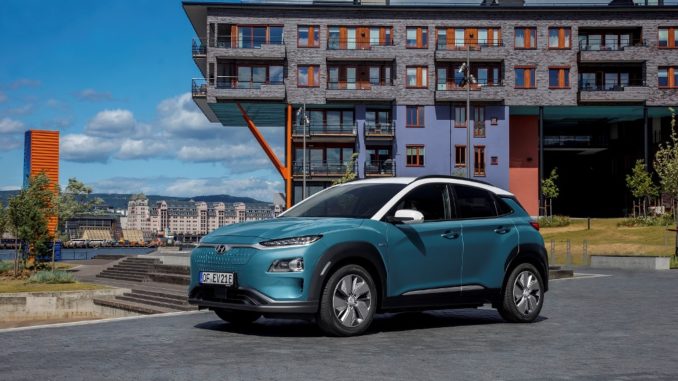 Lanciata soltanto due mesi fa, Hyundai Kona ha già superato le 100mila esemplari venduti e Hyundai punta a vendere 560mila Kona Electric entro il 2025.
Il 30 giugno, a soli due anni dal lancio avvenuto nel marzo del 2018, le vendite totali di Kona Electric hanno raggiunto 103.719 unità. Le vendite al di fuori del mercato coreano rappresentano oltre i 3/4 delle vendite totali.
Kona Electric ha ricevuto in questi due anni moltissimi riconoscimenti grazie alla sua autonomia al vertice della categoria, alla sua capacità di ricarica rapida e a dotazioni di sicurezza e comfort ai massimi livelli.
Ad aprile 2020, il modello è stato nominato "Best Small Family Car" nella prima edizione dei Top Gear Electric Awards, grazie alle prestazioni espresse durante un viaggio durato 24 ore per 1.600km attraverso l'Europa. Nello stesso anno, è stato nominato "Best Electric Vehicle" dal U.S. News & World Report. Nel 2019, WardsAuto ha menzionato Kona Electric nella lista dei 10 migliori motori. Nel 2018, Auto Express l'ha nominata "Affordable Electric Car" dell'anno. La versione Electric ha anche giocato un ruolo importante nella vittoria del modello Kona per il "Best Car of the Year", il premio del giornale spagnolo "ABC". Nel 2019 ha vinto anche il titolo di "North American Utility Vehicle of the Year".
Informazioni su Kona Electric
SUV compatto 100% elettrico con un'autonomia di 484 km (ciclo medio combinato WLTP) nella versione da 64 kWh e 305 km nella versione da 39 kWh
– Design audace e moderno con una gamma di colori vivaci
Iconici fari, luci posteriori e luci diurne in LED
– Motore elettrico ad alta efficienza da 150 kW (204 CV) o 100 kW (136 CV), con una coppia massima di 395 Nm erogati all'istante
– Batteria agli ioni di litio ad alta tensione da 64 kWh o 39,2 kWh
– Caricatore di bordo trifase da 10,5 kW che consente rapidi tempi di ricarica
– Sistema di navigazione con display 10.25" touchscreen TFT con connettività Apple CarPlay™/Android Auto™
– Sicurezza attiva (sistemi di guida assistita della famiglia Hyundai SmartSense)
Sistema anti-collisione frontale con riconoscimento veicoli e pedoni (F.C.A.)
Sistema di mantenimento al centro della carreggiata (L.F.A.)
Sistema di gestione automatica dei fari abbaglianti (H.B.A.)
Sistema di monitoraggio degli angoli ciechi (B.S.D.)
Cruise Control Adattivo con funzione Stop & Go (S.C.C.)
– Infotainment e connettività
Sistema di navigazione con display touchscreen da 10,25''
Connettività Android Auto™ e Apple CarPlay™
Servizi telematici Hyundai Bluelink®
Head-up display
Tergicristalli con sensori pioggia
Caricatore wireless per smartphone
Fonte: Hyundai Italia