Nuovo Impact Report 2017 mette le batterie al piombo tra i cinque top performer
Fonte: ILA, International Lead Association
Londra, Regno Unito. 14 agosto 2017. Cosa hanno in comune il computer, le batterie al piombo, i prodotti di carta per la casa, le verdure a foglia ed i pannolini? La loro sostenibilità, secondo un nuovo rapporto pubblicato dal Consorzio Sostenibilità (TSC), un'organizzazione globale con la missione di contribuire a rendere più sostenibili i prodotti di consumo in tutto il mondo.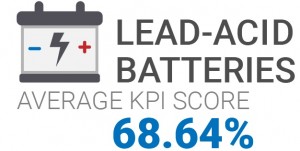 Nel mese di luglio, ha pubblicato il suo TSC 2017 Impact Report, dal titolo "L'invito a presentare azione collettiva nelle catene di approvvigionamento."
Di fatto nel rapporto, le batterie al piombo sono state una delle sole cinque categorie di prodotti di consumo che ha raggiunto 64 e oltre (il massimo punteggio è 100). Il club d'elite, che è stato scelto per i punteggi più alti in indicatori chiave di performance di sostenibilità (KPI) sviluppato da TSC e auto-riferito tramite sondaggio.
Il rapporto del TSC ha concluso di fatto che le batterie al piombo hanno ottenuto il punteggio poiù alto nella categoria di salute e sicurezza dei lavoratori, in cui l'industria ha investito in sistemi e tecnologie. Essa ha quindi ottenuto un punteggio KPI alto nella gestione del prodotto e nel materiale riciclato, dimostrando l'impegno a livello di settore per chiudere il ciclo.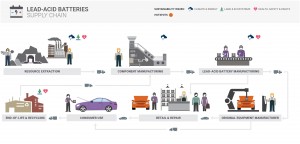 Steve Binks, Direttore Regulatory Affairs con l'International Association del Piombo (ILA), ha detto che è rassicurante il fatto che un'organizzazione come TSC ha riconosciuto la validità delle batterie al piombo per le loro credenziali di sostenibilità.
"Nessun altro sistema di accumulo di energia può raggiungere il 99 per cento di raccolta e tasso di riciclaggio o l'elevato contenuto riciclato di una batteria al piombo". Ha aggiunto che di fatto le batterie al piombo continuano ad avanzare ed a soddisfare le mutevoli esigenze energetiche del mondo.

"Le batterie al piombo sono critiche per molte tecnologie verdi , quali veicoli ibridi ed elettrici, e per immagazzinare e ottimizzare le energie rinnovabili. Sono veramente essenziali in quanto innovative e sostenibili e proteggono il nostro modo di vita in moltissime applicazioni industriali".
I membri ILA hanno giocato un ruolo fondamentale in questa storia di successo di sostenibilità, garantendo che ogni batteria al piombo utilizzata venga raccolta e riciclata per la produzione di materiali che possono essere usati per fare una nuova batteria.
Scarica Impact Report 2017 del TSC a www.sustainabilityconsortium.org
In English
Report confirms lead batteries are sustainability leader
New 2017 Impact Report Puts Lead Batteries Among Top Five Performers
Source: ILA – International Lead Association
London, UK. 14th August, 2017. What do computers, lead batteries, household paper products, leafy vegetables and diapers have in common? Their sustainability, according to a new report released by The Sustainability Consortium (TSC), a global organization with a mission to help make consumer products worldwide more sustainable.
In July, TSC released its 2017 Impact Report, titled "The Call for Collective Action Across Supply Chains." In that report, lead batteries were one of only five consumer product categories that scored 64 and over (top score was 100). The elite club was singled out for high scores in sustainability key performance indicators (KPI's) developed by TSC and self-reported via survey.
The TSC report concluded that lead batteries scored high in the category involving worker health and safety, where the industry has invested in systems and technology. It also scored high KPI's in product stewardship and recycled content, demonstrating an industry-wide commitment to closing the loop.
Steve Binks, Regulatory Affairs Director with the International Lead Association (ILA), said it's re-assuring that an organization such as TSC has recognised lead batteries for their sustainability credentials.
"No other energy storage system can achieve the 99 percent collection and recycling rate or the high recycled content of a lead battery." He added that lead batteries continue to advance, meeting the world's changing energy needs.

"Lead batteries are critical for many green technologies, such as hybrid and electric vehicles, and to store and optimize renewable energy. They are truly an essential, innovative and sustainable product that powers and protects our way of life."
ILA members provide a critical role in this sustainability success story by ensuring that every used lead battery is collected and recycled to produce materials that can be used to make a new battery.  Download TSC's 2017 Impact Report at www.sustainabilityconsortium.org. Watch this video to learn more about how lead batteries have become the most recycled consumer product in the United States.
no images were found

.