Fonte: Formula E
Londra, Gran Bretagna. 15 Dicembre 2015. Il Team Trulli oggi ha annunciato che lascerà la Formula E con effetto immediato.
Trulli si è unito alla Formula E in vista della stagione inaugurale dopo aver rilevato il team dal Drayson Racing. Per la seconda stagione la squadra era una degli otto produttori approvati, ma entrambe le questioni tecniche e di fornitura della sua Motomatica JT-01 hanno costretto Trulli a perdere il Pechino ed il Putrajaya ePrix.
Questi problemi hanno ormai portato la squadra ad abbandonare la sua partecipazione alla serie il che significa che 18 vetture saranno inserite per il Punta del Este ePrix il 19 dicembre.

Francesco Testa, Amministratore Delegato di Trulli GP, ha dichiarato:
"Dopo aver fallito le verifiche a Pechino e Putrajaya e alla luce del nostro accordo commerciale con Formula E Holdings, siamo costretti ad annunciare il ritiro di Trulli Formula E dal FIA di Formula E Championship. Come principali sostenitori di questa serie tutta elettrica, siamo lieti di lasciare spazio all'entrata di un nuovo team nella serie e ulteriormente contribuire a sviluppare la serie e la tecnologia da corsa elettrica".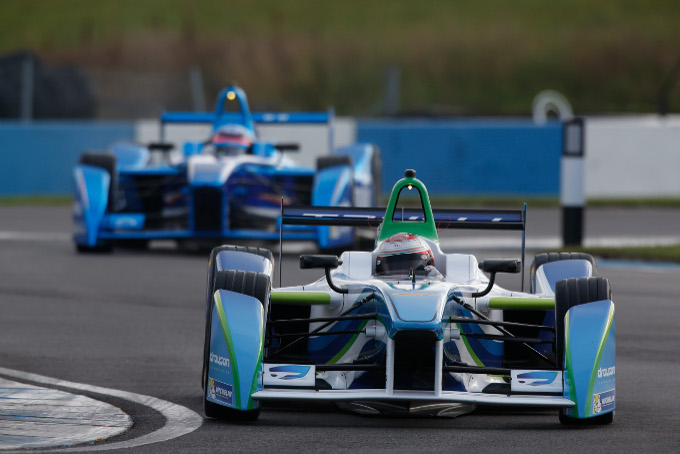 Alejandro Agag, amministratore delegato di Formula E, ha dichiarato:
"Siamo delusi dal fatto che Trulli abbia deciso di lasciare il campionato. Avere un driver dello status di Jarno Trulli ha coinvolto nei primi giorni ed ha di certo contribuito a incrementare la credibilità della Formula E. Prendendo l'audace decisione di diventare un produttore completo ha dimostrato di essere uno che è sempre pronto ad accettare le sfide della tecnica avanzata che la Formula E sta sperimentando. Mentre siamo molto triste di vedere Trulli lasciare, questo crea l'occasione per un nuovo team e produttore di entrare e siamo molto fiduciosi per il futuro della serie".
In English
Trulli Formula E Team announce withdrawal from championship
Source: Formula E
London, UK. December 15th, 2015. The Trulli Formula E Team has today announced that it will leave the FIA Formula E Championship with immediate effect.
Trulli joined Formula E ahead of the inaugural season after it took over the entry from Drayson Racing. For the second season the team were one of eight approved manufacturers, but both technical and supply issues with its Motomatica JT-01 forced Trulli to miss the Beijing and Putrajaya ePrix.
These issues have now led the team to relinquish its entry to the series back to the organisers, meaning that 18 cars will be entered for the Punta del Este ePrix on December 19.
Francesco Testa, CEO of Trulli GP, said:
"After failing scrutineering in the Beijing and Putrajaya ePrix and in light of our commercial agreement with Formula E Holdings, we are forced to announce the retirement of Trulli Formula E from the FIA Formula E Championship. As major supporters of this all-electric series, we are pleased to leave space for a new OEM to enter the series and further help develop the series and electric racing technology."
Alejandro Agag, CEO of Formula E, said:
"We are disappointed that Trulli has decided to leave the championship. Having a driver of the status of Jarno Trulli involved in the early days certainly helped to boost the credibility of Formula E. Taking the decision to become a full manufacturer was a bold one, and one that was always going to present challenges due to the technical advances that Formula E is pioneering. While we are very sad to see Trulli leave, this does create an opportunity for a new team and manufacturer to enter and we are very confident about the future strength of the series."
no images were found