La versione ibrida della best selling Kia Optima mantiene stile ed efficienza
• La berlina ibrida continua a vantare un design elegante, impressionante gamma di funzioni, e risparmio di carburante
• Kia Optima Hybrid 2016 ha un consumo stimato di 40 MPG EPA in autostrada (1)
Fonte: Kia Motors America
Irvine, California, USA. 6 Novembre 2015. Come un riporto dal model year 2015, l'Optima Hybrid 2016 continua ad offrire tutte le qualità che i consumatori amano della terza generazione Optima, compreso il suo disegno europeo sorprendente, l'abbondanza di caratteristiche premium e un valore eccezionale, il tutto migliorando il risparmio di carburante con un powertrain ibrido che risparmia carburante ed aiuta a ridurre al minimo le visite al benzinaio.
Disponibile in due livelli di allestimenti ben arredate – Hybrid e Hybrid EX – Optima Hybrid 2006 ha i vantaggi di un motore da 2,4 litri che funziona in abbinamento ad un motore elettrico da 47 cavalli per produrre un totale di 199 cavalli di potenza e 235 Nm di coppia combinata. L'alimentazione del motore elettrico avviene attraverso una potente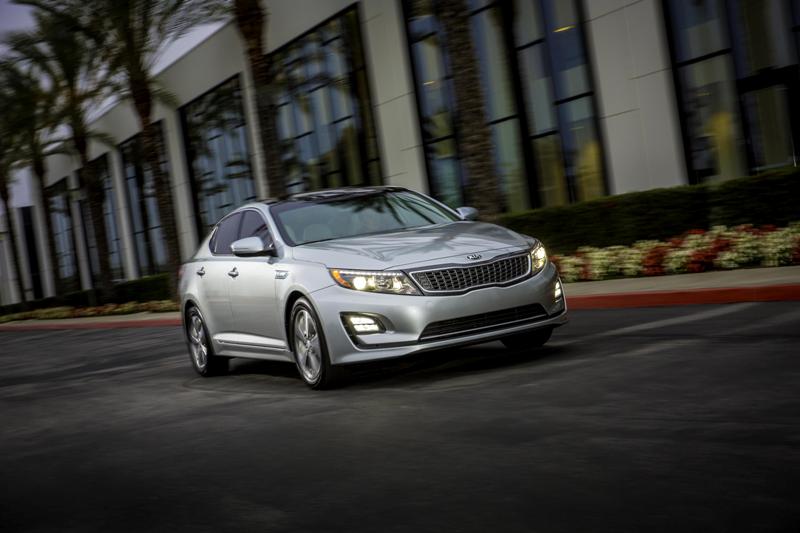 batteria ai polimeri di litio da 47 kW, mentre trasmissione automatica a sei rapporti è ad innesti morbidi e trasmette tutta la potenza alle ruote anteriori dell'Optima Hybrid.
Quando non c'è abbondanza di energia, la si può anche alimentare a carburante ed il consumo dell'Optima Hybrid secondo le stime dell'EPA è di 36 mpg nella città, 40 mpg sulla strada extraurbana, e 38 mpg nel ciclo combinato, con l'Ibrida EX con emissioni stimate dall'EPA di 35 mpg in città , 39 mpg su strada extraurbana e 37 mpg nel ciclo combinato (1).
Optima Hybrid 2016 dispone di elementi unici esteriori che migliorano l'aerodinamica e aiutano a distinguerla. L'Optima Hybrid dispone di prese d'aria supplementari sul paraurti anteriore per aumentare il flusso d'aria e ridurre la resistenza.
Gli pneumatici a bassa resistenza al rotolamento sono montati su cerchi in lega da 16 pollici mentre gli pneumatici a super bassa resistenza al rotolamento sono montati su cerchi in lega da 17 pollici (a seconda della finitura) per contribuire a ridurre il peso e la resistenza. La griglia anteriore è unica come sono gli esclusivi parafanghi con la targetta Hybrid e alcuni componenti che fanno ampio uso di alluminio anziché in acciaio per compensare il peso della batteria.
Entrambe le cornici sono profumatamente dotate di caratteristiche premium standard, ma per coloro che cercano di più dalla loro Optima Hybrid, entrambe le cornici sono disponibili con i fine pacchetti feel premium del ibrido.
L'Hybrid Convenience Package aggiunge a bordo dieci regolazioni sedile conducente disponibili al conducente, a 10 vie, UVO eServices2 con retrocamera display (3), i fari anteriori e quelli di posizioni sono a LED ed il parabrezza stratificato acustico ed i finestrini anteriori, che aiutano la silenziosità nel soggiorno della cabina-libreria. La EX Hybrid può essere ulteriormente vestita con il pacchetto tecnologico, che aggiunge il tetto apribile panoramico con nero lucido nei montanti B, rilevamento punto cieco (BSD) con Rear Cross Traffic Alert (RCTA), e un System Back-up di avviso.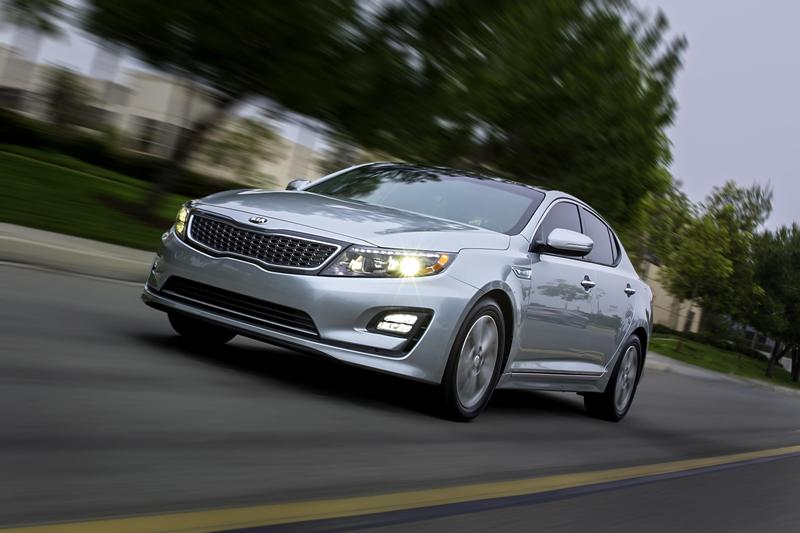 Oltre al Hybrid design, le prestazioni e l'efficienza, è campione con una varietà di caratteristiche di sicurezza. Entrambe le cornici offrono driver standard e Front Advanced Passenger Airbag, airbag laterali montati sul sedile, airbag a tendina laterali anteriori e posteriori, quattro ruote sistema antibloccaggio dei freni (ABS), Vehicle Stability Management (VSM), controllo elettronico della stabilità (ESC), Traction Control System (TCS), e Hill Start Assist Control (HAC) (4).
* La Sorento e Optima GDI (EX, SX e Limited e LX Trim) sono assemblate negli Stati Uniti con parti di provenienza a livello globale
(1) Sulla base di stime EPA. Il chilometraggio effettivo varia con le opzioni, le condizioni di guida, le abitudini di guida e le condizioni del veicolo.
(2) Nessun canone di abbonamento per UVO eServices. Nessun addebito per l'applicazione UVO eServices. L'applicazione utilizza il servizio dati cellulare smartphone. Verranno applicate le tariffe dei servizi cellulari normali. Guidare sempre in modo sicuro e usare cautela.
(3) Queste funzionalità non sono sostitute per una guida sicura, e non possono rilevare tutti gli oggetti circostanti del veicolo.
(4) Per la massima protezione, indossare sempre la cintura di sicurezza. Nessun sistema, non importa quanto avanzato, è in grado di compensare tutti gli errori del conducente e/o le condizioni di guida.
** K900 disponibile in selezionati finiture e in alcuni mercati con disponibilità limitata.
*** Soul EV in mercati selezionati con disponibilità limitata.
In English
2016 Kia Optima Hybrid Overview
Hybrid Version of Kia's Best-Selling Nameplate Maintains Style, Efficiency
• Hybrid sedan continues to boast a sleek design, impressive array of features, and impressive fuel economy
• 2016 Optima Hybrid has an EPA-estimated MPG of 40 on the highway (1)
Fonte: Kia Motors America
Irvine, California. November 6th, 2015. As a carryover from the 2015 model year, the 2016 Optima Hybrid continues to offer all the qualities that consumers love about the third-generation Optima, including its striking European design, abundance of premium features, and exceptional value, all while enhancing fuel economy with a fuel-sipping hybrid powertrain that helps minimize visits to the pump.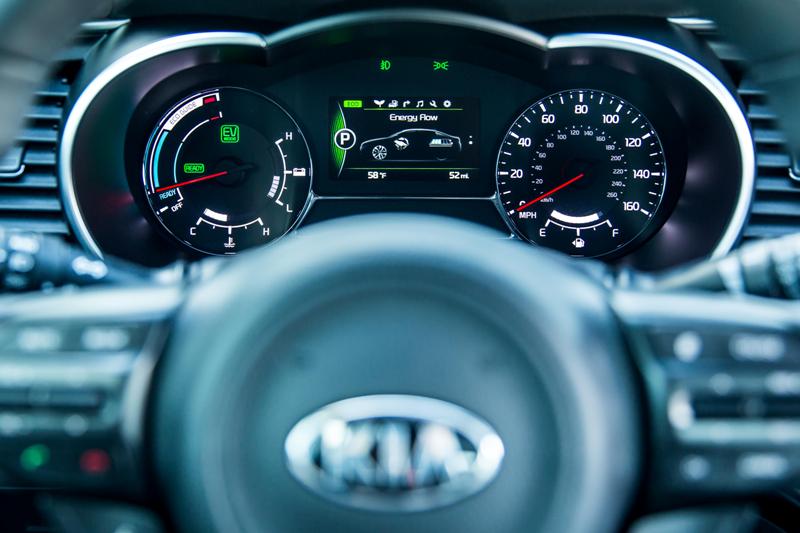 Available in two well-appointed trim levels – Hybrid and Hybrid EX – the 2016 Optima Hybrid benefits from a 2.4-liter engine that works in conjunction with a 47-horsepower electric motor to produce a combined 199 horsepower and 235 lb.-ft. of torque. Supplying the electric motor is a powerful 47 kW lithium polymer battery, while a smooth-shifting six-speed automatic transmission transfers all the power to the Optima Hybrid's front wheels. While there is plenty of power, it's also fuel efficient, with the Optima Hybrid has EPA-estimated 36 MPG in the city, 40 MPG on the highway, and 38 MPG combined, with the Hybrid EX has EPA-estimated 35 MPG in the city, 39 MPG on the highway, and 37 MPG combined (1).
The 2016 Optima Hybrid features unique exterior elements that enhance aerodynamics and help set it apart. The Optima Hybrid has additional vents on the front bumper to increase airflow and reduce drag. Low rolling resistance tires are mounted to 16-inch alloy wheels or super low rolling resistance tires are mounted to 17-inch alloy wheels (depending on trim) to help reduce weight and drag. The front grille is also unique as are Hybrid-exclusive fender badges, and certain components make extensive use of aluminum instead of steel to help offset the weight of the battery.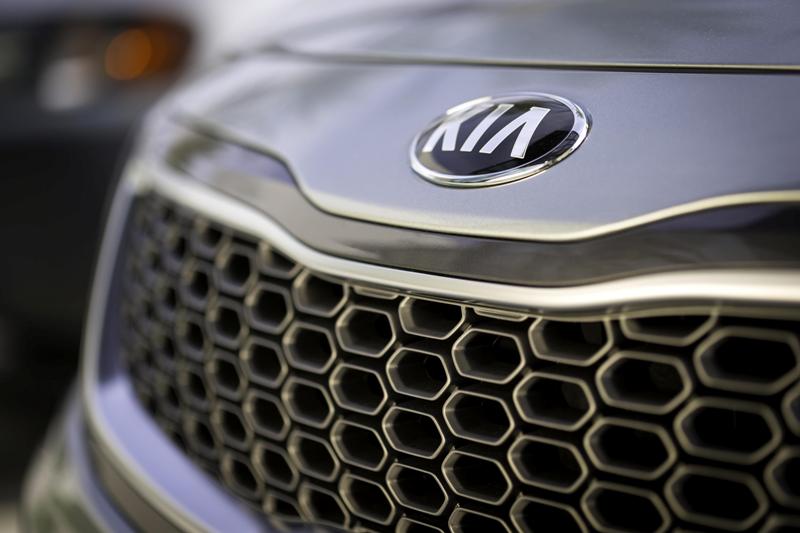 Both trims are handsomely equipped with premium standard features, but for those seeking more from their Optima Hybrid, both trims are available with packages that up the hybrid's premium feel. The Hybrid Convenience Package  adds a 10-way power adjustable driver's seat, UVO eServices (2) with rear-camera display (3), LED front positioning headlights, and an acoustic laminated windshield and front door windows, which help the cabin stay library-quiet. The Hybrid EX can further be dressed up with the Technology Package, which adds the Panoramic sunroof with gloss black B-pillars, Blind-Spot Detection (BSD) with Rear Cross Traffic Alert (RCTA), and a Back-up Warning System (3).
In addition to the Hybrid's design, performance and efficiency, it comes standard with a variety of safety features. Both trims offer standard driver and passenger advanced front airbags, front seat-mounted side airbags, front and rear side curtain airbags, four-wheel Antilock Brake System (ABS), Vehicle Stability Management (VSM), Electronic Stability Control (ESC), Traction Control System (TCS), and Hill Start Assist Control (HAC) (4).
* The Sorento and Optima GDI (EX, SX & Limited and certain LX Trims only) are assembled in the United States from U.S. and globally sourced parts
(1) Based on EPA estimates. Actual mileage will vary with options, driving conditions, driving habits and your vehicle's condition.
(2) No subscription fee for UVO eServices. No charge for the UVO eServices app. App uses your smartphone cellular data service. Normal cellular service rates will apply.  Always drive safely and use caution.
(3) These features are not substitutes for safe driving, and may not detect all objects surrounding vehicle. Always drive safely and use caution.
(4) For maximum protection, always wear your seat belt.  No system, no matter how advanced, can compensate for all driver error and/or driving conditions. Always drive responsibly
** K900 available in select trims and in select markets with limited availability.
*** Soul EV in select markets with limited availability.
no images were found