Mahindra Racing detta le linee per la seconda gara del campionato 2016-17 di Formula E
I piloti Nick Heidfeld e Felix Rosenqvist sono preparati per l'impegnativo circuito di Marrakech
Mahindra Racing cerca di migliorare le prestazioni ottenute nella gara di apertura della stagione a Hong Kong
Fonte: Mahindra Racing
Marrakesh, Marocco. 8 Novembre 2016. Mahindra Racing correrà in Marocco questo Sabato per la prima edizione di Marrakesh ePrix, la seconda prova del campionato 2016-17 di FIA Formula E.
Sulla carta potrebbero ottenere una ripetizione o addirittura un miglioramento delle prestazioni che ha visto la squadra raccogliere un fantastico podio ed il giro più veloce nella gara inaugurale della stagione a Hong Kong il mese scorso.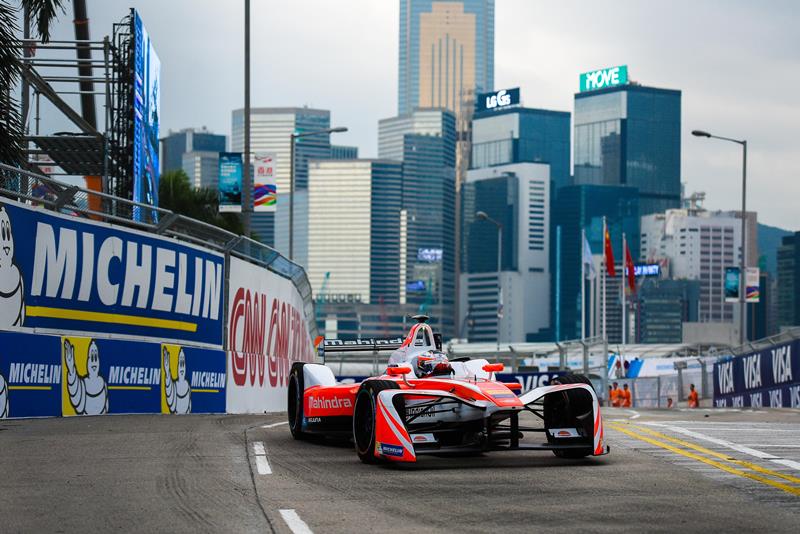 Marrakesh segnerà la prima incursione della Formula E nel continente africano, contemporanea alla Convenzione delle Nazioni Unite sui cambiamenti climatici (COP22). Il secondo dei cinque nuovi luoghi delle 12 gare del calendario che si svolgeranno in 10 Paesi. L'evento ha lo scopo di mettere in evidenza un ulteriore sviluppo della tecnologia dei veicoli nella prima serie di corse globale completamente elettrica al mondo.
Un circuito semi-permanente di 2,971 km di percorrenza a sud della città, il Circuito di Marrakech, ospiterà il programma di gara condensato il sabato 12 novembre che comprende due sessioni di prove libere, qualifiche e la gara, tutto in un giorno. Dal momento che il World Touring Car Championship ha utilizzato il circuito in passato, le squadre hanno più dati di simulazione e analisi video come compiti a casa rispetto a qualsiasi altra nuova posizione.
Dopo il suo podio in Hong Kong, il pilota tedesco della Mahindra Racing Nick Heidfeld sta cercando di completare un'altra prestazione impeccabile con la M3Electro. Lo svedese rookie della serie Felix Rosenqvist, che ha celebrato il suo 25esimo compleanno questa settimana, non stara a guardare dopo aver impostato il giro più veloce durante la sua gara di esordio in Formula E – un tempo più veloce rispetto a quella segnato in qualifica e un nuovo record sul giro. Questo passo lo può aiutare nei quattro rettilinei del circuito cittadino di Marrakech con velocità massime che dovrebbero raggiungere circa 190-195kph.
Dilbagh Gill, Team Principal, Mahindra corsa di Formula E squadra ha detto:
"Abbiamo avuto un buon inizio di stagione nella gara di apertura del Campionato FIA di Formula E 2016-17 il mese scorso, ma ci sono ancora aree da migliorare. Marrakech è la nostra prossima occasione per fare proprio questo e sono davvero felice di vedere la nostra squadra avanti, ancora una volta. Nick è stato in grado di capitalizzare un grande inizio, con una buona partenza e gestendo sapientemente la sua energia a Hong Kong. Mentre la prima gara di Felix non è andata esattamente secondo i piani, il suo ritmo è stato più veloce rispetto al giro della pole position e restiamo fiduciosi nella sua capacità di fornire un buon risultato in gara a Marrakech. Per la Formula E, è un momento emozionante e la partnership con COP22 solo può migliorare il brillante futuro di questo sport. Non vediamo l'ora di offrire uno spettacolo per i leader della lotta contro il cambiamento climatico di tutto il mondo. "
Nick Heidfeld ha detto:
"Abbiamo avuto un buon fine settimana a Hong Kong per la gara di apertura e sarà molto interessante vedere come si svolge ancora una volta perché è ancora l'inizio della stagione. Il circuito di Marrakech ePrix ha molte curve veloci rispetto a Hong Kong e anche rispetto alla maggior parte delle altre gare di Formula E. Le prime due curve sono molto speciali per la Formula E per quanto sono veloci e lunghe.

E' parte di un circuito permanente, ma ha ancora molti muretti proprio come qualsiasi circuito cittadino, quindi non ci sarà un'alta probabilità di bandiere gialle o safety car. Ognuno può avere una sfida con la gestione dell'energia, perché il layout significa che sarà una gara che richiede molto storage e conservazione. E' anche sarà la mia prima volta in Africa, quindi questo è qualcosa che non vedo l'ora di fare! "
Felix Rosenqvist ha detto:
"La cosa buona è che abbiamo visto la pista di Marrakech prima, anche se è nuova per la Formula E, è nota al pubblico dal WTCC quindi so più o meno cosa aspettarmi. E' una pista diversa da Hong Kong in tutti i sensi. Ha molte chicane e rettilinei in modo che richiederà un diverso stile di guida e un ritmo diverso. Onestamente non so se mi si adatterò o no, credo che vedremo quando saremo lì a Marrakesh, ma nel complesso si tratta di una sfida completamente diversa. L'obiettivo per questa gara è quello di costruire su quello che abbiamo ottenuto a Hong Kong. Il ritmo era davvero buono e vorrei mantenere questa tendenza. Sappiamo che abbiamo un buon pacchetto e voglio essere in grado di utilizzarlo al suo massimo potenziale al più presto possibile, anche se sto ancora imparando un po' ogni volta".
In English
Podium target for Mahindra Racing in maiden Marrakesh ePrix
Mahindra Racing lines up for second race of the 2016-17 Formula E Championship
Drivers Nick Heidfeld and Felix Rosenqvist prepared for challenging, high-speed Marrakesh circuit
Mahindra Racing looking to improve on performance from season opener in Hong Kong
Source: Mahindra Racing
Marrakech, Morocco. 8 November 2016. Mahindra Racing heads to Morocco this Saturday for the inaugural Marrakesh ePrix, the second round of the 2016-17 FIA Formula E Championship.
On the cards could be a repeat or even improvement of the performance that saw the team collect a fantastic podium and fastest lap at the season opener in Hong Kong last month.
Marrakesh will mark Formula E's first foray into the African continent and take place during the United Nations Convention on Climate Change (COP22). The second of five brand new venues in the 12-race, 10-country calendar, the event aims to further highlight vehicle technology development in the world's first fully electric global racing series.
A semi-permanent 2.971km street circuit just south of the city, the Circuit International Automobile Moulay El Hassan, will play host to the condensed race programme on 12 November which includes two practice sessions, qualifying and the race all on one day. Since the World Touring Car Championship has used the circuit in the past, it provides the teams with more simulation data and video analysis homework than any other new location.
After his podium in Hong Kong, Mahindra Racing's German driver Nick Heidfeld is looking to complete another faultless performance in the M3Electro. Swedish series rookie Felix Rosenqvist, who celebrated his 25th birthday this week, will also be one to watch after setting the fastest lap during his Formula E debut – a time faster than that set in qualifying and a new lap record. That pace may help him on the Marrakesh street circuit's four straights with top speeds expected to reach around 190-195kph.
Dilbagh Gill, Team Principal, Mahindra Racing Formula E Team said:
"We had a good beginning to the season at the opening round of the FIA Formula E 2016-17 Championship last month, but there are still areas to improve on. Marrakesh is our next chance to do just that and I'm really excited to see our team move forward once again. Nick was able to capitalise on a great start, move up the field and expertly manage his energy in Hong Kong. While Felix's first race didn't exactly go to plan, his pace was quicker than the pole lap and we remain confident in his ability to deliver a good race result in Marrakesh. For Formula E, it's an exciting time and the partnership with COP22 will only enhance the sport's bright future. We are looking forward to putting on a show for the world's climate leaders."
Nick Heidfeld said,
"We had a good weekend in Hong Kong for the opening race and it will be very interesting to see how we perform again because it is still early in the season. The Marrakesh ePrix circuit has a lot of quick corners compared to Hong Kong and even compared to most of the other races in Formula E so far. The first two corners are quite special for Formula E as they are quick and long, and you have to keep turning all the way through them. It's partly a permanent circuit, but still has many walls just like any street circuit, so there will be a high chance of full course yellow or a safety car. Everyone is likely to have a challenge with energy management, because the layout means it's going to be a race that requires a lot of coasting and conservation. It is also going to be my first time in Africa, so this is something I am looking forward to!"
Felix Rosenqvist said.
"The good thing is that we've seen the Marrakesh track before, even if it's new for Formula E, it is known to the public from WTCC so I know more or less what to expect. It's a different track to Hong Kong in every sense. It has a lot of chicanes and straights so it will require a different driving style and a different rhythm. I honestly don't know if it will suit me or not, I guess we will see when we are there in Marrakesh, but overall it's a completely different challenge. The target for this race is to build on what we achieved in Hong Kong. The pace was really good and I would like to keep that trend. We know that we have a good package and I want to be able to use it to its maximum potential as soon as possible even if I am still learning a little bit every time."
As part of Mahindra Racing's commitment to improvement, the team will be making a special announcement on Friday ahead of the Marrakesh ePrix. Stay tuned.
no images were found

.