Una nuova tecnologia progettata in Gran Bretagna ridurrà il tempo di ricarica delle batteria a cinque minuti
ZapGo integra carboni non infiammabile al centro della sua nuova tecnologia
– i tempi di carica per i dispositivi mobili si ridurranno drasticamente
– ZapGo prevede di avviare la produzione nel 2017 a Harwell, Oxford
Fonte: ZapGo
Oxford, Gran Bretagna. 27 ottobre 2016. ZapGo, una società di tecnologia basata ad Oxford, ha annunciato una nuova tecnologia di ricarica rapida che in genere è in grado di caricare un dispositivo mobile in soli cinque minuti, senza il rischio che prenda fuoco.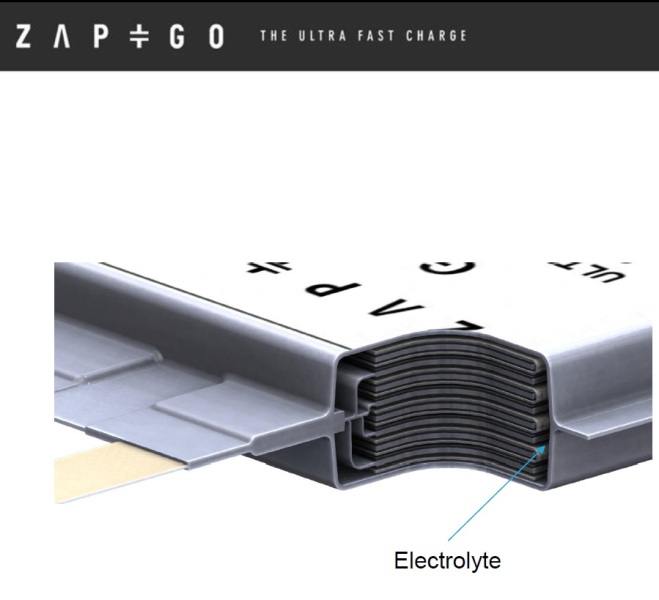 Al centro di questa tecnologia è un nuovo tipo di 'supercondensatore' che utilizza nanostrutture di carbonio tra cui il grafene, materiali che sono eccellenti conduttori, super leggeri e centomila volte più sottili di un capello umano. Fanno la ricarica ultra-veloce e non sono infiammabili, a differenza di della ricarica lenta delle batterie agli ioni di litio.
La tecnologia fornirà un miglioramento rivoluzionario nella durata della batteria per una vasta gamma di clienti con i dispositivi ricaricabili come i telefoni cellulari, tablet, computer portatili, utensili elettrici senza fili, robot pulitori e veicoli elettrici.
I supercondensatori sono il risultato di tre anni di lavoro di sviluppo da parte della forte squadra di 20 persone di ZapGo con sede presso l'Harwell Science & Technology Campus vicino a Oxford.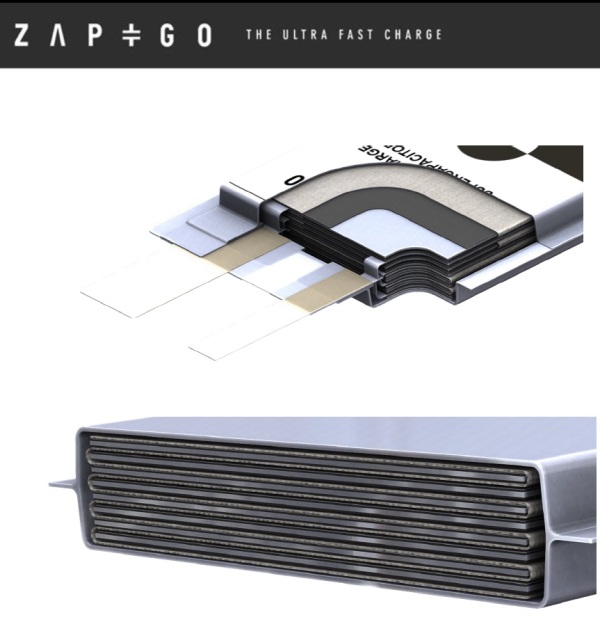 Con il supporto di $ 7,6 milioni (£ 6.25m) ha recentemente sollevato l'interesse da investitori privati ​​in America, ZapGo è sulla strada giusta per costruire il suo primo impianto di produzione da 15.000 piedi quadri ad Harwell durante il 2017.
Con l'aiuto di ulteriori fondi si prevede di aumentare il volume della produzione nel 2018. Questo finanziamento recente porta il totale raccolto a $ 10m (£ 8.25m).
L'Amministratore delegato Stephen Voller ha detto:
"E' un fatto della vita moderna che noi chiediamo che i nostri dispositivi mobili, telefoni, utensili elettrici o qualsiasi altra cosa, lavorino di più e più a lungo. Questo pone un enorme sforzo sull'esistente tecnologia delle batterie, aumentando la loro probabilità di surriscaldamento e persino il rischio di prendere fuoco".

"La nostra nuova tecnologia di ricarica rapida si basa su l'appetito del consumatore per caricare i propri dispositivi in ​​modo più rapido. Con lo sviluppo di un composto stabile non infiammabile nostre centraline potranno spingere i confini della ricarica oltre le capacità degli ioni di litio, ma sempre rimanere sul sicuro", ha concluso Voller.
In English
New British designed technology reduce battery charging time
New British designed technology will reduce device battery charging time teo five minutes
ZapGo integrates non-flammable carbons at the heart of its new technology
– Charging times for mobile devices set to dramatically reduce
– ZapGo set to start production in 2017 in Harwell, Oxford
Source: Zap Go
Oxford, England. 27th October 2016. ZapGo an Oxford based technology company has announced a new fast charge technology that will typically charge a mobile device in just five minutes, without the risk of it catching fire.
At the heart of this technology is a new type of 'supercapacitor' using carbon nano-structures including graphene, materials that are superb conductors, super light and a hundred thousand times thinner than a human hair. They charge ultra-fast and are totally non-flammable, unlike slow-charging lithium-ion batteries.
The technology will deliver a revolutionary improvement in battery life for a range of customers with rechargeable devices such as mobile phones, tablets, laptop computers, cordless power tools, robot cleaners and electric vehicles.
The supercapacitors are the result of three years' development work by the 20-strong ZapGo team based at the Harwell Science & Technology Campus near Oxford.
With the support of $7.6m (£6.25m) recently raised from private investors in America, ZapGo is on target to set up its first production facility in a 15,000 sq. ft. facility at Harwell during 2017. With the help of further funding high volume production is planned for 2018. This recent funding brings the total raised to $10m (£8.25m).
Chief Executive Stephen Voller said: "It's a fact of modern life that we demand that our mobile devices, phones, power tools or whatever, work harder for longer. This puts a tremendous strain on existing battery technology, increasing their chance of overheating and even catching fire."

"Our new fast charge technology is based on the consumer's appetite for charging their devices more quickly. By developing a stable non-flammable compound our power packs will push the boundaries of charging beyond the capabilities of lithium-ion but always remain safe," concluded Voller.
no images were found

.