Mahindra Racing pronta per la prima gara del campionato 2016-17 di Formula E
I piloti Felix Rosenqvist e Nick Heidfeld pienamente preparati per la nuova sfida nel circuito cittadino di Hong Kong
Oltre 4100 km di test pre-stagione con le nuove vetture M3Electro
Fonte: Mahindra Racing
Donington, Gran Bretagna. 3 Ottobre 2016. Mahindra Racing viaggia a Hong Kong questo fine settimana per la prima gara del campionato 2016-17 di Formula E con grandi speranze di successo a seguito del programma di test pre-campionato con la sua nuova M3Electro.
L'Hong Kong ePrix dà il via alla terza stagione di Formula E, che vedrà Mahindra in gara in dieci paesi diversi per 12 corse da ottobre 2016 fino a luglio 2017.
Il layout del circuito da 1,86 km, che si trova nella Harbourfront centrale, comprende dieci curve ed un rettilineo di 555m, il rettilineo più lungo di tutte le corse di Formula E fino ad oggi.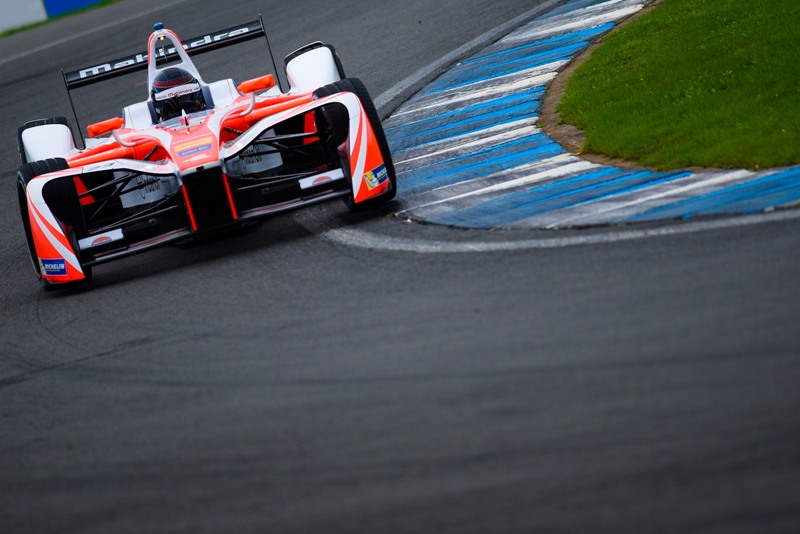 Mahindra Racing corre nella terza stagione con due importanti nomi al volante delle vetture M3Electro. La squadra ha rinnovato con il pilota tedesco Nick Heidfeld, che torna per la sua terza stagione in Formula E e la seconda con Mahindra Racing. Il suo compagno di squadra nel campionato Felix Rosenqvist è arrivato dalla Svezia. Il Campione 2015 di Formula 3 ha un record invidiabile sui circuiti cittadini, tra cui la vittoria al Gran Premio di Macao.
Mahindra Racing ha fatto delle prove positive puntando alla sua terza stagione, dopo aver completato oltre 4100 km di test con la nuova M3Electro. Caratterizzatoa da un propulsore Mahindra sviluppato  e completamente riprogettato, la M3Electro è in grado di costruire sul successo della squadra. Ognuna delle quattro vetture M3Electro della squadra è più leggera grazie alla restrizione del peso minimo FIA che ora si è abbassato a 880kg, comprende un volante completamente personalizzabile con una maggiore visibilità dei dati per i conducenti e anche una nuova ala anteriore curva di linee sorprendenti. Secondo i regolamenti sportivi rivisti, la rigenerazione di energia è stata aumentata da 100 kW a 150 kW.
Dopo 2.200 km di test privati in 15 giorni effettuati ​​in tutta la Spagna nel mese di Luglio, la squadra poi ha completato in totale 478 giri nel corso di altri sei giorni al circuito di 4,003 km di Donington Park. Nonostante la casa britannica della Formula E è lontana dai circuiti cittadini del centro città che compongono le 12 gare della Stagione 3 del calendario, è stata ancora una possibilità per ottenere un'indicazione approssimativa di dove la squadra potrebbe avere il suo punto di forza a Hong Kong ePrix questo fine settimana.
Dilbagh Gill, Team Principal, Mahindra Racing di Formula E ha detto:
"Mahindra Racing è dove voleva essere all'inizio della terza stagione del FIA Formula E Championship e penso che stiamo andando in questa stagione meglio preparati di quanto non lo siamo mai stati all'inizio del campionato. Il pilota rookie, Felix, si è completamente integrato al team e Nick ha contribuito in maniera massiccia al nostro nuovo sviluppo attraverso tutto il percorso della M3Electro. La prima gara a Hong Kong presenta un nuovo circuito e una sfida per la squadra, ma siamo completamente soddisfatti della nostra preparazione che ci ha messo in una posizione di forza per la nuova stagione di Formula E".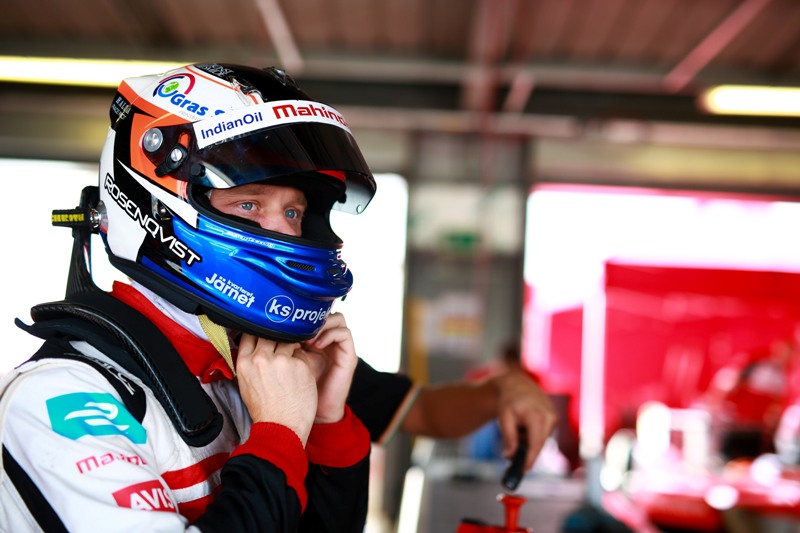 Felix Rosenqvist ha detto:
"Mi sento molto ben preparato per Hong Kong e la sfida dei circuiti stradali della Formula E. La M3Electro, è molto interessante per me come pilota perché la serie è molto combattuta e coinvolge l'elemento tecnico ad un livello completamente diverso da quello che qualsiasi altra categoria può offrire. E' difficile adattarsi all'alta pressione, con il formato delle gare in un solo giorno sui circuiti stradali della Formula E, è una sfida ed è ciò che mi piace. I nostri test pre-campionato sono andatoi bene e la M3Electro è stata molto affidabile. Il propulsore sviluppato da Mahindra Racing sembra essere competitivo finora rispetto alle altre squadre, ma il vero test sarà quello di vedere cosa possiamo fare durante la prima gara. Sono entusiasta di iniziare".
Nick Heidfeld ha dichiarato:
"Sono contento di come sono andati i test pre-stagione con la nuova M3Electro. Ci sono stati alcuni grandi cambiamenti con il nuovo propulsore Mahindra Racing. La parte posteriore del pacchetto della terza stagione sembra molto bello ed elegante. Abbiamo completato molti chilometri nei test pre-campionato, sia in privato e poi nei test collettivi a Donington, ma avremo curve molto strette e sfondo saltellante nelle corse. I circuiti stradali della Formula E sono ciò che rende questo campionato molto eccitante e stimolante per un pilota e Hong Kong non sarà diverso. Non vedo l'ora di che inizi la nuova stagione e spero di portare Mahindra Racing nella lotta per le prime posizioni nel campionato".
In English
Mahindra Racing all set for Hong Kong ePrix
Mahindra Racing ready for first race of the 2016-17 Formula E Championship
Drivers Felix Rosenqvist and Nick Heidfeld fully prepared for new street circuit challenge in Hong Kong
Over 4,100km of pre-season testing with Mahindra Racing's new M3Electro cars
Fonte: Mahindra Racing
Donington, UK. 3 October 2016. Mahindra Racing travels to Hong Kong this weekend for the first race of the 2016-17 FIA Formula E Championship with high hopes following a successful pre-season test programme with its new M3Electro.
The Hong Kong ePrix kicks off Formula E's third season, which will see Mahindra Racing visit ten different countries for 12 races from October 2016 through to July 2017. A bespoke 1.86km circuit layout, located in the Central Harbourfront, comprises ten corners and, at 555m, the longest straight of any Formula E race to date.
Mahindra Racing will compete in season three with two exciting names at the wheel of the M3Electro cars. The team has welcomed back German driver Nick Heidfeld, who returns for his third season in Formula E and second with Mahindra Racing. His teammate is series newcomer Felix Rosenqvist from Sweden. The 2015 Formula 3 Champion has an enviable record on street circuits, including back-to-back wins at the Macau Grand Prix.
Mahindra Racing has had a positive build-up to its third season, having completed over 4,100km of testing with the new M3Electro. Featuring a completely redesigned Mahindra-developed powertrain, the M3Electro is in a position to build on the team's success. Each of the team's four M3Electro cars is lighter with the FIA minimum weight restriction lowered to 880kg, includes a fully-customisable steering wheel with greater data visibility for drivers and also sports a striking new curved front wing. Under the revised sporting regulations, energy regeneration has been increased from 100kW to 150kW.
After 2,200km were covered over 15 private days across Spain in July, the team then completed a total of 478 laps over a further six days at the 4.003km Donington Park circuit. While the championship's British home is a far cry from the city centre street circuits that make up the 12-race Season 3 calendar, it was still a chance to gain a rough indication of where the team might feature in the Hong Kong ePrix this weekend.
Dilbagh Gill, Team Principal, Mahindra Racing Formula E Team said:
"Mahindra Racing is where we wanted to be at the beginning of season three of the FIA Formula E Championship and I think we are going into this season the best prepared we have ever been since the start of the championship. Our rookie driver, Felix, has completely settled in to the team and Nick has contributed massively to our new M3Electro development all the way through. Race one in Hong Kong presents a new circuit and challenge for the team, but we are totally satisfied that our preparations put us in a strong position for the new Formula E season."
Felix Rosenqvist said:
"I feel very well prepared for Hong Kong and the challenge of Formula E's street circuits. With the M3Electro, it is very interesting for me as a driver because the series is very hands-on and involves a technical element at a completely different level than what any other category can offer. It's going to be a tough learning curve to adapt to the high-pressure, single-day format street races of Formula E, but a challenge is what I love. Our pre-season testing went well and the M3Electro has been very reliable. The Mahindra Racing-developed powertrain seems to be competitive so far compared to the other teams, but the real test will be to see what we can do during the first race. I'm excited to get started."
Nick Heidfeld said:
"I am happy with how pre-season testing has gone with the new M3Electro. There have been some big changes with the new Mahindra Racing powertrain. The rear end of the season three package looks very nice and sleek. We completed a lot of kilometres in pre-season testing both in private and then at the combined tests at Donington, but we will have a lot tighter corners and bumps at the races. The street circuits of Formula E are what make this championship very exciting and challenging for a race driver and Hong Kong will be no different. I'm looking forward to getting underway with the new season and hopefully moving Mahindra Racing forward in the championship."
no images were found

.