Ingresso a prezzi a partire da soli 15 dollari fino alla fine del gennaio 2015
I fan avranno accesso anche al Motor Show inaugurale della Formula E
Fonte: Formula E Holdings
Miami. USA. 17 dicembre 2014. I biglietti per il 2015 Miami ePrix del 14 marzo – il quinto round della nuova Formula E – sono ora in vendita via http://www.fiaformulae.com/en/tickets.aspx
La gara è la prima delle due che si svolgeranno negli Stati Uniti e vedrà le 20 vetture completamente elettriche a ruote scoperte che correranno intorno a un circuito cittadino temporaneo situato nel centro di Miami.
Le otto curve del circuito di 2,17 km si estendono lungo la Biscayne Bay sulle strade della AmericanAirlines Arena, sede della squadra di basket Miami Heat dell'NBA.
La vendita generale dei posti in piedi sono al prezzo di soli 15 dollari se acquistato prima del 31 gennaio 2015, con un aumento di solo $ 20 in seguito.
I bambini sotto i cinque anni entrano gratuitamente con sconti del 10% per gli studenti, i membri dei vigili del fuoco e dell'esercito. I posti in tribuna costano da $ 85 fino a $ 225 per i pacchetti di ospitalità.
Così come le corse che si svolgono durante un intero giorno, i fan avranno la possibilità di godere una serie di sostegno scolastico ufficiale della Formula E Greenpower, che vede i bambini da 10 scuole locali competere con i mini kart elettrici in tutto il tracciato di gara.
I biglietti includono anche l'accesso all'eVillage di Formula E – o fan zone – con una varietà di intrattenimenti fuori pista tra cui display acrobatici eBike, sessioni di autografi e simulatori di guida.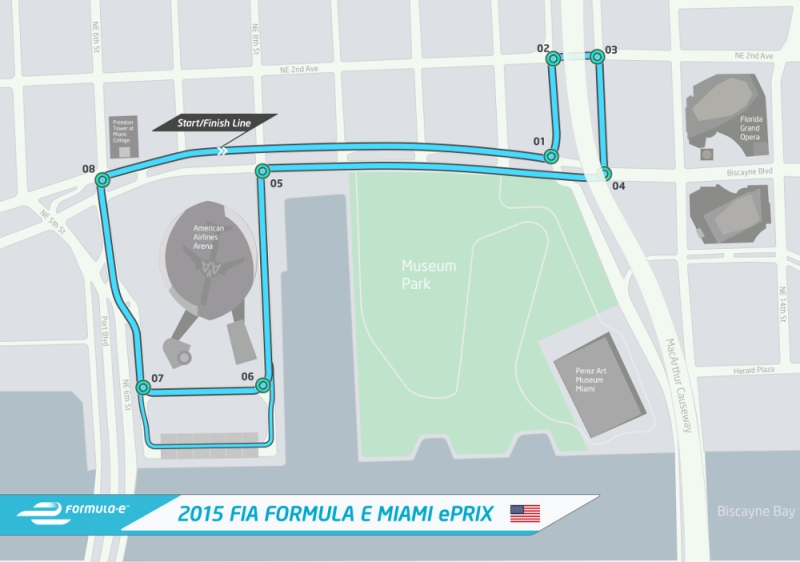 Il Miami ePrix vedrà anche l'inaugurazione della Formula E Motor Show che si svolgerà dal 13 al 15 dove si potranno vedere gli ultimi modelli di veicoli elettrici e ibridi.
La gara sarà organizzata congiuntamente da Andretti Sports Marketing che ha il pieno sostegno del sindaco di Miami Tomas Regalado:
"Sono contento di dare il benvenuto alla Formula E a Miami, la prima gara di monoposto elettriche in America. Siamo orgogliosi di essere tra il gruppo elitario di città internazionali che ospitano il FIA di Formula E Championship".
Il Miami ePrix è la prima delle due gare americane a fianco di quella di Long Beach del 4 aprile 2015.
In English
Tickets for Miami e-Prix now on sale
General admission priced from just $15 until end of January 2015
Fans also set to enjoy inaugural Formula E Motor Show
Miami, USA. December 17, 2014. Tickets for the 2015 Miami ePrix on March 14 – the fifth round of the new FIA Formula E Championship – are now on sale via http://www.fiaformulae.com/en/tickets.aspx
The race is the first of two held in the US and will see 20 fully-electric open-wheel cars racing around a temporary street circuit located in Downtown Miami. The eight turn, 2.17km circuit stretches along Biscayne Bay around the streets of the AmericanAirlines Arena, home to the Miami Heat NBA basketball team.
General admission tickets (standing) are priced at just $15 if purchased before January 31 2015, rising to only $20 thereafter. Children under five go free with 10% discounts for students, members of the fire brigade and army. Meanwhile, grandstand seats cost from $85 rising to $225 for hospitality packages.
As well as a full day's racing, fans will get to enjoy Formula E's official school support series Greenpower, which sees children from 10 local schools compete using mini electric karts around the full-size race track. Tickets also include access to Formula E's eVillage – or fan zone – featuring a variety of off track entertainment including eBike stunt displays, driver autograph sessions and racing simulators.
The Miami ePrix will also see the inaugural Formula E Motor Show running from 13-15 displaying the latest range of electric and hybrid vehicles.
The race will be jointly organised by Andretti Sports Marketing and has the full backing of Miami Mayor Tomas Regalado:
"I'm pleased to be welcoming Formula E to Miami, the location of the first electric single-seater race in America. We are proud to be among the elite group of international cities hosting the FIA Formula E Championship."
The Miami ePrix is the first of two US races alongside Long Beach on April 4, 2015.
no images were found