• Honda Clarity Fuel Cell raggiunge autonomia secondo EPA di 366 miglia (589km) e un'economia di combustibile di 68mpge (109kme/l)
• In Europa Honda porterà la Clarity Fuel Cell ad un numero limitato di mercati come parte del programma HyFIVE
• Clarity Fuel Cell arrivereà in Europa entro la fine del 2016
Fonte: Honda UK
25 Ottobre 2016. Honda Clarity Fuel Cell ha ricevuto dall'Agenzia di Protezione Ambientale degli Stati Uniti (EPA) una valutazione di autonomia di 366 miglia (589km) e un'economia di combustibile di 68 miglia per gallone (109 km/l) di benzina equivalente nel ciclo combinato di 69 in città / 67 in autostrada / 68 miglia per gallone di benzina nel ciclo combinato equivalente (MPGe) Valutazione; 366 miglia Valutazione driving range sulla base delle normative EPA 2017. Questo paragone si usa solo a scopo di confronto.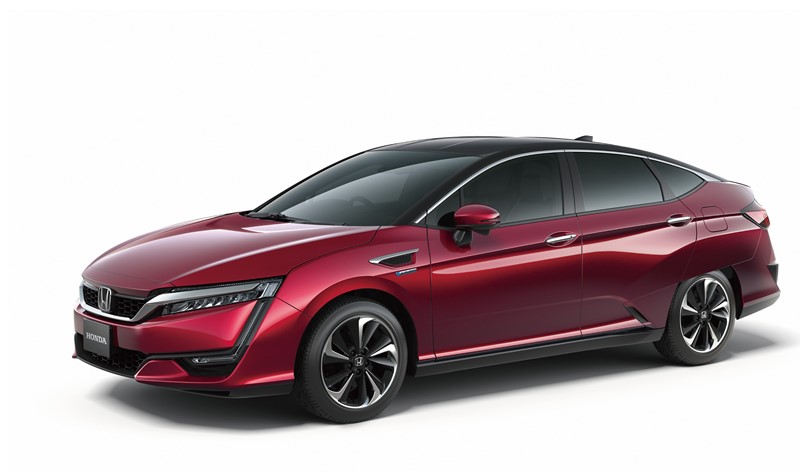 L'autonomia in MPGe varia in base a come si guida ed a come viene mantenuto il vostro veicolo, le condizioni del powertrain ed altri fattori. Dandole il miglior rating di autonomia rispetto qualsiasi altro veicolo elettricosenza un motore a combustion negli Stati Uniti, tra cui quelli a celle a combustibile ed a quelli elettrici puri.
La Clarity Fuel Cell è la prima vettura a celle a combustibile ad ospitare l'intera trasmissione sotto il cofano della vettura. Honda ha ridotto le dimensioni della cella a combustibile del 33 percento, aumentando la densità di potenza del 60 percento, rispetto al Honda FCX. Grazie allo stack di celle a combustibile compatte ed al powertrain integrato, Honda Clarity Fuel Cell è in grado di offrire una più spaziosa cabina in grado di ospitare cinque persone.
In Europa, Honda introdurrà la Clarity Fuel in un numero limitato di mercati europei attraverso il programma HyFIVE in modo di promuovere lo sviluppo, l'utilizzo e la vitalità di una infrastruttura di rifornimento di idrogeno. Insieme ai partner del settore, Honda sta cercando di raccogliere le reali esperienze di utenti di veicoli a celle a combustibile e l'uso delle stazioni di rifornimento di idrogeno. Le prime unità della Clarity Fuel Cell arriveranno in Europa prima della fine dell'anno.
In English
Honda Clarity Fuel Cell Boasts United States EPA Driving Range of 366 Miles
· Clarity Fuel Cell achieves EPA driving range of 366 miles (589km) and fuel economy rating of 68mpge (109kme/l)
· In Europe Honda will bring Clarity Fuel Cell to a limited number of markets as part of the HyFIVE program
· Clarity Fuel Cell to arrive in Europe by the end of 2016
Source: Honda UK
25th October 2016. The Honda Clarity Fuel Cell, has received the United States Environmental Protection Agency (EPA) driving range rating of 366 miles (589km) and fuel economy rating of 68 miles per gallon (109km/l) of gasoline-equivalent combined 69 city / 67 highway / 68 combined miles per gallon of gasoline-equivalent (MPGe) rating; 366-mile driving range rating.
Based on 2017 EPA ratings. Use for comparison purposes only. Your MPGe and driving range will vary based on how you drive and maintain your vehicle, driving conditions, powertrain condition, and other factors, giving it the best range rating of any electric vehicle without a combustion engine, including fuel cell and all-electric vehicles, in the United States.
The Clarity Fuel Cell is the first fuel cell car to house the entire drivetrain under the bonnet of the car. Honda has reduced the size of the fuel cell stack by 33 percent whilst increasing power density by 60 percent, compared to the Honda FCX Clarity. Thanks to the compact fuel cell stack and integrated powertrain, Honda's Clarity Fuel Cell is able to offer a more spacious cabin with seating for five people.
In Europe, Honda will be introducing the Clarity Fuel Cell to a limited number of European markets through the HyFIVE program to promote the development, use and viability of a hydrogen refuelling infrastructure. Together with industry partners, Honda is looking to gather real world user experiences of fuel cell vehicles and the use of hydrogen refuelling stations. The first units of the Clarity Fuel Cell will be arriving in Europe before the end of the year.
no images were found

.