Fonte: Formula E
Putrajaya, Malesia. 10 Novembre 2015. Robin Frijns dice che 'si sentiva come un pilota di rally' mentre guidava la sua auto Andretti Formula E danneggiata al terzo posto nel Putrajaya ePrix.
Frijns aveva iniziato la gara della Malesia in ottava posizione, ma l'olandese ha approfittato dei numerosi incidenti davanti a lui per salire al terzo posto ad appena tre giri dalla fine.
Ma mentre passava l'auto Dragon Racing di Loic Duval che circolava lentamente con danni alle sospensioni, Frijns scivolò sullo sporco alla curva 10 ed è andato a colpire le barriere sul lato esterno della curva.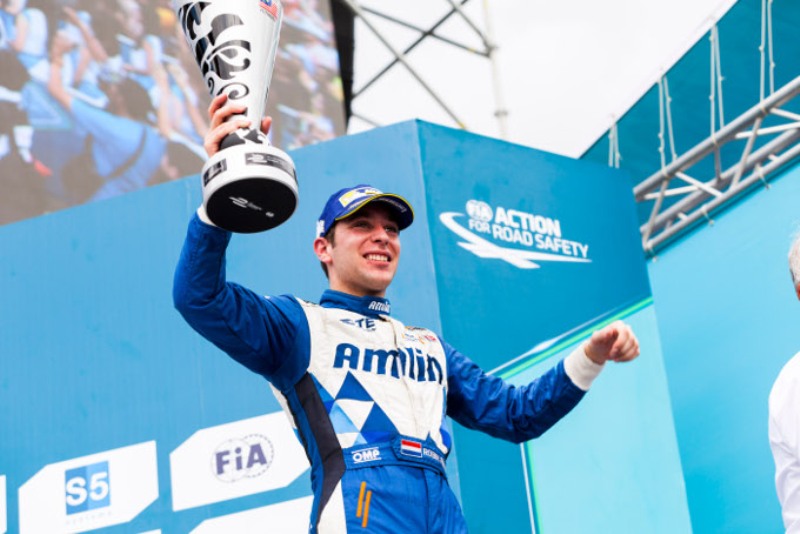 Era in grado di continuare, ma ha dovuto combattere con un braccetto dello sterzo piegato per il resto della gara. Quando Jerome D'Ambrosio è anche andato a muro, Frijns è stato sul podio finendo terzo dietro il vincitore della gara Lucas di Grassi (ABT Schaeffler Audi Sport) e Sam Bird del DS Virgin Racing.
Parlando dopo la gara, Frijns ha detto che pensava che la sua gara fosse finita, dopo aver colpito il muro, ma è stato in grado di trovare un modo di affrontare il danno.
Ha detto: "Mi sono sentito come se fossi un pilota di rally. Duval ha avuto un problema davanti a me ed ha rotto la sospensione. L'ho superato prima della curva 10 e sono andato appena un po 'troppo veloce e c'era molta gomma e molto sporco.

"Ero sullo sporco e ho visto il muro che si avvicinava e ho detto, 'questa è finita.' Invece è stato piuttosto un grande successo, la parte posteriore era completamente piegata e lo sterzo era completamente storto. Le curve a destra erano belle ma nelle curve a sinistra ho davvero dovuto prendermela comoda".
La gara di Putrajaya era solo la sua seconda partenza in Formula E e Frijns ha descritto la sua gioia di scoprire la forza della sua auto Andretti di Formula E dopo essere sopravvissuto a un impatto così significativo, ma ha spiegato che lui non sapeva che fosse terzo fino a che la sua squadra gli ha detto via radio una volta che la gara era finita.
Ha detto: "Sono sorpreso di quanto sia forte la vettura di Formula E. Ho pensato che lo fosse e non sapevo in quale posizione mi trovavo. Ma ho continuato a spingere ed ho portato a casa il risultato. Ho attraversato la linea e mi hanno detto che ero terzo ed è stato una grande sorpresa".
Con solo due gare nella sua carriera di Formula E, Frijns è al quinto posto in classifica con 16 punti ed è 27 lunghezze dietro il leader del campionato di Grassi.
In English
Frijns: "I felt like I was a rally driver"
Source: Formula E
Putrajaya, Malesia. 10 November 2015. Robin Frijns says he 'felt like a rally driver' as he drove his damaged Andretti Formula E car to third place in the Putrajaya ePrix.
Frijns had started the Malaysian race in eighth place, but the Dutchman took advantage of the numerous incidents in front of him to move up to third place with just three laps to go.
But as he passed the Dragon Racing car of Loic Duval going slowly with suspension damage, Frijns slid on the marbles at Turn 10 and struck the barriers on the outside of the corner.
He was able to continue but had to fight with a bent steering arm for the rest of the race. When Jerome D'Ambrosio also hit trouble, Frijns was promoted back onto the podium to finish behind race winner Lucas di Grassi (ABT Schaeffler Audi Sport) and DS Virgin's Sam Bird.
Speaking after the race, Frijns said he thought his race was over after he hit the wall but he was able to find a way of coping with the damage.
He said: "I felt like I was a rally driver. Duval had a problem in front of me and he also had a suspension failure. I overtook him before Turn 10 and I went in just a bit too quick and there was a lot of rubber and dirt.

"I was on it and I saw the wall coming and I said, 'this is it, it's over.' It was quite a big hit and the rear was completely bent and the steering was totally not straight any more. Right corners were fine but [in] left corners I really had to take it easy."
As the Putrajaya race was only his second Formula E start, Frijns described his delight at discovering the strength of his Andretti Formula E car after surviving such a significant impact, but explained that he did not know he was third until his team told him over the radio once the race was over.
He said: "I'm surprised how strong the Formula E car is. I thought that was it and I didn't know which position I was in. But I kept on pushing and [brought] it home. I crossed the line and they said I was P3, so that was a big surprise."
Just two races into his Formula E career, Frijns is up to fifth in the standings with 16 points and is 27 behind championship leader di Grassi.
no images were found

.