Fonte: Formula E
Parigi, Francia. 16 Settembre 2015. Tutte le 11 gare del campionato 2015-2016 di Formula E saranno trasmesse in diretta e free-to-air su Eurosport in Germania.
Eurosport si è assicurata l'esclusiva TV ed i diritti digitali per il FIA Formula E Championship per le prossime due stagioni in Germania, Polonia, Svezia, Norvegia, Danimarca e Finlandia, oltre a Islanda su base non esclusiva.
Ali Russell, Direttore di Media e partnership strategiche, ha dichiarato:
"Sono lieto di annunciare il nuovo accordo di trasmissione con Eurosport per le prossime due stagioni del Campionato FIA di Formula E. Dopo il successo della stagione inaugurale vogliamo assicurare che il pubblico possa continuare a guardare e impegnarsi nella serie. Quest'ultimo accordo rafforza la nostra mobilitazione in tutti i principali mercati di riferimento in Europa al fianco di altri accordi già esistenti".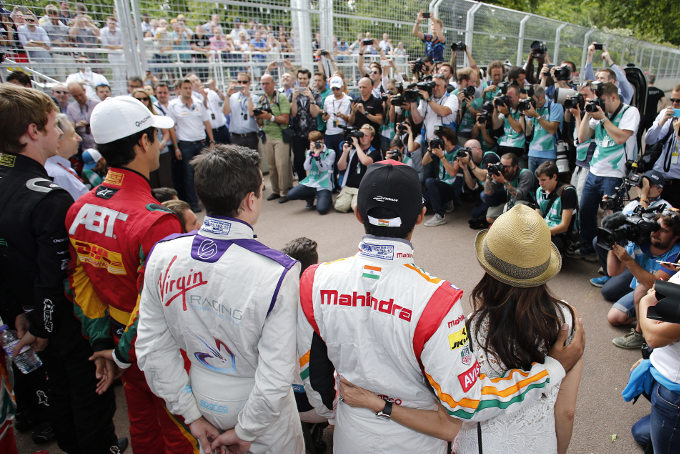 Peter Hutton, Chief Executive Officer, Eurosport ha dichiarato:
"Il Motorsport è uno dei pilastri di Eurosport, il canale che trasmette i grandi eventi, tra cui la MotoGP, il FIA WTCC, Le Mans 24 ore e il Campionato Mondiale Superbike. Garantire i diritti per la Formula E rafforza ulteriormente il portafoglio del canale con un marchio unico delle corse. Esso supporta la nostra strategia di portare contenuti agli spettatori locali di contenuti, mentre raggiunge un pubblico più ampio".
Hans-Jurgen Abt, team principal ABT Schaeffler Audi Sport, ha dichiarato:
"La Formula E in diretta su un canale televisivo gratuito è una grande notizia per tutti gli appassionati di motorsport in Germania. Abbiamo già ricevuto molti commenti positivi sul nostro impegno durante la prima stagione e sono ora in attesa di fare il passo successivo con Eurosport. Le nostre auto da corsa sono già in viaggio verso Pechino e il nostro team è ben preparato. Siamo pronti per la gara inaugurale della stagione in Cina".
Ulteriori offerte di TV saranno annunciati nelle prossime settimane.
In English
Formula E secures live free-to-air deal with Eurosport in Germany
Source: Formula E
Paris, France. 16 September 2015. All 11 rounds of the 2015-2016 FIA Formula E Championship will be televised live and free-to-air on Eurosport in Germany.
Eurosport has secured the exclusive TV and digital rights to the FIA Formula E Championship for the next two seasons in Germany, Poland, Sweden, Norway, Denmark and Finland, as well as Iceland on a non-exclusive basis.
Ali Russell, Director of Media and Strategic Partnerships, said:
"I'm pleased to announce the new broadcast deal with Eurosport for the next two seasons of the FIA Formula E Championship. Following the success of the inaugural season we want to ensure audiences can continue to watch and engage with the series. This latest agreement reinforces our outreach across key target markets in Europe alongside other existing deals."
Peter Hutton, Chief Executive Officer, Eurosport said:
"Motorsport is one of Eurosport's pillars, with the channel broadcasting major events including MotoGP, FIA WTCC, Le Mans 24 Hours and the World Superbike Championship. Securing the rights to Formula E further bolsters the channel's portfolio with a unique brand of racing. It supports our strategy to bring must-have content to local viewers whilst reaching a wider audience."
Hans-Jurgen Abt, team principal ABT Schaeffler Audi Sport, said:
"Formula E live on free television – that's great news for all motorsport fans in Germany. We already received a lot of positive feedback about our commitment during the first season and are now looking forward to making the next step together with Eurosport. Our race cars are already on their way to Beijing and our team is well prepared. We are ready for the season opener in China."
Further TV deals will be announced in the coming weeks.
no images were found