Fonte: Honda Motor Company
20 Giugno 2016. Honda farà una campagna tutta elettrica, ispirata alla NSX EV Concept nella classe elettrica modificata al 2016 Broadmoor Pikes Peak International Hill Climb.
Il Concept di EV dispone di un'ulteriore evoluzione della sperimentazione, del powertrain tutto elettrico, a 4 motori Super Handling All-Wheel Drive (SH-AWD) che ha vinto classe Exhibition nella sfida della Pikes Peak dello scorso anno.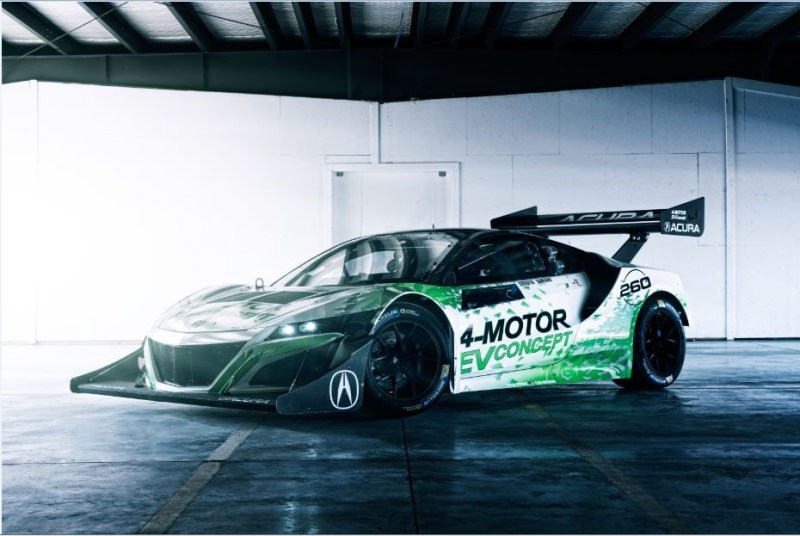 Il Concept sarà pilotato da Tetsuya Yamano, che ha fatto la campagna del prototipo elettrico CR-Z lo scorso anno ottenendo la sua vittoria di classe. Il propulsore produce tre volte l'uscita di potenza del sistema complessivo del prototipo elettrico dello scorso anno ed è accoppiato alla carrozzeria della NSX.
"Abbiamo tuning della vettura per diverse settimane a Pikes Peak e abbiamo avanzato in modo significativo nello sviluppo delle sue prestazioni", ha dichiarato Tetsuya Yamano. "Siamo onorati di essere all'opera a Pikes in questo storico, anniversario – un evento rispettato dai fan delle corse di tutto il mondo."
Sviluppo dei quattro motori
Honda R&D è stato in via di sviluppo la tecnologia "Super Handling" per più di 20 anni nella ricerca di maneggevolezza ideale del veicolo. Applicando separatamente l'unita gemellata del motore (TMU), il cervello di Sport Hybrid SH-AWD agisce su ciascun asse. Acura ha raggiunto la distribuzione della coppia indipendente per tutti i quattro gli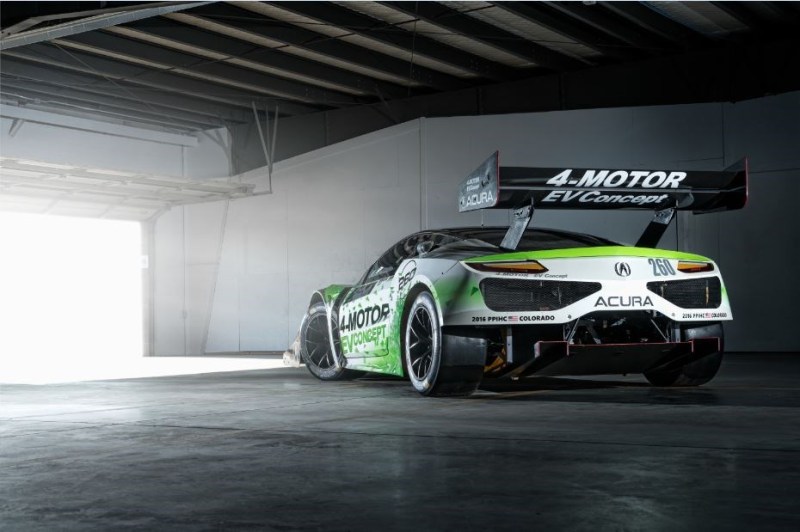 angoli – vero 4Wheel Torque Vectoring. Sulla base dalle conoscenze da gara dello scorso anno, la squadra ha aggiornato il sistema di gestione della catena cinematica per la spinta più precisa su ciascuna ruota.
La tecnologia SH-AWD Sport Hybrid unica di Acura utilizza le caratteristiche di accelerazione altamente reattive e la capacità di rigenerazione dei motori elettrici per far avanzare ulteriormente i sistemi torque vectoring attualmente applicate a NSX. Il sistema consente caratteristiche di maneggevolezza ideali in varie situazioni di guida attraverso il coordinamento e la gestione di tutti i sistemi dinamici, tra cui Electronic Power Steering (EPS), Vehicle Stability Assist (VSA®) e Sport Hybrid SH-AWD.
Con i suoi motori elettrici ad alta potenza e coppia vectoring 4-motori, il concept ben si adatta alle esigenze delle 156 curve complesse che il conducente incontrerà sulla prova fino alla sommità del Pikes Peak.
In English
NSX-Inspired EV Concept Ready to 'Charge Up' Pikes Peak
Source: Honda Motor Company
20th June 2016. Honda will campaign an all-electric, NSX-inspired EV Concept in the Electric Modified Class at the 2016 Broadmoor Pikes Peak International Hill Climb. The EV Concept features a further evolution of the experimental, all-electric, 4-motor Super Handling All-Wheel Drive™ (SH-AWD®) powertrain that won last year's Pikes Peak Challenge Exhibition class.
The concept will be piloted by Tetsuya Yamano, who campaigned last year's CR-Z-based electric prototype to its class win. The powertrain produces three times the total system output of last year's electric prototype and is mated to the NSX body.
"We've been tuning the car for several weeks at Pikes and have advanced its performance significantly," said Tetsuya Yamano. "We're honored to be running at Pikes in this historical, anniversary year – an event respected by racing fans all over the world."
4-Motor Development
Honda R&D has been developing "super handling" technology for more than 20 years in the pursuit of ideal vehicle handling. By applying separate Twin Motor Units (TMUs), the brains of Sport Hybrid SH-AWD, on each axle, Acura has achieved independent torque distribution to all four corners – true four-wheel torque vectoring. Based upon the learnings from last year's race, the team updated the system management of the powertrain for more precise thrust at each wheel.
Acura's unique Sport Hybrid SH-AWD technology utilizes the highly responsive acceleration characteristics and regeneration capability of electric motors to further advance the torque vectoring systems currently applied to NSX. The system enables ideal handling characteristics in various driving situations by coordinating and managing all dynamic systems, including Electronic Power Steering (EPS), Vehicle Stability Assist™ (VSA®) and Sport Hybrid SH-AWD.
With its high-output electric motors and 4-motor torque vectoring, the Concept is well suited to the demands of the 156 complex corners the driver will encounter on the drive up Pikes Peak.
no images were found

.