DS Virgin Racing agguanta in terzo posto nel FIA Formula E Championship dopo il finale drammatico a Londra
Fonte: DS Virgin Racing
Londra, Gran Bretagna. 3 Luglio 2016. Dopo 10 gare in quattro continenti, con quattro pole position e quattro podi, DS Virgin Racing ha orgogliosamente rivendicato il terzo posto nel Campionato squadre di FIA Formula E 2015-16.
Il finale da mangiarsi le unghie si è concentrato oltre ad una competizione tra i due leader del campionato, a chi potesse segnare il giro più veloce della gara, ma il secondo giorno della doppia gara del Battersea Park ha subito un inizio difficile dopo la cancellazione delle seconde prove libere a causa di un problema con l'infrastruttura di ricarica delle vetture.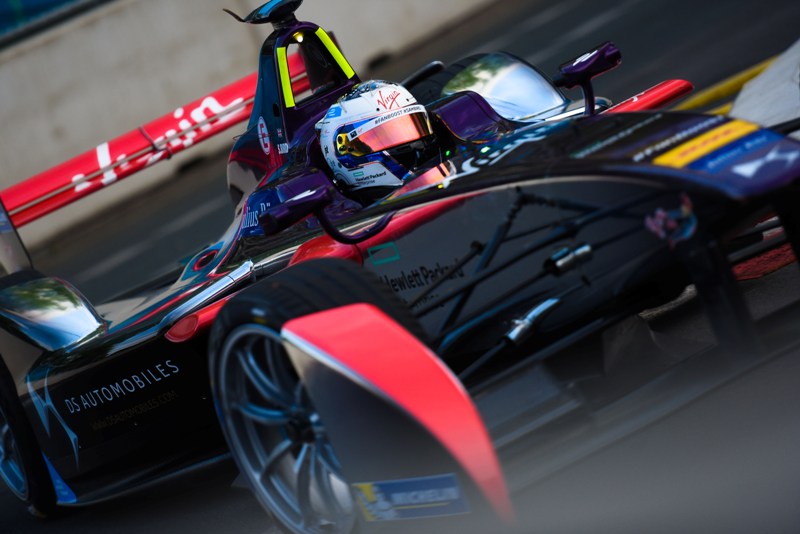 Il tempo è rimasto a secco per le qualifiche e sia Jean-Eric Vergne che Sam Bird si sono qualificati in P7 e P8 rispettivamente dietro Sébastien Buemi, Nicolas Prost, Lucas Di Grassi, Oliver Turvey, Nick Heidfeld e Daniel Abt.
Quando le luci sono diventati verdi a Londra, gli spettatori hanno assistito in stato di shock, come i contendenti al titolo Lucas Di Grassi e Sébastien Buemi che si scontrarono all'entrata della curva tre del primo giro, spingendoentrambi piloti dietro in posizioni arretrate della classifica, tra cui Bird che è riuscito a saltare in P4, con Vergne non molto indietro.
Quando la safety car è tornata ai box, il dramma ha cominciato di nuovo. Bird ha iniziato aggressivamente ad inseguire Abt nella sfida per la terza posizione quando, con la costernazione della squadra, la sua macchina ha cominciato a rallentare in pista a 27 giri dalla fine. "Non ho potenza ragazzi, niente," si è sentito dire da Bird il suo ingegnere di gara alla radio del team. Quando la seconda safety car della gara è uscita, Bird è stato costretto a ritirarsi dalla corsa, che aveva vinto l'anno scorso. E' stato poi rivelato che la colpa era di un problema meccanico con l'acceleratore.
La gara è proseguita con il pit-stop, quando Vergne, rientrato in questa fase in P4, ha beneficiato del grande lavoro da parte del team per uscire stretto davanti a Heidfeld e rivendicare P3. Ha continuato a difendere la sua posizione ferocemente alla ricerca del suo secondo podio nel fine settimana fino a che la sua macchina ha anche iniziato a rallentare pochi attimi prima di attraversare la linea del traguardo. E' diventato subito chiaro che un errore di calcolo di energia aveva fatto perdere la posizione di Vergne nel podio e ha finito all'ottavo posto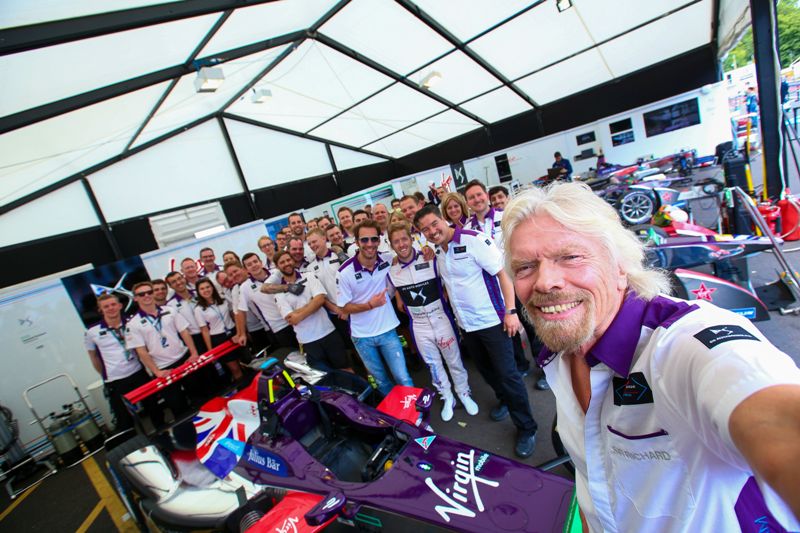 La stagione ha incluso molti alti e bassi per il team DS Virgin Racing, ma con quattro podi e quattro pole position, il duro lavoro della squadra non è sprecato secondo il Team Principal, Alex Tai:
"Oggi non è andata per il verso giusto, ma nel corso della stagione, abbiamo dimostrato che abbiamo due piloti straordinariamente veloci e di talento. Vorrei anche ringraziare il mio team di ingegneri e meccanici che sono stati eccezionali ed hanno lavorato per rendere quest'auto vincente. Sappiamo che la macchina è veloce, come le nostre quattro pole position in questa stagione lo provato, ma ora abbiamo bisogno di trasformarle in una macchina che possa svolgere delle gare regolari e pure vincere. Siamo sicuri di farlo l'anno prossimo. "
Per Sam Bird è stato un finale deludente per quello che era altrimenti stata una stagione di successo. In effetti fino al recente Berlino ePrix Bird era ancora un vero e proprio concorrente per il campionato:
"E' un modo deludente per finire e un peccato che non siamo riusciti a mantenere il terzo posto nel Campionato Piloti. Ma la stagione è finita e penso che se ci si sarebbe stato qualcuno che avrebbe detto dopo Pechino che avremmo un terzo posto nella classifica squadre, allora l'avremmo preso. Si tratta di un miglioramento rispetto la scorsa stagione e ora si tratta del caso di spingere di nuovo ".
In English
DS Virgin Racing claim third place in the FIA Formula E Championship after dramatic finale in London
Fonte: DS Virgin Racing
London, UK. 3rd July 2016. After 10 races across four continents, with four pole positions and four podiums, DS Virgin Racing has proudly claimed third place in the FIA Formula E Teams' Championship for 2015-16.
The nail-biting finale came down to a competition between the two championship leaders over who could secure fastest lap of the race, but the second day of the Battersea Park double-header got off to a challenging start after Free Practice 2 was cancelled due to a problem with the car charging infrastructure on track.
The weather stayed dry for Qualifying as both Jean-Eric Vergne and Sam Bird qualified in P7 and P8 respectively behind Sébastien Buemi, Nicolas Prost, Lucas Di Grassi, Oliver Turvey, Nick Heidfeld and Daniel Abt.
As the lights went green in London, spectators watched in shock as title contenders Lucas Di Grassi and Sébastien Buemi collided coming into turn three of the first lap, propelling the drivers behind them further up the leaderboard, including Bird who managed to jump to P4, with Vergne not far behind.
As the safety car went back into the pits, the drama started again. Bird started aggressively chasing Abt to challenge for third position when, to the team's dismay, his car began to slow on track with 27 laps remaining. "I've got no power guys, nothing," Bird was overheard telling his Race Engineer on the team radio. As the second safety car of the race was deployed Bird was forced to retire from the event which he won last year. It was later revealed that the fault was down to a mechanical issue with the throttle.
The race continued in the pitstop when Vergne, at this stage running in P4, benefited from great work from the team to exit narrowly ahead of Heidfeld to claim P3. He continued to defend his position fiercely and it was looking like JEV's second podium of the weekend until his car also began to slow just moments before crossing the finish line. It quickly became clear that a miscalculation of energy had lost Vergne his podium position and he finished in P8.
The season has contained many highs and lows for the DS Virgin Racing team but with four podiums and four pole positions, the hard work of the team is not lost on Team Principal, Alex Tai:
"Today didn't go our way but over the course of the season, we've proved that we have two fantastically fast and talented drivers. I'd also like to thank my team of engineers and mechanics who have been exceptional and worked out how to make this car win. We know the car is fast, as our four pole positions this season proved, but we now need to turn it into a car that can achieve consistent race wins as well. We're confident of doing that next year."
For Sam Bird is was a disappointing end to what had otherwise been a successful season. Indeed up until the recent Berlin ePrix Bird was still a genuine championship contender:
"It's a disappointing way to finish and a shame that we couldn't hold on to third place in the Drivers' Championship. But the season's over now and I think if you'd told us after Beijing that we'd have a P3 in the Teams' Championship then we'd have taken it. It's an improvement on last season and now it's a case of pushing on again."
no images were found

.