Aston Martin svela il concept elettrico Rapide durante la visita di Stato
• Anteprima mondiale del concept elettrico Aston Martin Rapide
• Investitori cinesi impegnati nello studio della prima Aston Martin pura elettrica
• Aston Martin e ChinaEquity esplorarno il potenziale di produzione del concept
Fonte: Aston Martin
Gaydon, Gran Bretagna. 21 ottobre 2015. Aston Martin ha svelato un concept completamente elettrico della sua berlina sportiva a quattro porte Rapide S al Lancaster House di Londra – la sede di un incontro tra loro Altezze Reali il Principe William, Duca di Cambridge; Catherine, Duchessa di Cambridge e il Presidente della Repubblica Popolare Cinese, Xi Jinping.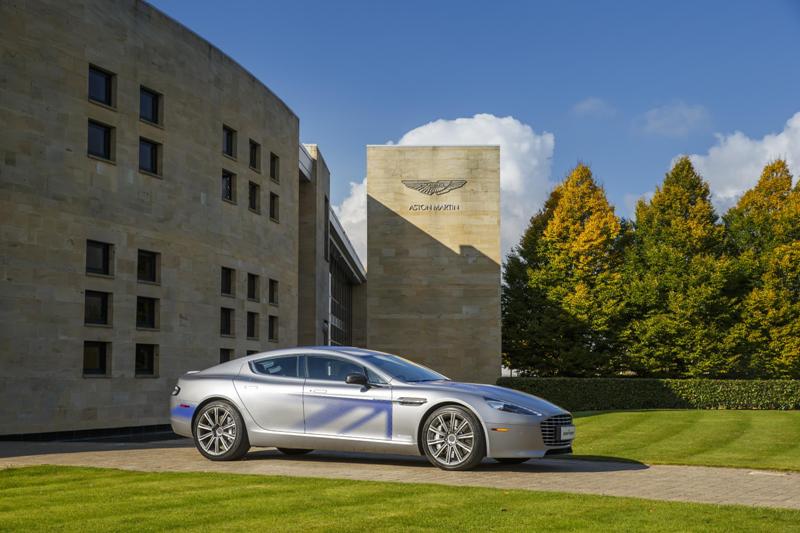 Il nuovo concept Rapide è stato sviluppato in collaborazione con la Williams Advanced Engineering presso lo stabilimento a Grove, nell'Oxfordshire. E' in mostra a sostegno di un vertice creativo organizzato dopo il successo della grande campagna del governo britannico per mostrare il meglio di ciò che il Regno Unito ha da offrire e incoraggiare le persone a visitare, fare affari, investire e studiare in questo paese.
Il CEO di Aston Martin, Dr Andy Palmer, ha detto:
"Vediamo i veicoli elettrici di lusso come parte intrinseca del nostro futuro portafoglio prodotti e ChinaEquity è benvenuta nella prossima fase di studio per lo sviluppo del progetto.

"Il concept Rapide è emozionante e dimostra la capacità e l'ambizione di Aston Martin verso lo sviluppo delle loro auto sportive a basse e zero emissioni".
Durante l'evento al Lancaster House, Aston Martin ed il gruppo di investimento cinese, ChinaEquity, hanno annunciato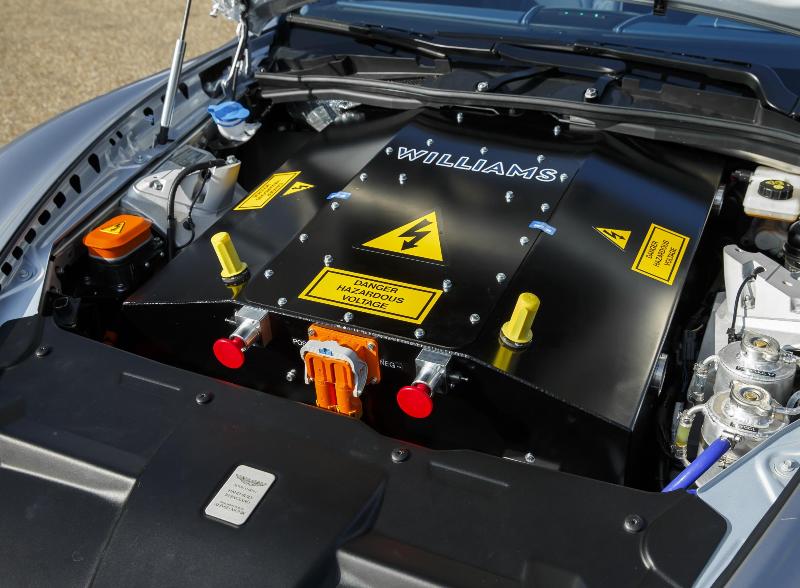 un accordo per esplorare lo sviluppo di una versione di serie della concept Rapide. In caso di successo, la nuova vettura sportiva di lusso sarà costruita presso la sede globale di Aston Martin a Gaydon, nel Warwickshire, e potrebbe essere portata sul mercato in circa due anni.
Sulla firma di questo accordo, il presidente di ChinaEquity, Chaoyong Wang ha detto:
"Siamo lieti che Aston Martin non solo fornisca la sua esperienze nelle auto di alte prestazioni ai clienti, ma anche lo spettacolo per la loro responsabilità sociale mettendo in mostra una nuova generazione di auto elettriche ad emissioni zero. Siamo entusiasti di partecipare allo sviluppo della Rapide e di dare un contributo all'iniziativa britannica di energia pulita e la strategia ambientale verde. Siamo certi che ci siano significative opportunità per le auto elettriche in Cina e nel mondo".
Il Cancelliere del Ducato di Lancaster Rt Hon Oliver Letwin che ha sostenuto lo sviluppo del progetto, ha dichiarato:
"Aston Martin è un marchio britannico iconico e accolgo con favore il loro accordo oggi con ChinaEquity. E' un grande esempio di imprese britanniche e cinesi che lavorano insieme per sviluppare i collegamenti e portare benefici per l'economia britannica. Dimostra inoltre come una collaborazione tra il Regno Unito e la Cina sia in grado di sviluppare soluzioni innovative a basse emissioni necessarie per affrontare il pressante problema globale della qualità dell'aria".
In English
Aston Martin unveils electric concept RapidE during state visit
World debut of Aston Martin full electric RapidE concept
Chinese investors engaged in study towards first all-electric Aston Martin
Aston Martin and ChinaEquity to explore concept's production potential
Source: Aston Martin
Gaydon, UK. 21 October 2015. Aston Martin is today showcasing a fully electric concept of its Rapide S four-door sports saloon outside Lancaster House in London – the venue for a meeting between Their Royal Highnesses Prince William, Duke of Cambridge; Catherine, Duchess of Cambridge and President of The People's Republic of China, Xi Jinping.
The new RapidE concept has been developed in collaboration with Williams Advanced Engineering at its facility in Grove, Oxfordshire. It is on display today in support of a creative summit organised by the British government's successful GREAT campaign to showcase the best of what the UK has to offer and encourage people to visit, do business, invest and study in this country.
Aston Martin CEO, Dr Andy Palmer, said:
"We see luxury electric vehicles as an intrinsic part of our future product portfolio and welcome ChinaEquity into the next phase of study for the project development.

"The exciting RapidE concept tangibly demonstrates the capability and ambition of Aston Martin towards developing low- and zero-emission sports cars."
During the Lancaster House event, Aston Martin and Chinese investment group, ChinaEquity, announced an agreement to explore the development of a production version of the RapidE concept. If successful, the new luxury sports car would be constructed at Aston Martin's global HQ in Gaydon, Warwickshire, and could be brought to market in around two years.
On the signing of this agreement, Chairman Chaoyong Wang of ChinaEquity said,
"We are delighted that Aston Martin not only provides a high performance driving experience to customers, but also show's their social responsibility by showcasing a new generation of electric car with zero emissions. We are excited to participate in the development of the RapidE and to make a contribution to Sino-British clean energy and green environmental strategy. We feel confident that there are significant opportunities for electric cars in China and the world."
Chancellor of the Duchy of Lancaster Rt Hon Oliver Letwin MP who has supported the development of the project said:
"Aston Martin is an iconic British brand, and I welcome their agreement today with ChinaEquity. It is a great example of British and Chinese businesses working together to develop links and bring benefits to the UK economy. It also demonstrates how a collaboration between the UK and China can develop the innovative low emission solutions needed to tackle the pressing global issue of air quality."
no images were found

.