BYD investe € 20 milioni nell'impianto di assemblaggio bus in Ungheria
Fonte: BYD
Komárom, Ungheria. 10 ottobre 2016. BYD, il fornitore di autobus elettrici puri di maggior crescita nelle città di tutta Europa, oggi ha confermato il suo impegno nel mercato con l'annuncio di un investimento di € 20 milioni in un impianto di assemblaggio di autobus nella città settentrionale ungherese di Komárom.
L'impianto a regime impiegherà fino a 300 persone sarà in grado di assemblare fino a 400 veicoli l'anno su due turni. La produzione iniziale sarà la gamma BYD di autobus elettrici e carrelli elevatori ad emissioni zero, ma il nome della controllata ungherese – BYD Electric Bus & Truck Hungary Kft – fa pensare ad altre ambizioni.
L'impianto ungherese inizierà la produzione nel primo trimestre del 2017. Avrà una propria struttura di R&D Centre e test delle batterie.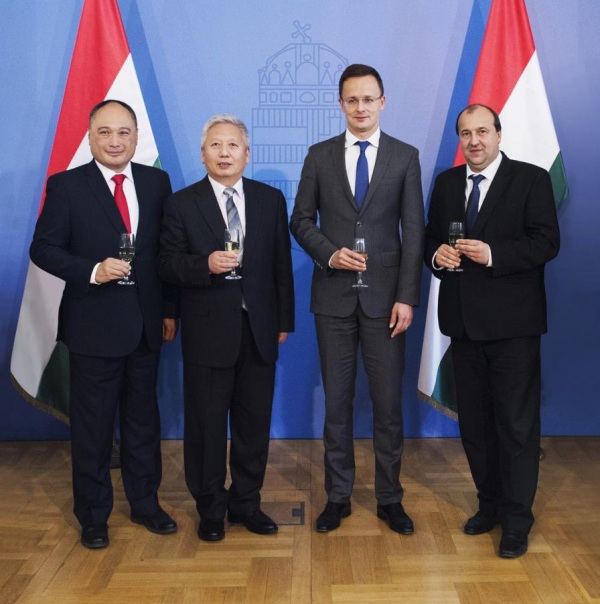 Parlando in una cerimonia presso il Ministero degli Affari Esteri e del Commercio a Budapest, Isbrand Ho, Direttore Generale di BYD Europe, ha dichiarato:
"L'annuncio di oggi rafforza l'impegno della nostra azienda nel mercato europeo. Questo è il nostro primo impianto di produzione, ma non sarà l'ultimo. Siamo attivamente alla ricerca di altri luoghi".

Ha poi aggiunto: "Abbiamo scelto l'Ungheria sia a causa della sua posizione centrale in Europa che per la sua lunga tradizione di eccellenza tecnica facendo bus* così come l'accoglienza molto amichevole che abbiamo ricevuto da parte delle autorità di qui".
Parlando alla conferenza stampa il Sindaco di Komárom signor Attila Molnar ha ringraziato BYD per la loro decisione di scegliere la sua città per la posizione del primo impianto BYD di produzione di autobus elettrici puri in Europa. Egli ha detto che la creazione di posti di lavoro era la priorità.
Mr. Duan Jielong, l'ambasciatore cinese in Ungheria, ha dichiarato:
"BYD, come impresa cinese che integra la tecnologia di R&S, alle automobili a nuova energia, è un pioniere sotto l'aspetto dei veicoli a nuove energie e si è dedicata alla realizzazione di veicoli da trasporto pubblico urbano a zero emissioni. Non è una sorpresa che le vendite del bus elettrico BYD siano cresciute velocemente nei paesi europei quali Gran Bretagna, Francia ed i Paesi Bassi. "L'era del diesel volge al termine".
Peter Szíjjártó, Ministro degli Affari Esteri e del Commercio in Ungheria ha anche accolto BYD ed ha sottolineato che quello di Komárom è l'unico stabilimento di produzione fuori dalla Cina dopo California e Brasile. Egli ha messo in evidenza il fatto che la BYD non era solo la costruzione di un impianto di produzione, ma anche l'apertura abattery unità di test e R & D Center.
* In un tuffo nel passato le fabbriche in Ungheria costruivano migliaia di autobus ogni anno per i paesi dell'ex blocco orientale.
In English
BYD commits €20m to bus assembly plant in Hungary
Source: BYD
Komárom, Hungary. 10th October 2016. BYD, the fast growing supplier of pure electric buses to cities across Europe, today confirmed its commitment to the market with the announcement of a €20 million investment in a bus assembly plant in the northern Hungarian city of Komárom.
The plant which will eventually employ up to 300 people and be capable of assembling up to 400 vehicles a year on two shifts. Initial output will be BYD's world beating range of emissions free electric buses and fork lift trucks but the Hungarian subsidiary's name -BYD Electric Bus & Truck Hungary Kft –hints at other ambitions.
The Hungarian plant will begin production in the first quarter of 2017. It will have its own R&D Centre and battery test facility.
Speaking at a ceremony at the Hungarian Ministry of Foreign Affairs and Trade in Budapest today, Isbrand Ho, BYD Europe's Managing Director, said:
"Today's announcement reinforces our company's commitment to the European market. This is our first manufacturing facility but it won't be our last –we are actively looking for other locations".

He added: "We chose Hungary both because of its central location in Europe and its long tradition of engineering excellence and indeed bus making* as well as the very friendly welcome we have received from the authorities here".
Speaking at the press conference the Mayor of Komárom Mr. Attila Molnar thanked BYD for their decision to choose his city for the location of BYD's first pure electric bus production facility in Europe. He mentioned that creating jobsis the priority.
Mr. Duan Jielong, the Chinese Ambassador in Hungary said:
"BYD,as a Chinese enterprise integrating R&D technology, automobile and new energy, is a pioneer in the aspect of new energy vehicles and has been devoted to realizing zero emission urban public transportation. It's no surprise that the sales of the BYD electric bus isgrowing fast in European countries such astheUK, France and the Netherlandsas the diesel era comes to an end."
Mr. Peter Szijjártó, Minister of Foreign Affairs and Trade in Hungary also welcomed BYD and pointed out Komárom is the only manufacturing plant outside China besides California and Brazil. He highlighted the fact that BYD was not just building a manufacturing plant but also opening a battery testing unit and R&D center.
*In a former era factories in Hungary built thousands of buses every year for the countries of the former eastern bloc.
Photo:
Isbrand Ho, Managing Director, BYD Europe; Duan Jielong, Chinese Ambassador in Hungary; Peter Szijjártó, Minister of Foreign Affairs and Trade in Hungary; Attila Molnar, Mayor of Komárom delivered a speech during the press conference in Budapest, Hungary on 10 October 2016.
no images were found

.