WEC al Nürburgring 2016
Secondo posto per Di Grassi / Duval / Jarvis nel FIA WEC al Nürburgring
Fässler / Lotterer sul podio al terzo posto
Marcel Fässler registra il giro più veloce in gara
Fonte: Audi Motorsport
Nurburgring, Germania. 24 Luglio 2016. Audi ha iniziato la 6 Ore di Nürburgring dalle posizioni uno e due sulla griglia di partenza. In una battaglia emozionante per la vittoria del quarto round del Campionato Mondiale Endurance FIA ​​(WEC), le due vetture Audi R18 inizialmente si sono alternate nella leadership della classifica. Alla fine, l'Audi Sport Team Joest ha raggiunto la seconda e terza posizione – dopo un periodo di bandiere gialle nella terza ora di gara che hanno privato la squadra della possibilità di aggiudicarsi la sua seconda vittoria della stagione.
58.000 spettatori hanno assistito ad una delle gare più affascinanti della stagione del WEC 2016. Dopo che la medaglia d'oro olimpica di sci e ospite Audi, Maria Riesch aveva sventolato la bandiera verde di partenza, Marcel Fässler (CH) con Audi R18 numero 7 ha preso il comando. Dopo il primo cambio pilota, era il turno di Oliver Jarvis (GB). Nella seconda ora di gara, il britannico, in una battaglia serrata per la vittoria, era appena davanti alla vettura gemella. Tuttavia, nella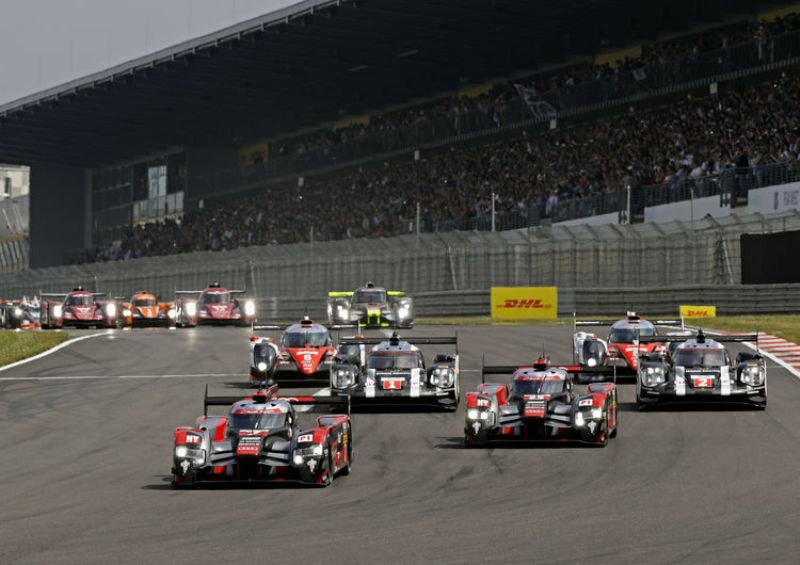 terza ora di gara, gli eventi hanno preso una piega spiacevole. Entrambe le vetture Audi avevano appena finito il pit-stop per la terza volta quando la gara era neutralizzata con la bandiera gialla in seguito ad un incidente. Grazie alla sua grande capacità del serbatoio carburante, Porsche è riuscita a rientrare ai box in seguito ed ha guadagnato un vantaggio importante durante il periodo di bandiere gialle. Dopo, Lucas di Grassi (BR) si è trovato dietro il leader della corsa con 24 secondi di distacco e Marcel Fässler a 29 secondi.
"Abbiamo avuto i tempi sul giro migliori, ma le bandiere gialle, purtroppo, ci hanno fatto perdere terreno. Quello che abbiamo visto in pista in seguito è stata davvero una grande corsa", ha detto il capo di Audi Motorsport Wolfgang Ullrich.
Entrambe le squadre piloti sono riuscite a recuperare terreno di nuovo. Di Grassi e il suo compagni di squadra Loïc Duval (F) e Oliver Jarvis nel duello con la Porsche numero 2  hanno migliorato arrivando al secondo posto e, di conseguenza, sono riusciti a ridurre il loro deficit nel campionato del mondo piloti di sei punti. André Lotterer (D) nella Audi R18 ha combattuto una spettacolare battaglia testa a testa con Neel Jani nelle ultime ed ha superato lo svizzero nella corsa per il podio. Marcel Fässler, segnando il giro più veloce in gara, ha sottolineato la forza della R18 in questo fine settimana.
"Complimenti ai nostri piloti ed a tutta la squadra che non ha mai rinunciato, anche se le lacune erano davvero grandi, a volte" ha detto il Dott Ullrich. Stefan Dreyer, capo della LMP in Audi Sport, ha aggiunto: "Il FIA WEC era la pubblicità perfetta per le gare di durata in Germania ed una volta di più si è vista la risposta da parte dei tifosi che è stata ancora una volta enorme nella seconda parte di questa gara. Siamo stati in lizza per la vittoria oggi. La squadra a terra e le squadre a Neuburg e Neckarsulm hanno fatto un lavoro eccellente. "
Il FIA WEC è ormai affermato in Germania e tornerà al Nürburgring dal 14 al 16 Luglio del prossimo anno.
A seguito di una pausa nel mese di agosto, la quinta delle nove gare del FIA ​​WEC si terrà il 3 settembre ed i piloti Audi sono già in attesa della corsa a Città del Messico dove il motorsport si incontra con un pubblico entusiasta.
Classifica Finale
1 Bernhard / Hartley / Webber (Porsche) 194 giri
2 Di Grassi / Duval / Jarvis (Audi R18) + 53.787s
3 Fässler / Lotterer (Audi R18) + 54.483s
4 Dumas / Jani / Lieb (Porsche) + 1m 37.324s
5 Buemi / Davidson / Nakajima (Toyota) -1 lap
6 Conway / Kobayashi / Sarrazin (Toyota) -4 giri
7 Imperatori / Kraihamer / Tuscher (Rebellion) -16 giri
8 Lapierre / Menezes / Richelmi (alpino) -16 giri
9 Albuquerque / Gonzalez / Senna (Ligier-Nissan) -16 giri
In English
Good team performance by Audi in home round
WEC Nürburgring 2016
Second place for Di Grassi/Duval/Jarvis in FIA WEC at the Nürburgring
Fässler/Lotterer on podium in third place
Marcel Fässler with fastest race lap
Source: Audi Motorsport
Nurburgring, Germany. 24 July 2016. Audi started the 6 Hours of Nürburgring from positions one and two on the grid. In a thrilling battle for the lead in round four of the FIA World Endurance Championship (WEC), the two Audi R18 cars initially took turns at the front of the field. In the end, Audi Sport Team Joest achieved positions two and three – a caution period in the third hour of the race having deprived the squad of the chance to clinch its second victory of the season.
58,000 spectators watched one of the most riveting WEC races in the 2016 season. After Olympic ski gold medalist and Audi guest Maria Höfl-Riesch had waved the green starting flag, Marcel Fässler (CH) in the number 7 Audi R18 took the lead. Following the first driver change, it was Oliver Jarvis's (GB) turn: In the second hour of the race, the Briton, in a close battle for the lead, was barely in front of the sister car. However, in the third hour of the race, events took an unfortunate turn. Both Audi cars had just finished pitting for the third time when the race was yellow-flagged following an accident. Due to its larger fuel tank capacity, Porsche was able to pit later and gained a major time advantage during the caution period. Following the caution period, Lucas di Grassi (BR) was trailing the race leader by 24 seconds and Marcel Fässler was lacking 29 seconds.
"We had the better lap times but the caution period unfortunately caused us to lose ground. What we saw on track afterwards was really great racing," said Head of Audi Motorsport Dr. Wolfgang Ullrich.
Both driver squads managed to make up ground again. Di Grassi and his teammates Loïc Duval (F) and Oliver Jarvis in the duel with the number 2 Porsche improved to second place and, as a result, managed to reduce their deficit in the drivers' world championship by six points. André Lotterer (D) in the Audi R18 fought a spectacular head-to-head battle with Neel Jani in the last hour as well and outperformed the Swiss in the race for the podium. Marcel Fässler, on setting the fastest race lap, underlined the strength of the R18 this weekend.
"Congratulations to our driver squads and the entire team who never gave up even though the gaps were really large at times," said Dr. Ullrich. Stefan Dreyer, Head of LMP at Audi Sport, added: "The FIA WEC was perfect advertising for endurance racing in Germany once more and the response by the fans was tremendous again in the second running of this race. We were in contention for victory today. The trackside squad and the teams in Neuburg and Neckarsulm did a superb job." The FIA WEC has now become firmly established in Germany and will return to the Nürburgring from July 14 to 16 next year.
Following a break in August, the fifth of nine FIA WEC races will be held on September 3. The Audi drivers are already looking forward to the premiere of the racing series in Mexico City where motorsport meets with an enthusiastic audience.
Race results
1 Bernhard/Hartley/Webber (Porsche) 194 laps
2 Di Grassi/Duval/Jarvis (Audi R18) +53.787s
3 Fässler/Lotterer (Audi R18) +54.483s
4 Dumas/Jani/Lieb (Porsche) +1m 37.324s
5 Buemi/Davidson/Nakajima (Toyota) –1 lap
6 Conway/Kobayashi/Sarrazin (Toyota) –4 laps
7 Imperatori/Kraihamer/Tuscher (Rebellion) –16 laps
8 Lapierre/Menezes/Richelmi (Alpine) –16 laps
9 Albuquerque/Gonzalez/Senna (Ligier-Nissan) –16 laps
10 Cumming/Dalziel/Derani (Ligier-Nissan) –18 laps
no images were found

.