Prost vince la gara e balza in testa al campionato
Fonte: Formula E
Miami, USA. 14 marzo 2015. E 'stata una giornata che ha avuto un inizio snervante e si è conclusa con molte emozioni. La prima gara di Formula E che si è tenuta negli Stati Uniti ha visto il trionfo di Nico Prost al termine di un duello che ha avuto una folla di 20 mila persone incantate fino alla fine. Le strade di Miami sono state "impacchettate", con i biglietti tutto esaurito ovunque, mentre milioni di fan in tutto il mondo hanno visto la gara in TV, computer o smartphone.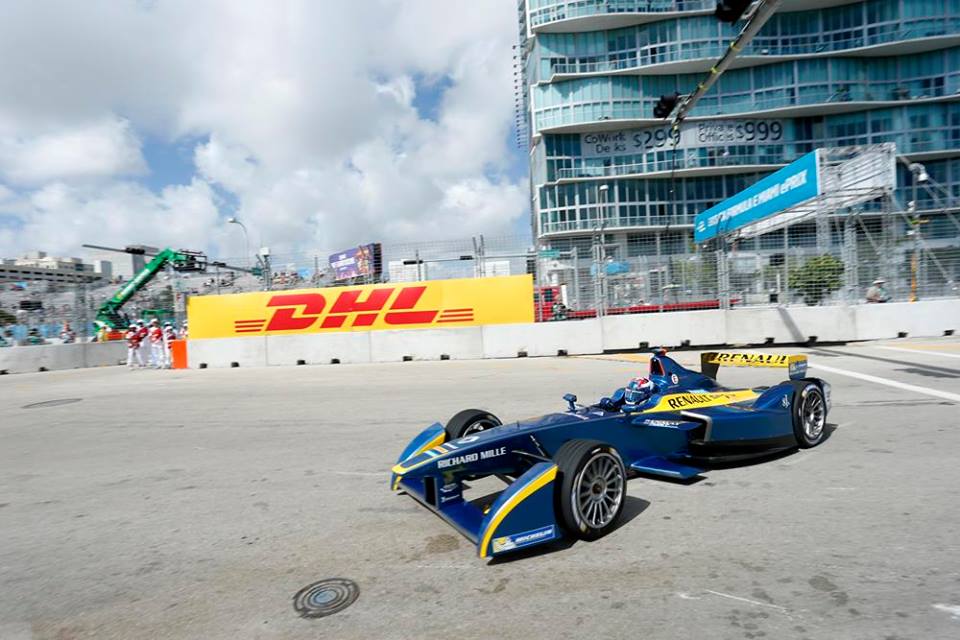 Prost è il quinto diverso vincitore in questa prima stagione in Formula E: il suo nome può essere aggiunto alla lista di Lucas Di Grassi (Pechino), Sam Bird (Putrajaya), Sebastien Buemi (Punta del Este) e Antonio Felix da Costa (Buenos Aires). A rendere il giorno del francese ancora più speciale è stata la cerimonia del podio: a porgere il suo trofeo era un "rivale", sotto forma del fondatore del Virgin Group, Sir Richard Branson, mentre lassù a prendere il premio della squadra vincitrice c'era il padre Alain.
Un ritardo nel completamento della pista ha creato presto qualche ansia e ha fatto sì che le due sessioni di prove libere siano state ritardate e accorciate in una sola sessione di 30 minuti, ma una volta risolto questo era ora di andare avanti con lo spettacolo. In qualifica, un altro francese, Jean-Eric Vergne ha preso il primo posto ed ha guidato il gruppo nella prima parte di quello che sarebbe stata un emozionante gara di 39 giri.
Uno dei principali contendenti del Miami ePrix era l'eroe locale, Scott Speed. L'americano del team Andretti, era al suo debutto nella serie. Dopo una qualifica difficile ha dovuto partire dalla quinta fila, ma ha messo in scena una grande rimonta grazie ad una strategia ben eseguita di gestione dell'energia e di alcuni sorpassi coraggiosi. Prima ha passato Daniel Abt e poi ha inseguito Prost fino agli ultimi metri dell'ultimo giro.
Nelle prime fasi tutti gli occhi erano puntati sul duello stretto tra il pole-man Vergne e Sam Bird, con Prost subito dietro il pilota inglese della Virgin. Quando il primo stint volgeva al termine, Bird ha fatto la sua mossa, sorpassando Vergne con un gran passaggio alla curva 5, e subito dopo il francese ha optato per rientrare ai box. Tuttavia, la corsa dei pit-stop è stata la rovina dei due piloti di testa, che si sono trovati nel traffico al loro rientro in pista, con Abt a prendere l'iniziativa, sembre con Prost ad inseguire come un'ombra e quindi il leader del campionato Di Grassi.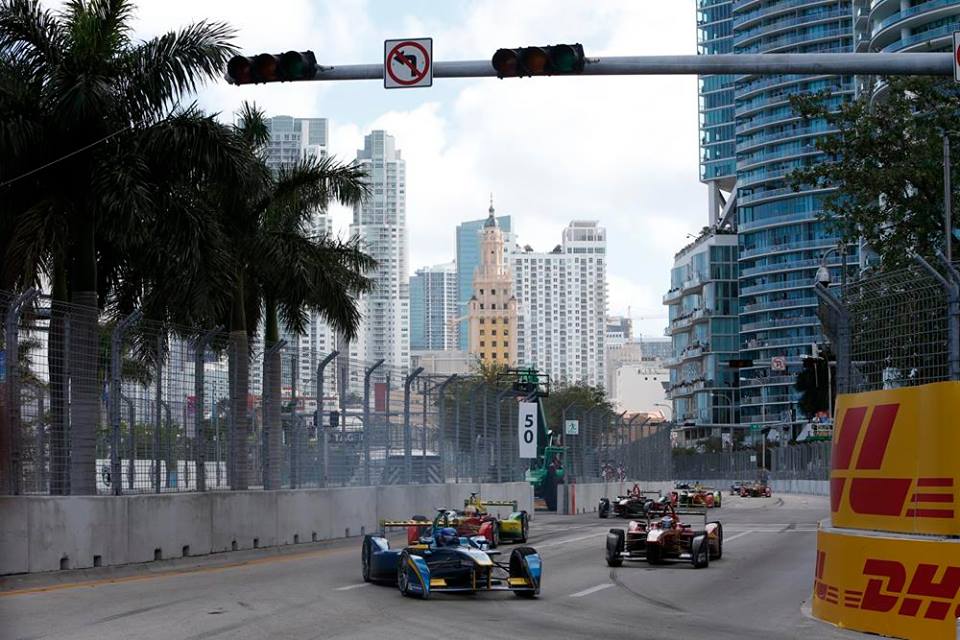 A sei giri dalla fine, i due piloti dell'Audi Sport ABT hanno cominciato a lottare contro i loro rivali, che avevano più energia a disposizione. Prima Speed ha superato Di Grassi (al 36esimo giro) e poi è stato Abt a dover lasciare passare Prost e l'americano al penultimo giro. Tuttavia, il tedesco riusciva a salvare il terzo posto e salire sul podio per la prima volta in questa stagione. Tuttavia, le fasi finali non sono andate così bene per il suo compagno di squadra, che non poteva fare altro che raccogliere i 2 punti guadagnati con il nono posto finale.
Di Grassi perde così la testa del campionato, consegnandola al vincitore della gara di oggi, ora in testa con 67 punti, sette in più del brasiliano. Bird, che è giunto al traguardo nell'ottavo posto, è ora terzo in classifica generale (52 punti), mentre Buemi, che oggi non è riuscito a segnare punti, è quarto con 43. Spostamento più avanti nella classifica del Team e.dams-Renault: la squadra francese ha ora 31 punti di vantaggio rispetto l'Audi Sport ABT, che è inseguito a ruota da Andretti, un solo punto dietro.
C'è stata una prestazione degna di nota di un altro nuovo arrivato, il francese Loïc Duval che, avendo iniziato dalla settima fila, è finito settimo, mentre Nelson Piquet Jr. è arrivato quinto alla bandiera e ha preso i due punti che vanno a colui che segna il giro più veloce in gara.
Dopo l'emozione di Miami, la Formula E continua il suo viaggio americano.
Il sesto ePrix della stagione avrà luogo il 4 aprile a Long Beach, in California.
Formula E – Miami ePrix (Rd 5) – Risultati gara:
1. Nicolas Prost, e.dams-Renault, 46m12.349s
2. Scott Speed, Andretti Autosport, +0.433s
3. Daniel Abt, Audi Sport ABT, +5.518s
4. Jerome D'Ambrosio, Dragon Racing, +5.941s
5. Nelson Piquet Jr, China Racing, +6.426s
6. Antonio Felix da Costa, Amlin Aguri, +8.754s
7. Loïc Duval, Dragon Racing, +9.498s
8. Sam Bird, Virgin Racing, +19.817s
9. Lucas Di Grassi, Audi Sport ABT, +20.631s
10. Salvador Duran, Amlin Aguri, +24.587s
11. Jaime Alguersuari, Virgin Racing, +43.883s
12. Nick Heidfeld, Venturi, +47.878s
13. Sébastien Buemi, e.dams-Renault, +1m04.587s
14. Karun Chandhok, Mahindra Racing, +1m23.539s
15. Jarno Trulli, Trulli, + 1 lap
16. Vitantonio Liuzzi, Trulli, +1 lap
17. Charles Pic, China Racing, +1 lap
18. Jean-Eric Vergne, Andretti Autosport, +2 laps
NC Stephane Sarrazin, Venturi, DNF
NC Bruno Senna, Mahindra Racing, DNF
Classifica Piloti (Dopo cinque gare)
1. Nicolas Prost – 67
2. Lucas di Grassi – 60
3. Sam Bird – 52
4. Nelson Piquet Jr – 49
5. Sebastien Buemi – 43
6. Antonio Felix da Costa – 37
7. Jerome D'Ambrosio – 34
8. Jaime Alguersuari – 26
9. Daniel Abt – 19
10. Franck Montagny – 18
Classifica Squadre (Dopo cinque gare)
1. e.dams-Renault – 110
2. Audi Sport ABT – 79
3. Virgin Racing – 78
4. Andretti Autosport – 62
5. Dragon Racing – 56
6. Cina Racing – 49
7. Amlin Aguri – 40
8. Mahindra Racing – 36
9. Trulli – 12
10. Venturi – 8
In English
Thrills and spectacle in the Miami ePrix
Prost wins the race and leaps into the lead of the championship
Source: Formula E
Miami, USA. March 14 2015. It was a day that got off to a nerve-wracking start and ended with plenty of excitement. The first Formula E race to be held in the USA saw Nico Prost triumph at the end of a duel that had the 20,000-strong crowd spellbound right up to the very end. The streets of Miami were packed, with tickets everywhere sold out, while millions of fans around the world watched on TV, computer or smartphone.
Prost is the fifth different winner in this maiden Formula E season: his name can be added to the list of Lucas Di Grassi (Beijing,) Sam Bird (Putrajaya,) Sebastien Buemi (Punta del Este) and Antonio Felix da Costa (Buenos Aires.) Making the Frenchman's day even more special was the podium ceremony: handing him his trophy was a "rival" in the form of Virgin Group founder, Sir Richard Branson, while up there to take the team award was the victor's father Alain.
A delay in getting the track completed created some early anxiety and meant that the two free practice sessions were delayed and run as one 30-minute session, but once that was sorted out, it was time for the show to go on. In qualifying, another Frenchman, Jean-Eric Vergne took the top spot he led the pack away into what would be a thrilling 39-lap race.
A major contender in the Miami ePrix was the local hero, Scott Speed. The American, driving for the Andretti team, was making his debut in the series.  After a difficult qualifying saw him start from the fifth row, he staged a great climb up the order, thanks to a well executed strategy of energy management and some brave overtakes. First he got past Daniel Abt and then, he chased Prost right down to the final metre of the very last lap.
In the early stages all eyes were on a close duel between pole-man Vergne and Sam Bird, with Prost tailing the English Virgin driver. As the first stint was coming to an end, Bird made his move, overtaking Vergne with a great pass at Turn 5, after which the Frenchman opted to pit immediately. However, the run of pit stops was the undoing of two of the front runners, who found themselves down in the pack, with Abt taking the lead, shadowed by Prost and championship leader di Grassi.
With six laps to go, the two Audi Sport ABT drivers began to struggle compared to their rivals, who had more energy available: first Speed passed Di Grassi (lap 36) and then it was Abt who had to let Prost and the American pass on the penultimate lap. However, the German managed to salvage third place and thus make it to the podium for the first time this season. However, the final stages did not work out so well for his team-mate, who could only pick up the 2 points that come with ninth place.
Di Grassi thus loses the lead of the championship, handing it to today's race winner, now out in front on 67 points, seven clear of the Brazilian. Bird, who crossed the line eighth, is now third in the general classification (52 points,) while Buemi, who failed to score today, is fourth on 43. Moving further ahead in the Team classification is e.dams-Renault: the French team now has 31 points in hand over Audi Sport ABT, which has Andretti hot on its heels, just one point behind.
There was a noteworthy performance from another newcomer, Frenchman Loïc Duval who, having started from the back row, finished seventh, while Nelson Piquet Jr. was fifth at the flag and took the two points that go with setting the fastest race lap.
After the excitement of Miami, Formula E continues its American journey. The sixth ePrix of the season will take place on 4 April at Long Beach, California.
FIA Formula E Championship – Miami ePrix (Rd 5) – Race results:
1. Nicolas Prost, e.dams-Renault, 46m12.349s
2. Scott Speed, Andretti Autosport, +0.433s
3. Daniel Abt, Audi Sport ABT, +5.518s
4. Jerome D'Ambrosio, Dragon Racing, +5.941s
5. Nelson Piquet Jr, China Racing, +6.426s
6. Antonio Felix da Costa, Amlin Aguri, +8.754s
7. Loïc Duval, Dragon Racing, +9.498s
8. Sam Bird, Virgin Racing, +19.817s
9. Lucas Di Grassi, Audi Sport ABT, +20.631s
10. Salvador Duran, Amlin Aguri, +24.587s
11. Jaime Alguersuari, Virgin Racing, +43.883s
12. Nick Heidfeld, Venturi, +47.878s
13. Sébastien Buemi, e.dams-Renault, +1m04.587s
14. Karun Chandhok, Mahindra Racing, +1m23.539s
15. Jarno Trulli, Trulli, + 1 lap
16. Vitantonio Liuzzi, Trulli, +1 lap
17. Charles Pic, China Racing, +1 lap
18. Jean-Eric Vergne, Andretti Autosport, +2 laps
NC Stephane Sarrazin, Venturi, DNF
NC Bruno Senna, Mahindra Racing, DNF
Driver Standings (After Rd 5)
1. Nicolas Prost – 67
2. Lucas di Grassi – 60
3. Sam Bird – 52
4. Nelson Piquet Jr – 49
5. Sebastien Buemi – 43
6. Antonio Felix da Costa – 37
7. Jerome D'Ambrosio – 34
8. Jaime Alguersuari – 26
9. Daniel Abt – 19
10. Franck Montagny – 18
Team Standings (After Rd 5)
1. e.dams-Renault – 110
2. Audi Sport ABT – 79
3. Virgin Racing – 78
4. Andretti Autosport – 62
5. Dragon Racing – 56
6. China Racing – 49
7. Amlin Aguri – 40
8. Mahindra Racing – 36
9. Trulli – 12
10. Venturi – 8
no images were found