Fonte: Goodwood Motor Sport Press
Goodwood, Gran Bretagna. 24 giugno 2016. La nuova e ferocemente veloce McLaren P1 LM ha entusiasmato la folla del Festival di Goodwood all'inizio di questo pomeriggio quando il pilota Kenny Black ha fatto saltare l'Hypercar da 986bhp fino alla collina in 49.61 secondi. L'ex vincitore Indy 500 ha viaggiato a una media sconcertante di 132 mph mentre attraversava la linea. Lo specialista di corse Lanzante, che ha preparato la McLaren F1 che ha vinto la 24 Ore di Le Mans nel 1995, è pronto a costruire solo sei di queste macchine ibride in collaborazione con il produttore britannico.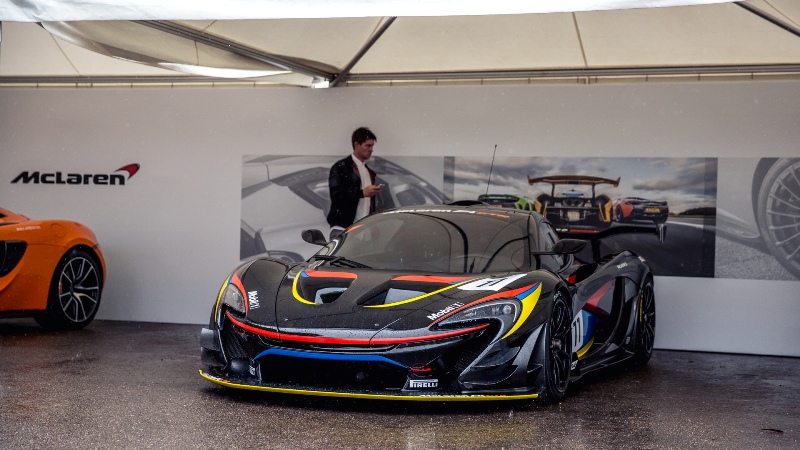 Altre McLaren che hanno percorso la strada della collina nella classe Modern GT Cars hanno inclusa una Lanzante F1 GTR 'Codalunga' e la GT3 650S che è stata guidata dalla stella delle vetture sportive, Duncan Tappy.
McLaren ha anche un posto di rilievo nella categoria Can-Am seguita da una folla, Andrew Newall è stato in grande forma a bordo della Chevrolet di Sir Anthony Bamford equipaggiata con il motore M8F. Aspettiamo di vedere almeno una McLaren in lizza tra i primi top 10 nella gara di Domenica.
In English
Brack Electrifies in Mega-Quick McLaren
Source: Goodwood Motor Sport Press
Goodwood, UK. 24th June 2016 The new and ferociously-fast McLaren P1 LM wowed the Festival crowd earlier this afternoon as driver Kenny Black blasted the 986bhp hypercar up the Hill in 49.61-seconds. The former Indy 500 winner was travelling at a staggering 132mph as he crossed the line. Racing specialist Lanzante, which prepared the McLaren F1 which won the 24 Hours of Le Mans in 1995, is to build just six of these Hybrid machines in collaboration with the British manufacturer.
Other McLarens taking to the Hill in the Modern GT Cars class included a Lanzante-fielded F1 GTR 'Longtail' and the 650S GT3 which was driven by sports car star, Duncan Tappy.
McLarens also featured prominently in the crowd-pleasing Can-Am category, Andrew Newall being on great form aboard Sir Anthony Bamford's Chevrolet-powered M8F. Expect to see at least one McLaren vying for honours in Sunday's Top 10 Shootout…
no images were found

.