WEC Bahrain 2016
Di Grassi / Duval / Jarvis vincitori in Bahrain davanti a Fässler / Lotterer / Tréluyer
107esima vittoria nelle auto Sport e miglior risultato di Audi in questa stagione
Partenza emozionale dalla scena delle vetture Sport con titolo di vice-campione
Fonte: Audi Motorsport
Bahrein. 19 Novembre 2016. Dire addio con il botto: Audi ha raggiunto un impressionante doppietta nell'ultima gara dei suoi prototipi Le Mans nel Campionato Mondiale Endurance FIA ​​(WEC). Dopo aver vinto la pole position in qualifica, la vettura sportiva ibrida diesel Audi R18 ha continuato a rivendicare una vittoria da luce a bandiera alle 6 Ore di Bahrain. Inoltre, Lucas di Grassi ha segnato il giro più veloce in gara. Di conseguenza, Audi ha conquistato i titoli di vice-campione di costruttori e nella classifica piloti.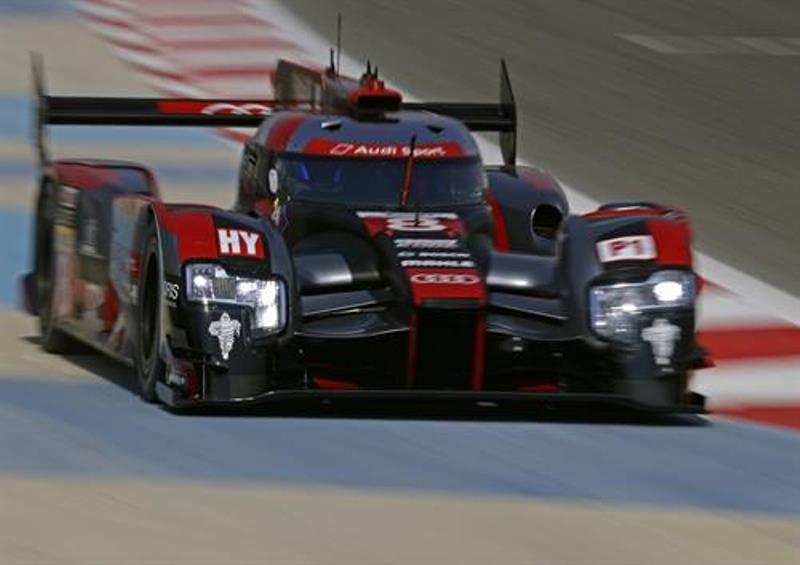 Audi Sport, i suoi sei piloti dell'Audi Sport Team Joest hanno dato tutto, ancora una volta nel finale di stagione e uscirono i grandi vincitori.
"Grazie a tutta la squadra per una performance impeccabile. Non si poteva desiderare un addio più dolce", ha detto il capo di Audi Motorsport Wolfgang Ullrich. "I nostri concorrenti e la FIA WEC ci hanno dato un finale molto emozionante con molti gesti belli e ci stanno dicendo grazie con il miglior risultato sportivo possibile per tanti anni di tremenda corsa: un weekend indimenticabile".
Lucas di Grassi / Loïc Duval / Oliver Jarvis (BR / F / GB) hanno preso il comando fin dall'inizio. Verso la fine del primo terzo di gara, la vettura gemella, numero 7, di Marcel Fässler / André Lotterer / Benoît Tréluyer (CH / D / F) l'hanno raggiunto, prendendo temporaneamente la leadership, ma in seguito è scesa di nuovo a causa di problemi con una pistola ruota durante un cambio gomme.
La vettura numero 8 prese di nuovo il comando e al giro 104esimo è stato l'unico top team a scommettere su un pit stop nel corso di una bandiera gialla in corsa. Questa mossa ha pagato e in combinazione con la registrazione dei buoni tempi sul giro, tra cui il giro più veloce in gara da Lucas di Grassi, la vettura numero 8 guadagnava un vantaggio. C'è stata anche una sosta non programmata al giro 149esimo, durante il quale la squadra ha dovuto rimuovere della gomma da varie parti della carrozzeria, per non rovinare il ritmo del trio.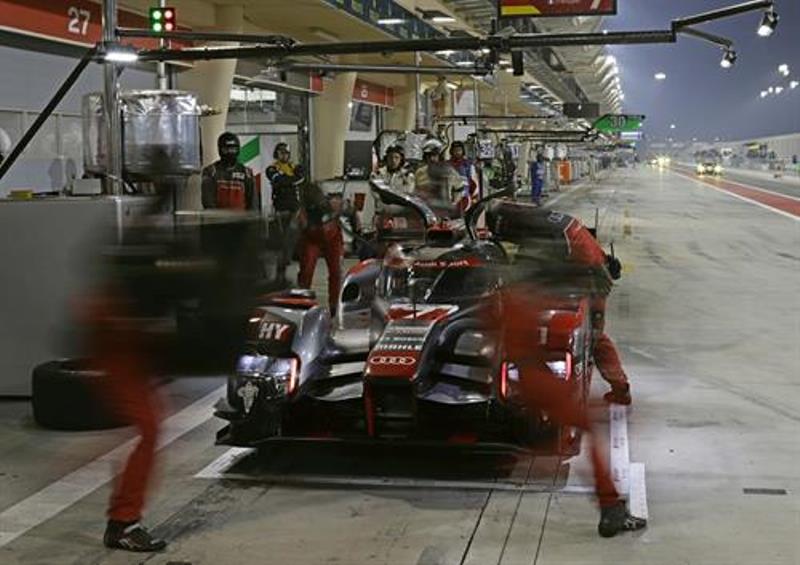 Di conseguenza, Grassi / Duval / Jarvis hanno tagliato il traguardo dopo sei ore con un vantaggio di 16 secondi, ottenendo la seconda vittoria in questa stagione dopo le 6 Ore di Spa nel mese di maggio. Inoltre, essi riconquistarono la posizione due in classifica.
I loro compagni di squadra Fässler / Lotterer / Tréluyer hanno completato l'uno-due, guadagnando per Audi il suo miglior risultato della stagione. Con questo, Audi ha alle spalle un'epoca da vettura sportiva con un record impeccabile. Dal 1999, le auto da corsa LMP con i quattro anelli hanno vinto 107 delle 187 gare in America, Europa, Asia e Australia. Nel FIA World Endurance Championship (WEC) dal 2012, Audi è sinonimo di eccellenza. In 16 casi, le auto sportive del marchio erano in pole position, vincendo 17 delle 41 gare. 23 Giri veloci in gara completano questo conteggio.
Nessun altro produttore ha avuto più successo in anche solo una di queste categorie. Inoltre, Audi ha conquistato due titoli piloti e due titoli mondiali costruttori.
"La nostra intenzione era di ottenere oggi il massimo in Bahrain, e questo è esattamente quello che abbiamo fatto", ha detto Stefan Dreyer, capo della LMP in Audi Sport. "Un enorme grazie va a questa squadra dell'Audi Sport Team Joest, ai nostri piloti, ed a tutte le persone che hanno reso possibile dietro le quinte a Neuburg, Neckarsulm e Ingolstadt. Come emotivo e toccante questo addio può sembrare che si sposa con la gioia che proviamo per questa performance sportiva al top con il nostro risultato finale uno-due ed i due titoli di vice-campioni. Sincere congratulazioni a tutti".
Risultati delle gare
1 Di Grassi / Duval / Jarvis (Audi R18) 201 giri
2 Fässler / Lotterer / Tréluyer (Audi R18) + 16.419s
3 Bernhard / Hartley / Webber (Porsche) + 1m 17.001s
4 Buemi / Davidson / Nakajima (Toyota) -1 lap
5 Conway / Kobayashi / Sarrazin (Toyota) -1 lap
6 Dumas / Jani / Lieb (Porsche) -3 giri
7 Imperatori / Kraihamer / Tuscher (Rebellion) -10 giri
8 Kaffer / Trummer / Webb (CLM P1 / 01) -14 giri
9 Brundle / Rast / Rusinov (Oreca-Nissan) -17 giri
10 Albuquerque / Gonzalez / Senna (Ligier-Nissan) -17 giri
In English
Audi says goodbye with one-two victory
WEC Bahrain 2016
Di Grassi/Duval/Jarvis in Bahrain in front of Fässler/Lotterer/Tréluyer
107th sports car victory and Audi's best result this season
Emotional departure from the sports car scene with vice-championship title
Source: Audi Motorsport
Bahrein, 19th November 2016. Saying goodbye with a bang: Audi achieved an impressive one-two victory in the last race of its Le Mans prototypes in the FIA World Endurance Championship (WEC). After clinching pole position in qualifying, the Audi R18 diesel hybrid sports car went on to claim a lights-to-flag victory in the 6 Hours of Bahrain. In addition, Lucas di Grassi set the fastest race lap. As a result, Audi has clinched the vice-championship titles in the manufacturers' and drivers' classifications.
Audi Sport, its six campaigners and Audi Sport Team Joest gave their all once again in the season finale and came out the big winners.
"Thank you to the whole squad for an impeccable performance. You couldn't wish for a sweeter farewell," said Head of Audi Motorsport Dr. Wolfgang Ullrich. "Our competitors and the FIA WEC gave us a very emotional finale with many nice gestures, and we are saying thank you with the best possible sporting result for so many years of tremendous racing: an unforgettable weekend!"
Lucas di Grassi/Loïc Duval/Oliver Jarvis (BR/F/GB) took the lead from the start. Towards the end of the first third of the race, the sister car, number 7, of Marcel Fässler/André Lotterer/Benoît Tréluyer (CH/D/F) clearly caught up, temporarily taking the lead, but subsequently dropped back again due to issues with a wheel gun during a tire change. Number 8 took the lead again and on lap 104 was the only top team to gamble on a pit stop during a full-course yellow.
This move paid off and combined with setting good lap times, including the fastest race lap by Lucas di Grassi, number 8 eked out an advantage. Even an unscheduled stop on lap 149, during which the team had to remove rubber pickup from various body parts, did not ruin the trio's rhythm.
As a result, Grassi/Duval/Jarvis crossed the finish line after six hours with a 16-second advantage, achieving their second victory this season following the 6 Hours of Spa in May. In addition, they recaptured position two in the standings. Their teammates Fässler/Lotterer/Tréluyer completed the one-two, earning Audi its best result of the season. With that, Audi looks back on a sports car era with an impeccable track record. Since 1999, the LMP race cars with the four rings have won 107 of 187 races in America, Europe, Asia, and Australia. In the FIA World Endurance Championship (WEC) since 2012, Audi has stood for bests as well. On 16 occasions, the brand's sports cars were on pole position, winning 17 of 41 races. 23 fastest race laps complete this tally. No other manufacturer has been more successful in even just one of these categories. In addition, Audi clinched two drivers' and two manufacturers' world championship titles.
"Our intention had been to achieve the maximum today in Bahrain, and that's exactly what we did," said Stefan Dreyer, Head of LMP at Audi Sport. "A huge thank you goes to this top team, to Audi Sport Team Joest, to our drivers, and to all the people who made this possible behind the scenes in Neuburg, Neckarsulm and Ingolstadt. As emotional and touching this farewell may seem it is matched by the joy we feel about this top sporting performance with our one-two result and the two vice-championship titles. Sincere congratulations to everyone."
Race results
1 Di Grassi/Duval/Jarvis (Audi R18) 201 laps
2 Fässler/Lotterer/Tréluyer (Audi R18) +16.419s
3 Bernhard/Hartley/Webber (Porsche) +1m 17.001s
4 Buemi/Davidson/Nakajima (Toyota) –1 lap
5 Conway/Kobayashi/Sarrazin (Toyota) –1 lap
6 Dumas/Jani/Lieb (Porsche) –3 laps
7 Imperatori/Kraihamer/Tuscher (Rebellion) –10 laps
8 Kaffer/Trummer/Webb (CLM P1/01) –14 laps
9 Brundle/Rast/Rusinov (Oreca-Nissan) –17 laps
10 Albuquerque/Gonzalez/Senna (Ligier-Nissan) –17 laps
no images were found

.