Fonte: ABT Schaeffler Audi Sport
Marrakesh, Marocco. 12 Novembre 2016. Non ci sono trofei, ma una bella gara e preziosi punti per il campionato. Lucas di Grassi e Daniel Abt hanno preso il quinto e il sesto posto nel debutto della Formula E in Africa. Come risultato, il sudamericano rimane secondo nella classifica generale ed è il principale rivale di Sébastien Buemi. Nella classifica delle squadre, ABT Schaeffler Audi Sport detiene ancora il secondo posto.
Gli spettatori in Marocco hanno apprezzato la gara più lunga nella breve storia della serie di corse elettriche, e un altro outing emozionante con strategie diverse e innumerevoli sorpassi.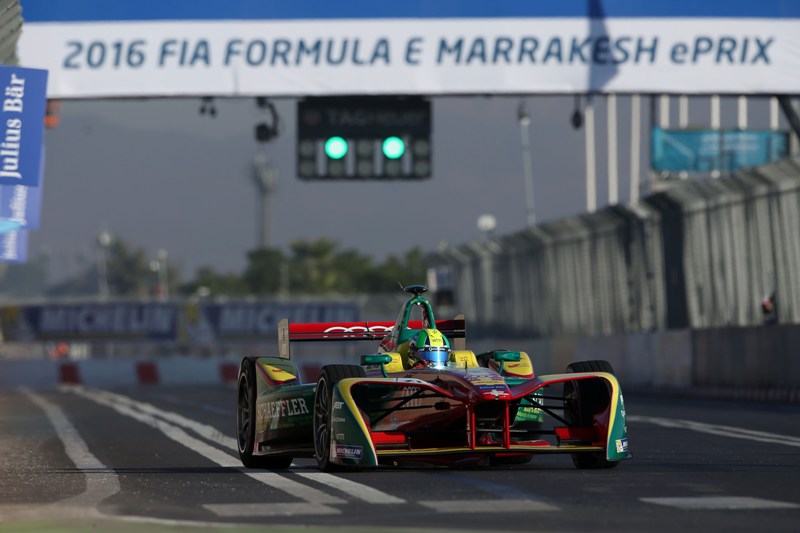 Uno dei principali protagonisti è stato ancora una volta Lucas di Grassi, che ha compiuto impressionanti falcate in pista per salire dalla dodicesima posizione in griglia al quinto posto. Il compagno di squadra Daniel Abt è finito sesto dopo una corsa impeccabile di un totale di 33° giri.
"Il quinto posto era il massimo che potevo fare oggi. Ho combattuto per tutta la gara per superare le vetture davanti a me", dice Lucas di Grassi, che ha anche rimontato fino a 17 posizioni l'ultima volta a Hong Kong. "Per oggi sono soddisfatto di dieci punti. Tuttavia, useremo la breve pausa invernale nell'analisi di tutto esattamente in modo che possiamo reagire a Buenos Aires. La situazione non è nuova: la scorsa stagione abbiamo migliorato costantemente. Impiegheremo tutte le nostre risorse per fare di nuovo lo stesso. "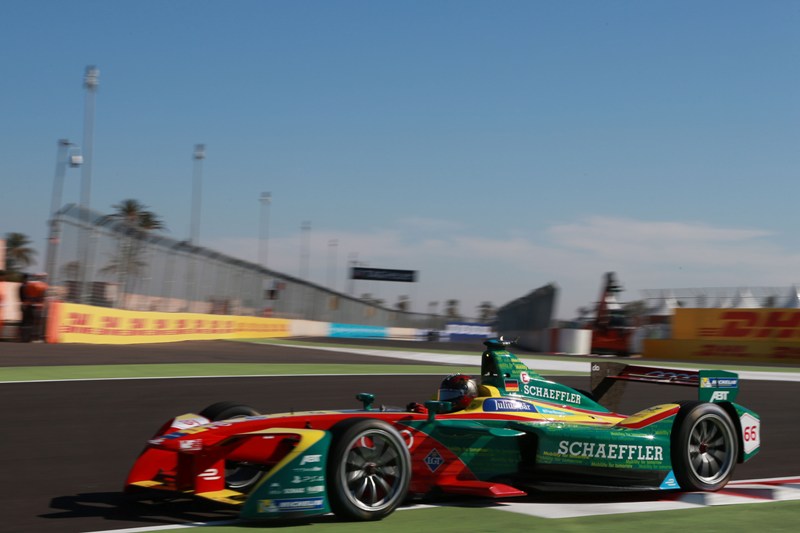 Daniel Abt ha tagliato il traguardo pochi secondi più tardi al sesto posto dietro il suo compagno di squadra e così facendo, ha segnato i suoi primi otto punti in questa stagione.
"In qualifica ho estratto il massimo per allinearmi sesto, mentre in gara ero un po' a corto di ritmo all'inizio" – dice il tedesco. "Sono felice sui punti, e sarà ora di analizzare con la squadra esattamente dove siamo venuti a meno prima di attaccare di nuovo dopo la pausa di Natale."
L'equipaggio dimostrava nuovamente i nervi di acciaio per la prima volta, i due piloti si sono fermati allo stesso tempo per il loro cambio auto obbligatorio nei box. I meccanici hanno mostrato la loro esperienza e siamo stati bravi ad inviare i loro driver di nuovo in pista senza perdere tempo".
"Naturalmente i nostri piloti e tutta la squadra sono più abituati a qualcosa di diverso. È per questo che forse abbiamo bisogno di un paio d'ore prima di riconoscere questo doppio risultato a punti come un piccolo successo", dice il capo del team di Hans-Jürgen Abt.
Nelle 23 gare finora, ABT Schaeffler Audi Sport è salita al podio 18 volte.
"Oggi non è stata la nostra giornata migliore, ma anche così non dobbiamo nascondere la testa sotto la sabbia ed abbiamo risolto la maggior parte dei difficili problemi. Tutti nel team possono essere orgogliosi."
Dopo la gara di Marrakech, la Formula E prende una breve pausa di Natale, prima di tornare in pista a Buenos Aires il 18 febbraio 2017.
Abt and di Grassi score points as Formula E makes premiere in Africa
Source: Abt Schaeffler Audi Sport
Marrakesh, Marocco. 12 November 2016. No trophies, but a strong race and valuable championship points: Lucas di Grassi and Daniel Abt took fifth and sixth places as Formula E made its debut in Africa. As result, the South American remains second in the overall standings and Sébastien Buemi's closest rival. In the teams' classification, ABT Schaeffler Audi Sport still holds second place.
Spectators in Morocco enjoyed the longest race in the brief history of the electric race series, and another thrilling outing featuring different strategies and innumerable overtaking maneuvers. One of the main protagonists was once again Lucas di Grassi, who scythed impressively through the field from twelfth on the grid to fifth place. Team mate Daniel Abt finished sixth after a flawless run during the 33 lap race.
"Fifth place was the maximum today. I fought throughout the entire race to overtake the cars in front of me," says Lucas di Grassi, who even made up 17 positions last time out in Hong Kong.

"For today I'm satisfied with ten points. However, we'll use the short winter break to analysis everything exactly so we can strike back in Buenos Aires. The situation isn't new: last season we improved constantly. We'll pool all our resources to do the same again."
Daniel Abt crossed the line just a few seconds later in sixth place behind his team mate and, in doing so, scored his first eight points this season.
"In qualifying I extracted the maximum to line up sixth, whereas in the race I was a little short of pace in the beginning," says the German. "I'm delighted about the points, and will now analyze with the team exactly where we came up short before attacking again after the Christmas break."
The crew displayed their nerves of steel once again: for the first time, the two drivers stopped at the same time to make their mandatory car change in the pits. The mechanics showed their experience and stayed cool to send their drivers back onto the track without losing any time.
"Of course our drivers and the entire team are more used to something different. Which is why they perhaps need a couple of hours before they recognize this double top-six result as small success," says team Boss Hans-Jürgen Abt. In the 23 races so far, ABT Schaeffler Audi Sport mounted the podium 18 times. "Today was not our best day, but even so we didn't bury our heads in the sand and made the most of the difficult circumstances. Everybody in the team can be proud."
After the race in Marrakesh, Formula E takes a short Christmas break before returning to the track in Buenos Aires on February 18, 2017.
no images were found

.