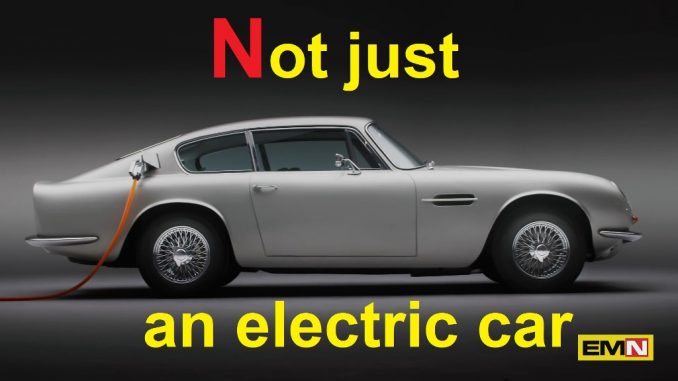 Nella puntata 31 di Electric Motor News del 2021, Audi elettrica alla Dakar, l'impianto di Salzgitter, Hyundai Ioniq 5, BMW i4, Aston Martin DB6 by Lunaz e MG5 Electric.
Di seguito tutti i servizi…
Sven Quandt speaks about the Audi RS Q e-tron for the Dakar
Sven Quandt, General Manager of Audi partner Q Motorsport in the project Dakar, speaks about the electric RS Q e-tron and said that it's the most complex technology that saw in his life considering that the car includes the electric powertrain and also the moto generator unit with the function of charge the batteries. In fact, the Audi's Dakar project is one of the most difficult of the history of the race.
In italiano – Sven Quandt parla dell'Audi RS Q e-tron per la Dakar
Sven Quandt, General Manager del partner Audi Q Motorsport nel progetto Dakar, parla della RS Q e-tron elettrica e ha detto che è la tecnologia più complessa che ha visto nella sua vita considerando che l'auto include il powertrain elettrico e anche il gruppo motogeneratore con la funzione di caricare le batterie. In effetti, il progetto Dakar di Audi è uno dei più difficili della storia della corsa.
Servizio in lingua inglese.
Laboratorio batterie a Salzgitter di Volkswagen Components
E' stato inaugurato a Salzgitter da Volkswagen Group Components uno dei più moderni laboratori per la ricerca e lo sviluppo di celle batteria in Europa. Così, l'azienda espande ulteriormente le competenze nella tecnologia delle batterie e compie un ulteriore passo verso lo sviluppo e la produzione diretta di celle per la mobilità elettrica. A partire dal 2025, a Salzgitter è prevista la produzione della cella unificata del Gruppo Volkswagen e in futuro, circa 250 esperti condurranno ricerche sulle celle nelle aree dello sviluppo, dell'analisi e dei test, lavorando in quattro laboratori. Il Gruppo Volkswagen investirà circa 70 milioni di Euro nelle strutture.
Arriva in Italia la nuova Hyundai Ioniq 5
Andrea Crespi, Direttore Generale di Hyundai Motor Company Italy, presenta il nuovo crossover elettrico di medie dimensioni Ioniq 5 che è anche il primo modello del nuovo brand Ioniq dedicato ai veicoli a batteria (BEV). Ioniq 5 è basata sulla piattaforma dedicata ai veicoli elettrici a batteria (BEV) di Hyundai Motor Group, denominata Electric-Global Modular Platform (E-GMP), che le consente di ottenere proporzioni uniche in virtù del passo allungato.
Quinda generazione di eDrive nella BMW i4
Nel mese di novembre 2021 arriverà la nuova BMW i4 in due varianti di modello: BMW i4 M50 che è la prima performance car puramente elettrica della divisione BMW M GmbH, con 400 kW, trazione integrale e un'autonomia fino a 510 chilometri nel ciclo WLTP e la BMW i4 eDrive40 da 250 kW, trazione posteriore classica e un'autonomia fino a 590 chilometri nel ciclo WLTP.
Servizio con la voce di Aurora Bovone.
Lunaz electrified the Aston Martin DB6
English company Lunaz restored and electrified the Aston Martin DB6 and now they offer it at price that exceed $1million USD + local taxes. Each electrified Aston Martin DB6 by Lunaz represents an authentic remastering of the original. Customers are afforded an unrivalled scope of personalisation. To deliver this, Lunaz has gathered a styling team drawn from some of the most celebrated names in automotive and industrial design.
In italiano – Lunaz ha elettrificato l'Aston Martin DB6
La società inglese Lunaz ha restaurato ed elettrificato l'Aston Martin DB6 e ora la offre a un prezzo che supera il milione di dollari + tasse locali. Ogni Aston Martin DB6 elettrificata da Lunaz rappresenta un'autentica rimasterizzazione dell'originale. Ai clienti viene offerta una possibilità di personalizzazione senza rivali. Per raggiungere questo obiettivo, Lunaz ha riunito un team di styling composto da alcuni dei nomi più celebri del design automobilistico e industriale.
MG5 Electric, la station wagon elettrica
Nuova MG5 Electric è la prima station wagon al mondo completamente elettrica. Gli attuali sviluppi nel segmento BEV rendono chiaro che molti nuovi modelli elettrici vengono rilasciati nella classe premium più costosa. Nel frattempo, c'è una crescente domanda di auto elettriche moderne, sicure e pratiche che siano particolarmente accessibili al pubblico in generale.
Servizio con la voce di Aurora Bovone.
Di seguito le anteprime fotografiche…