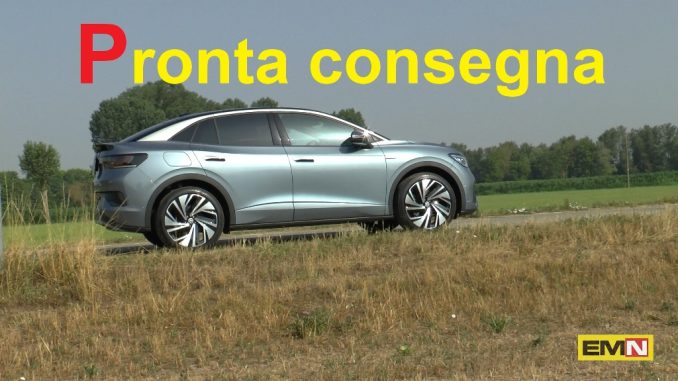 Nella puntata 20 di Electric Motor News in TV, servizi di Volkswagen ID.3 e ID.5 Pro Performance, ID. Aero, Jaguar EV in Norvegia e Seat MÓ 125.
Di seguito i servizi…
Cercare le colonnine e programmare le soste nella Volkswagen ID.3
Stefano Grioni illustra nel video la ricerca delle colonnine di ricarica attraverso il sistema di infotainment del modello ID.3 e anche della programmazione delle eventuali soste.
Nuova Volkswagen ID.5 Pro Performance nel parco auto della C.M.C.
Questa Volkswagen ID.5 Pro Performance da 204 cavalli di potenza e 77 kWh di capacità batteria è la nuova vettura del parco macchina della C.M.C. di Bagnolo Cremasco, acquistata dal responsabile produzione Alfredo Chioda. La vettura che vedete verrà consegnata dal Rivenditore Autorizzato Grioni Auto Volkswagen, e grazie alla gentilezza di Alfredo Chioda abbiamo avuto l'occasione di effettuare queste riprese a Rivolta d'Adda con Stefano Grioni alla guida.
Ammiraglia della famiglia elettrica Volkswagen
Volkswagen ha presentato il modello ID.Aero, ammiraglia della famiglia ID. della casa di Wolfsburg il cui design abbina aerodinamica e linee eleganti. Con l'anteprima mondiale della concept car ID. Aero in Cina, Volkswagen offre un'anticipazione della prima berlina completamente elettrica del marchio.
Charm, autonomy and luxury of the Jaguar in Norway
Nina, a Norwegian Jaguar I-Pace customer, describes why the all-electric Jaguar Performance SUV has the charm, range and luxury that convinced her to choose an electric vehicle. Nina travels 260 kilometers in her I-Pace every day to go to work and on weekends she uses the Jaguar electric SUV to reach her mountain cabin on snow-covered roads and in temperatures below -20 degrees Celsius.
In italiano – Fascino, autonomia e lusso del Giaguaro in Norvegia
Nina, una cliente norvegese di Jaguar I-Pace, descrive perché il Performance SUV Jaguar completamente elettrico possiede il fascino, l'autonomia e il lusso che l'hanno convinta a scegliere un veicolo elettrico. Nina percorre ogni giorno 260 chilometri con la sua I-Pace per recarsi al lavoro e nei weekend utilizza il SUV elettrico Jaguar per raggiungere la sua baita di montagna su strade innevate e con temperature inferiori ai -20 gradi Celsius.
Servizio in lingua inglese.
La sottomissione estrema di Seat MÓ 125
Per assicurare la migliore prestazione possibile dello scooter elettrico Seat MÓ 125, il team di Qualità e Ricerca e Sviluppo lo ha messo alla prova in due ambienti completamente opposti, le montagne di Baqueira Beret a Lleida, nei Pirinei catalani e nel deserto di Tabernas ad Almería, in Spagna, con una differenza termica di 55 ºC tra i due punti geografici, ricoprendo un totale di 4.400 chilometri.
Ecco le anteprime fotografiche…