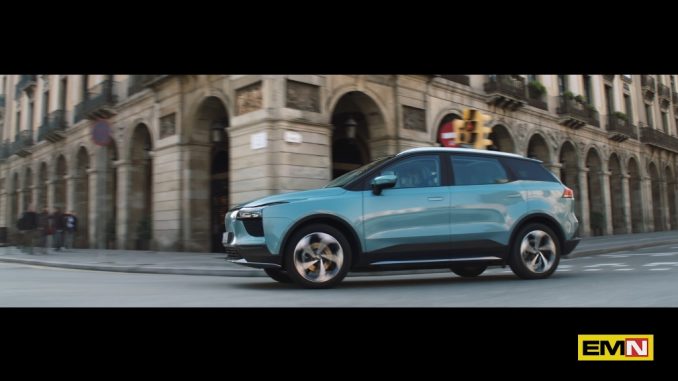 Nella seconda puntata di Electric Motor News in TV, servizi di Lexus, BMW, Aiways, Volkswagen, Mini e Vmoto Soco.
Ecco tutti i video…
La nuova vettura sportiva Lexus
Sono state svelate delle animazioni della prossima generazione della vettura sportiva elettrica Lexus. Il nuovo modello sportivo farà parte di una gamma completa auto elettriche a batterie che Lexus lancerà entro il 2030 sotto la vision del marchio Lexus Electrified, attraverso il quale, l'azienda mira a sfruttare appieno il potenziale dell'elettrificazione per aumentare il piacere di guida per tutti i suoi clienti.
Sicurezza e sostenibilità BMW
BMW iX ottiene il punteggio più alto in materia di sicurezza superando a pieni voti i test Euro NCAP. La nuova ammiraglia tecnologica ha brillato sia per l'eccezionale sicurezza per i passeggeri sia per i suoi avanzati sistemi di assistenza alla guida nella prevenzione degli incidenti.
BMW ha inaugurato lo scorso 7 dicembre a Milano "House of BMW", uno spazio di esperienze e innovazione pensato per valorizzare tutte la anime del brand.
Nuovo listino di Aiways U5
A partire dal primo febbraio 2022 è entrato in vigore il nuovo listino prezzi al pubblico di Aiways U5, il D-SUV 100% elettrico, innovativo e intelligente, distribuito in Italia in esclusiva dal Gruppo Koelliker. Il listino viene arricchito dall'offerta di servizi volti a garantire una customer experience completa e rassicurante e prevede il Pack Care (pacchetto di manutenzione programmata con validità pari a tre anni) e il Pack Energy (servizio di ricarica presso il proprio domicilio – WallBox – fornito in collaborazione con Daze Box ed e-card di ricarica di 1.000 kWh).
Volkswagen and desirable new experience
The history of Volkswagen began more than 80 years ago when they created emotional cult cars moving a lot of people and since that times, their customers discovered the world with a Volkswagen. Now with electric drives, digital connectivity and autonomous driving, Volkswagen are making mobility emission free safe and convenient, converting theirselves into a software driven mobility provider desirable new experience.
In italiano – Volkswagen e la nuova desiderabile esperienza
La storia di Volkswagen inizia più di 80 anni fa, quando crearono auto di culto emozionali che muovevano molte persone e da allora i loro clienti scoprirono il mondo con una Volkswagen. Ora con la trazione elettrica, la connettività digitale e la guida autonoma, Volkswagen sta rendendo la mobilità priva di emissioni, sicura e conveniente, convertendosi in un fornitore di mobilità basato su software, una nuova esperienza desiderabile.
Video in lingua inglese
Mini e il progetto Biosphera Genesis
MINI Italia rinnova la collaborazione con Aktivhaus per promuovere il progetto Biosphera Genesis, un modulo abitativo sostenibile focalizzato sul benessere dell'uomo. Una collaborazione tra MINI Italia e Aktivhaus iniziata nel 2018 e che si rinnova ancora oggi, presentando la quarta generazione di Biosphera Project: Genesis.
Ricarica pre-consegna di Vmoto Soco
Vmoto Soco Europe ha siglato un importante accordo strategico e commerciale con GIDD, Gruppo Italia Distribuzione Depositi. GIDD è la prima logistica in Europa a fornire un servizio all'avanguardia: la precarica delle batterie. Tale operazione consente di consegnare le moto al cliente finale pronte all'uso e con la batteria in ottimo stato.
Di seguito le anteprime fotografiche dei video…