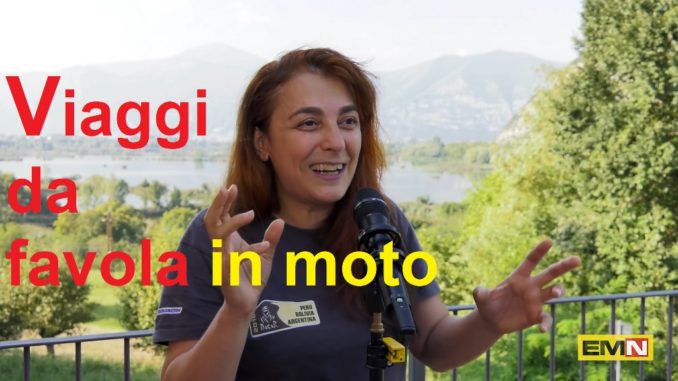 Nella puntata 29 di Electric Motor News, la visita al Museo Nicolis di Verona; l'intervista alla viaggiatrice elettrica Miriam Orlandi, Nissan Leaf e Ford Mustang.
Di seguito potete vedere i servizi della puntata.
Riapre il Museo Nicolis di Villafranca di Verona
Dopo diversi mesi di chiusura causa Covid-19, riapre il Museo Nicolis di Villafranca di Verona. Siamo stati alla riapertura e abbiamo intervistato Silvia Nicolis, Presidente del Museo Nicolis che in questo primo blocco racconta l'inizio del museo e come il Sig. Luciano Nicolis ha coronato il sogno della sua vita e ha creato un Museo riconosciuto e premiato nei circuiti internazionali; senza trascurare di festeggiare simbolicamente il ventesimo compleanno.
Intervista di Marcelo Padin, riprese Dragovideo.
Alcuni aspetti del Museo Nicolis
Silvia Nicolis parla di alcune particolarità del museo e di alcune automobili molto apprezzati, appartenenti non soltanto alla storia dell'automobile, ma anche alla storia d'Italia e non solo.
Intervista di Marcelo Padin, riprese Dragovideo.
La bisnonna elettrica del Museo Nicolis
Particolare attenzione alla vettura elettrica Baker, Rauch & Lang del 1919, con targa dello stato di Virginia (USA) perfettamente funzionante. Nell'intervista, Silvia Nicolis racconta le particolarità di questa vettura, come è arrivata al Museo Nicolis e quanto il pubblico si sorprende quando scopre che le auto elettriche non sono semplicemente una "moda" moderna, ma che già esistevano all'inizio del secolo scorso.
Intervista di Marcelo Padin, riprese Dragovideo.
Prodotta la Nissan Leaf numero 500mila
Lo stabilimento Nissan di Sunderland nel Regno Unito ha dato alla luce la Nissan Leaf numero 500mila, che è stata consegnata in Norvegia in occasione del World EV Day. A Sunderland, in Inghilterra, sono state prodotte oltre 175.000 Leaf dal 2013 di cui circa 5.700 unità circolanti sul territorio italiano.
Servizio con la voce di Lilia Marcucci.
Owners speaks about Nissan Leaf
Celebrating the Nissan Leaf n° 500.000, some owners of the electric car speaks in the own languages and told their feelings driving a Nissan Leaf.
Da Brescia a Capo Nord in moto elettrica
Abbiamo intervistato Miriam Orlandi, osteopata bresciana con la passione per il motociclismo che è stata la prima persona a viaggiare dalla sua Brescia a Capo Nord a bordo di una moto elettrica, la Zero SR/S.
Abbiamo scoperto una ragazza spumeggiante, appassionata dal suo lavoro, dalle moto e in particolare di quelle elettriche e dei viaggi. Ecco la prima parte dell'intervista.
Intervista di Marcelo Padin. Camera: Dragovideo
Grande viaggiatrice rigorosamente su due ruote
Nella seconda parte della lunga intervista, Miriam Orlandi racconta le sue precedenti esperienze in mezzo mondo; viaggi da favola fatti rigorosamente in motocicletta e dei quali conserva ottimi ricordi. E in uno di questi viaggi… il primo contatto con il mondo delle moto elettriche, in California.
Intervista di Marcelo Padin. Camera: Dragovideo
Emozioni elettriche da viaggio
Nella terza parte dell'intervista a Miriam Orlandi, si parla dei ricordi, della gente, del clima, delle Isole Lofoten, dell'incontro con un amico bresciano che tornava da Capo Nord, della ricarica, dell'aiuto ricevuto da alcune persone e soprattutto dell'invito all'Università di Copenaghen e gli studi sulle energie pulite.
Intervista di Marcelo Padin. Camera: Dragovideo
La mitica Ford Mustang diventa elettrica
Ford amplia la gamma Mustang introducendo per la prima volta in 55 anni un'elettrica, la Mustang Mach-E, pronta a reinterpretare i valori di libertà, progresso, prestazioni e anticonformismo. Ford Mustang Mach-E è un SUV elegante e sinuoso che arriverà alla fine del 2020 e sarà disponibile con batterie da diverse potenze abbinate sia alla trazione posteriore sia a quella integrale. Nella versione con trazione posteriore e batteria extended range, l'autonomia arriva fino a 600 km secondo il protocollo WLTP. Ford offrirà anche la versione speciale GT da 465 cavalli e 830 Nm di coppia.
Servizio con la voce di Aurora Bovone.