2 dic, 2016
Condividere i principi di sostenibilità: Nissan e AS Roma partner perfetti
Fonte: Nissan Italia
Roma, Italia. 29 novembre 2016. Nissan e AS Roma firmano un accordo di Premium Partnership per promuovere e diffondere la mobilità elettrica in Italia, condividendo i principi di sostenibilità, protezione del clima e dell'ambiente.
La scelta – perché AS Roma?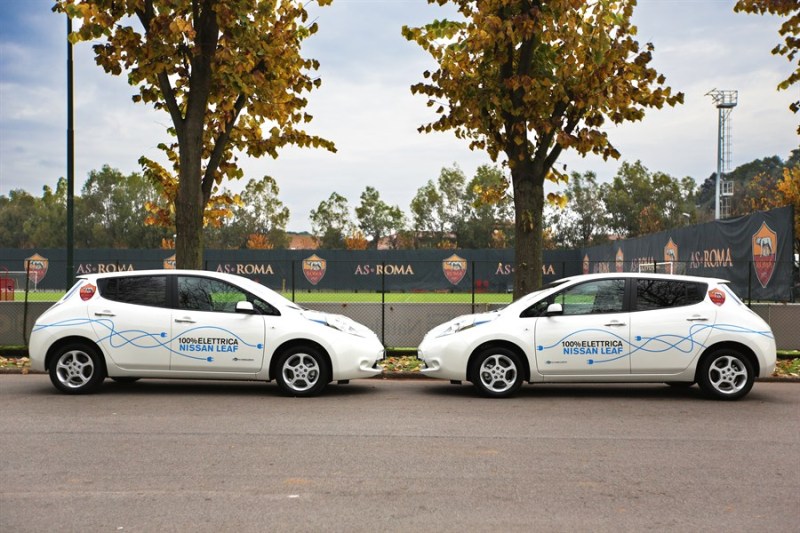 Il Club capitolino rappresenta un interlocutore privilegiato per la storica e forte presenza del brand all'interno della città e del Paese e per i valori di tutela del patrimonio ambientale della città.
Nissan e AS Roma condividono gli stessi principi per una mobilità e società sostenibile. Da oltre dieci anni infatti Nissan promuove la mobilità a zero emissioni e intende dare vita ad una serie di attività coinvolgendo gli stessi giocatori e il Club capitolino come portabandiera ideale della mobilità elettrica.
La scelta – perché Nissan?
AS Roma ha a cuore la protezione dell'ambiente e del clima ed è orgogliosa di supportare Nissan, leader globale nella mobilità a zero emissioni con una gamma di vetture elettriche, in un'iniziativa di grande valore per sensibilizzare la città e i cittadini che la vivono tutti i giorni.
Bruno Mattucci, Amministratore Delegato di Nissan Italia ha dichiarato:
"Siamo lieti di collaborare con AS Roma perché questa partnership si lega al nostro coinvolgimento nel mondo dello sport e alla sostenibilità a zero emissioni. Siamo leader nella mobilità elettrica e da anni siamo sul fronte per la lotta al cambiamento climatico: creare una società con minori impatti ambientali è una sfida che possiamo vincere insieme a un grande player come AS Roma, diffondendo i vantaggi e i benefici della mobilità a zero emissioni anche in termini sociali ed economici".
Umberto Gandini, Amministratore Delegato AS Roma ha dichiarato:
"Siamo orgogliosi di dare il benvenuto a Nissan tra i partner del team giallorosso, marchio prestigioso con il quale condividiamo l'impegno di offrire, ognuno nel rispettivo ambito, prodotti sempre nuovi e all'avanguardia in grado di soddisfare un pubblico sempre più vasto. Questa nuova collaborazione ci dà modo di dimostrare, una volta ancora, quanto la nostra azienda ha intenzione di confermarsi ai massimi livelli sportivi e commerciali".
Nissan e la mobilità elettrica
Nissan ha scelto di investire da decenni nella mobilità più pulita ed efficiente ed è oggi leader di mercato nella mobilità del trasporto elettrico, fornendo tecnologie d'avanguardia sia per il settore privato che per il pubblico e le imprese, e continuando al contempo ad investire in ricerca e sviluppo in questo settore, per affrontare le sfide future.
Oltre a sviluppare veicoli elettrici, inoltre, Nissan è profondamente impegnata nell'ampliare e promuovere la mobilità elettrica. Le iniziative adottate in tal senso riguardano la produzione di batterie agli ioni di litio riciclabili e riutilizzabili, l'implementazione di infrastrutture di ricarica e di dispositivi di ricarica rapida fissa e mobile per gli EV, ma anche sistemi di alimentazione bidirezionali tra il veicolo e la casa come il "LEAF to Home", o anche sistemi di integrazione tra i veicoli e le reti di distribuzione energetica denominati "Vehicle to Grid", in grado di evolvere il concetto di veicolo da mezzo di trasporto a vettore di energia.
In English
Nissan and AS Roma electrify Italian football
Nissan and AS Roma to promote zero emission mobility together in Italy
Nissan will provide AS Roma with electric vehicles at both the Stadio Olimpico and the club's Trigoria Training Centre
Source: Nissan Italia
Nissan and AS Roma agree to promote zero emission mobility together in Italy, with a focus on sustainability, climate and environment protection.
As one of the most recognisable football clubs in Italy, AS Roma shares many of the same principles as Nissan when it comes to sustainable mobility and society. For more than 10 years Nissan has promoted zero emission mobility and hopes the agreement with the "Serie A" team will help encourage electric vehicles and mobility in the city of Rome.
Environment and climate protection is a topic very close to AS Roma's heart and the club is proud to support Nissan – the global leader in zero-emission mobility – in a valuable initiative designed to raise awareness in the city and among its citizens.
Over the duration of the agreement Nissan will promote its electric vehicles both at AS Roma's Stadio Olimpico and at Trigoria AS Roma's Training Centre. At the Stadium a LEAF will be on show in the AS Roma fan zone and a 7-seater e-NV200 Evalia will be used as shuttle bus. In Trigoria additional LEAF and Combi e-NV200 vehicles will be used for people and goods zero emission transport.
Bruno Mattucci, Managing Director of Nissan Italy declared:
"We're proud to launch this agreement on sustainability with AS Roma, further strengthening our involvement in both sport and zero emission mobility. As the worldwide leader in electric mobility Nissan has a strong commitment to tackling climate change and we believe AS Roma is an ideal counterpart to help promote the social and economic advantages of electric mobility."
Umberto Gandini, CEO of AS Roma added:
"We are proud to work on sustainability with Nissan, a brand with whom we share the same commitment to deliver advanced and innovative products to our customers, in our respective fields. This agreement gives us the opportunity to showcase, once again, how our club is committed to both sporting and commercial excellence."
About Nissan in Europe
Nissan has one of the most comprehensive European presences of any overseas manufacturer, employing more than 17,000 staff across locally-based design, research & development, manufacturing, logistics and sales & marketing operations. Last year Nissan plants in the UK, Spain and Russia produced more than 635,000 vehicles including award-winning crossovers, commercial vehicles and the Nissan LEAF, the world's most popular electric vehicle. Pursuing a goal of zero emissions and zero fatalities on the road, Nissan recently announced its Intelligent Mobility vision. Designed to guide Nissan's product and technology pipeline, this 360 degree approach to the future of mobility will anchor critical company decisions around how cars are powered, how cars are driven, and how cars integrate into society. Nissan is positioned to become the most desirable Asian brand in Europe.
.
Share and Enjoy